Printing instructions: Press the printer button on your browser. If all else fails, press Ctrl + p
I wondered why anyone would put up a sign saying:
Please Do Not Feed Seagulls
The answer in an article from
the South Devon newspaper the Herald Express.
(See underneath the picture.)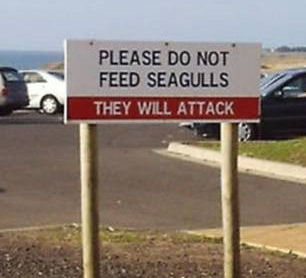 Helmets Deflect Seagull Attacks
Workers at a Devon council have been issued with crash helmets - to protect them from dive-bombing seagulls.
Flocks of seagulls have been attacking staff who collect
weather data from the roof of council offices in Newton Abbot.
One victim, David Potter, said: 'It can be really bad and it's
getting worse. It is my fourth year doing the job and there are more and more
gulls.
'The big gulls swoop at my head and are backed up by half a dozen others which scream and dive-bomb me.
'It's
very distressing but at least we now have crash helmets to protect s from being pecked
about the head and face.'
The data is collected every day and is used by the Met Office as part of its national record-keeping and weather forecasting.
A Teignbridge District Council spokesman said the
helmets were issued as a security measure to staff.
Reported in the local South Devon newspaper the Herald Express.
Footnote
While the Article from the Herald Express is genuine, I
confess that the photograph is taken elsewhere.