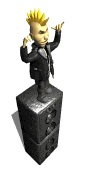 A great friend once said, that no jockey ever said anything worth listening to. After reading these soccer quotes, perhaps the same applies to soccer players. On the other hand, these quotes do
give us a chuckle.
I have to say that, for once, American sportsmen interview so much better, it's
as if the NFL, Baseball and Basketball players have all been to media school, whereas our soccer players
learn and speak their own dialect of English.
Footballers'
quotes as reported in the British Press
'I couldn't
settle in Italy - it was like living in a foreign country.'
Ian Rush
'
I'd like to play for an Italian
club, like Barcelona.'
Mark Draper
'
Do you remember when we played in Spain in the Anglo-Italian Cup?'
Shaun Newton
'
Winning doesn't
really matter as long as you win.'
Vinny Jones
'I always used to put my right boot on first, and then obviously my right sock.'
Barry Venison
'My parents have been there for me, ever since I was about 7.'
David Beckham
'I definitely want Brooklyn to be
christened, but I don't
know into what religion yet.'
David Beckham
'I would not be bothered if we lost every game as long as we won the league.'
Mark Viduka
'I took a whack on my left ankle, but something told me it was my right.'
Lee Hendrie
'Alex Ferguson is the best
manager I've ever had at this level. Well, he's
the only manager I've actually had at this level. But he's
the best manager I've ever had.'
David Beckham
'If you
don't
believe you can win, there is no point in getting out of bed at the end of the day.'
Neville Southall
'I've had 14 bookings this season - 8 of which were my
fault, but 9 of which were disputable.'
Paul Gascoigne
'I've never wanted to leave. I'm here for the rest of my life, and hopefully after that as well.'
Alan
Shearer
'Germany are a very difficult team to play...they had 11 internationals out there today.'
Steve Lomas
'
You've got to believe that you're going to win, and I believe we'll win the World Cup until the final whistle blows and we'
re knocked out.'
Peter Shilton
'I was
watching the Blackburn game on TV on Sunday when it flashed on the screen that George (Ndah) had scored in the first minute at Birmingham. My first reaction was to ring him up. Then I remembered he was out
there playing.'
Ade Akinbiyi
'Without being too harsh on David Beckham, he cost us the match.'
Ian Wright
'I'm as
happy as I can be - but I have been happier.' Ugo Ehiogu
'Leeds is a great club and it's
been my home for years, even though I live in Middlesborough.'
Jonathan
Woodgate
'I can see the carrot at the end of the tunnel.'
Stuart Pearce
'The Brazilians were South American, the
Ukrainians will be more European.'
Phil Neville
'All that remains is for a few dots and commas to be crossed.'
Mitchell Thomas
'One accusation you can't
throw at me is that I've always done my best.'
Alan Shearer
'I'd rather play in front of a
full house than an empty crowd.'
Johnny Giles
'sometimes in football you have to score goals.'
Thierry Henry.
'I was
surprised, but I always say nothing surprises me in football.'
Les Ferdinand
'It was like the ref had a brand new yellow card and wanted to see if it worked.'
Richard Rufus
'There's
no in between - you're either good or bad. We were in between.'
Gary Lineker
'If you don't
concede any goals you'll win more games than you lose.'
Wayne Bridge
A variety of good, clean and free sports jokes. Funny sportsman's
nicknames. Amusing short stories. Anecdotes and tales about sport. Will and Guy hope
that you share our joy of sporting funnies.
See more sports jokes and funny stories:
• Colemanballs •
Basketball jokes • Soccer •
Baseball jokes •
Funny sport quotes • Home
• Cricket jokes •
Super Bowl jokes • Rugby stories • Sports nicknames
• Tennis jokes
• Sports Home •
Clean golf jokes • Funny golf pictures
• Funny golf stories • Funny golf video