Edson Arantes do Nascimento = Pele. As a very small child he used to pretend he was a goal-keeper and would say, 'I'm am Bile'
(name of a goal-keeper of
those times) after each save. 'Pele'
came from the wrong pronunciation of 'Bile'
.
Manoel dos Santos = Garrincha. (One of the greatest forwards to play for Brazil with Pele. 'Garrincha'
is the name of
a bird that Manoel liked to hunt when he was a child)
Diego Maradona = El Pibe de Oro (Some English supporters know him by other names! However,
Maradona was a footballing genius.)

John Charles = The Gentle Giant
Brilliant Wales, Swansea, Leeds and Juventus
player. Quite simply, John Charles is one of the finest footballers ever.
Swansea honours its Gentle Giant
A memorial to Swansea football great John
Charles has been unveiled at the Liberty Stadium as his home city club played their last game of the 2007 season.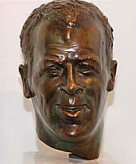 All the players in this section would at least be considered for a
'World 11'. However, none of the others were revered in a foreign land DURING THEIR PLAYING DAYS quite the way that Welshman John Charles was feted in Italy.
Lev Yashin = The Black Spider USSR. (Had the best anticipation that I have ever seen in goalkeeper)
Franz Beckenbauer = The Kaiser (Led West Germany and Bayern Munich to many triumphs. A skilful and thoughtful player)
Gerd Muller = The Fat One or Bomber (He certainly could score goals)
Ferenc Puskas = The Galloping Major (A little left footed genius from the famous Hungary side of the early 1950's)
---
More Football Nicknames
Jack Charlton = The Giraffe (Have you seen his neck and his legs?)
Marco Van Basten = The Swan of Utrecht (A great goal scorer)
Ruud Gullit = Il Tulipo Nero (The black tulip : a gem of a player)
Stuart Pearce =
Psycho (Would run through a brick wall for his team)
David Unsworth = Rhino (Look at
the size of his legs!)
Chris Waddle = Dribbler fou [Crazy dribbler] (Named this by the Monaco supporters after his spell in the French league)
Paul Gascoigne = Gazza
Chopper Harris (Chopper had the original and best scythe tackle, amazingly, some of his challenges were even legal. The greatest thing watching Chopper was
that you could see his tackle coming five seconds before he made his hit.)
David Beckham = Goldenballs (Named by his wife '
Posh'
in her autobiography)
Eusebio = The '
Black Panther'
(Excellent and quick centre-forward)
Paul Ince = The '
Guv'
nor'
(Always
wanted to be, and was, in charge)
Zinedine Zidane = '
Zizou'
Kevin Keegan = Mighty Mouse
Darren Anderton = Shaggy (After TV cartoon character) and Sicknote (Often unable to play due to
injury)
See more sports jokes and funny stories:
• Colemanballs •
Basketball • Soccer
• Tennis jokes •
Baseball jokes •
Funny sport quotes
• Clean cricket jokes •
Funny cricket stories • Cricket nicknames • Sports nicknames
• Sports Home •
Clean golf jokes • Funny golf pictures
• Rugby
nicknames • Rugby stories