Here is Will and Guy's selection of snow dogs and other interesting
alternative sculptures to snow men.

A Classic Pair of Snow Dogs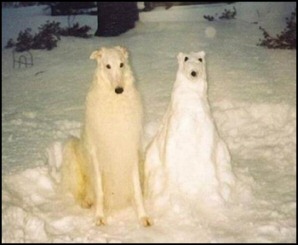 Snowdog Snowman-dog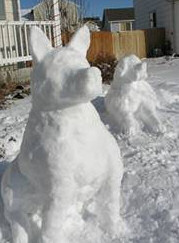 What should we call these dog sculptures?
Dogman does not seem right.
Snowdog seems the
best description.
Poor Dog's Balls of Snow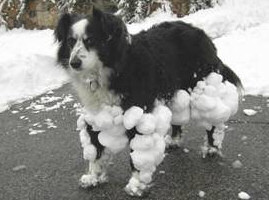 This looks painful. How would you remove those snowballs? A hot bath
looks the best way, but then Will and Guy are not vets.
Frustrated Snow Dog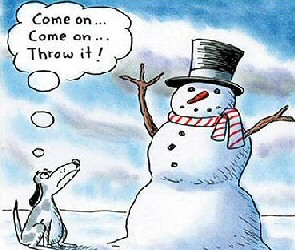 Funny Christmas Dog Pictures and Stories
Dog Ice-cream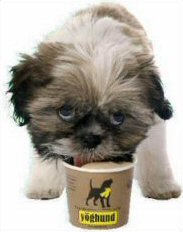 Will and Guy thought that Yogund would be a nice treat for your dog at
Christmas. There is also
a product called Polar Pups, a cool treat made with soy milk. Fact is
stranger than fiction.
A company called Wagg Foods in Yorkshire, England have developed a doggy
treat made from frozen yoghurt, Panting Peanut Mutter, Oaty Pawfection and
Chase Your Tail Cheesecake. And hidden in the ice cream are dog biscuits.
Calendar Dogs
After Calendar Girls, we now have funny pictures of calendar dogs. Dan
and Alejandra Boris have used computer graphics to create a Yoga Dogs
Calendar.
At first Guy thought that Yoga Dogs were a new breed, while Will thought
this was a wacky new piece of merchandise designed for kennels. The
truth is this a Christmas present for dog owners.
Alejandra, who is a yoga teacher, reassures readers that no dogs were hurt
in making the calendars, the the funny but unnatural positions were down to
computer manipulation of genuine pictures.
A True Christmas Dog Story
Home alone one Christmas, a Maine woman was in the doghouse when she
called the "Butterball Turkey Talk-Line".
Apparently found Will and Guy, while preparing the turkey, her Chihuahua
jumped into the bird's body cavity and couldn't get out. She tried pulling
the dog and shaking the bird, but nothing worked. She and the dog became
more and more distraught.
After calming the woman down, the Talk-Line home economist suggested
carefully cutting the opening in the cavity of the turkey wider.
It worked and Maxwell was free. Too silly to make up say Will and Guy.
Frozen Dogs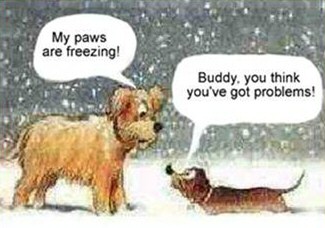 See more Christmas
dogs »
Footnote:
Please send us your funny pictures of
Christmas dogs
See more funny dog pictures, videos, jokes and stories
•
Funny dog pictures •
Dog rocket •
Smart 'Blackie' •
It's a dog's life •
No Dogs Allowed
• Funny dog stories •
Dogs like owner •
Give dog a break •
Doghouse •
Cat in dog basket
•
Funny dogs videos •
Dog & cat fight •
Fight back •
Dog video •
Guard dog •
True friends