Here is our collection of silly notes on packages, also funny Christmas facts
gleaned from newspapers.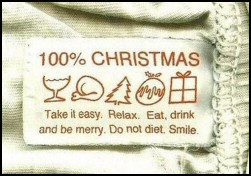 Silly Warnings - Or
Funny Christmas Facts
If you think last Christmas was bad, it could have been worse - as these
funny facts from the
United Kingdom prove. I cannot help wondering if other areas of the world are more accident prone or less? Another thought, how does Christmas compare with other times of the year?
1) Hospitals reported 4 broken arms last year after cracker pulling accidents.
2) Three people die each year testing if a 9v battery works on their tongue.

3) Five people were injured last year in accidents involving out of control Scalextric cars.
4) Eight people cracked their skull in 1997 after falling asleep
while throwing up into the toilet.
5) Eighteen people had serious burns in 1998 trying on a new jumper with a lit cigarette in their mouth.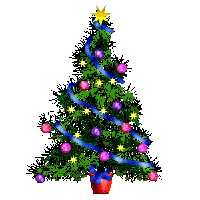 6) Nineteen people have died in the last 3 years believing that Christmas decorations were chocolate.
7) Thirty one people have died since 1996 by watering their Christmas tree while the fairy lights were plugged in.
8) Fifty eight people are injured each
year by using sharp knives instead of screwdrivers.
(Incidentally, in Birmingham they don't
even use proper screwdrivers. Instead they get out the 'Birmingham Screwdriver',
otherwise known as a hammer.)
9) One hundred and one people since 1997 have had to have broken parts of plastic toys pulled
out of the soles of their feet.
10) One hundred and forty two people were injured in 1998 by not removing all pins from new shirts.
11) Five hundred and forty three people were admitted to A&E in the last two years after
opening bottles of beer with their teeth. (In 1967 my ex flat mate was one such.)
A German
Throws Christmas Tree, And Himself Out of Window
Poor Willy Thevessen threw his Christmas tree out of a third floor window.
The problem was that somehow he managed to throw himself out of the window too.
It was late at night and he may have seen a German T.V. advert showing people
throwing their old trees out of the window.
Mr Thevessen suffered severe head injuries and was taken to a hospital in
Moenchengladbach Germany. Will and Guy wish him a speedy recovery.
So far we have trawled the internet, but had no further news of his condition.
What ever the outcome, this is a cautionary tale of disposing of your
Christmas tree.
Another Silly Christmas
Warning
We have just purchased a sherry trifle from a supermarket which is
described on the packaging as being "Simply Exquisite for Christmas".
Imagine our disappointment when, having paid for it, we read further and
found the instruction: "Use by 24 Dec".
J Barker, Snape, Suffolk, England
Beware - Christmas Decoration Can Go Wrong
Warning on a Taiwanese shampoo:
USE REPEATEDLY FOR SEVERE DAMAGE.
Silly Christmas Warnings
A Government website has warned parents that a visit to see Father Christmas could be 'terrifying'
for small children.
Pantomimes may also be too scary and traditional party games could have youngsters in tears.
The advice for teachers detailed on the website said, 'Younger children in particular have a wide range of fears. For very young children, Father Christmas can be terrifying. Make sure that fearful children are
near an exit. Trips to the pantomime can cause alarm, so the same planning applies.'
Margaret Morrisey, from the National Conference of PTAs, is reported to have said, 'It is so sad that we have become so politically correct that we are trying to remove the magic of Christmas.'
The advice has been taken off the website and the Department for Education said, 'This is not Government policy. It does not reflect our views.'
Footnote
I could not find the above reference on the website. Could it be that common sense has forced them to remove the article?
Winner of Wacky Warning Contest
Detroit Michigan USA. Winner of the contest, organised by Michigan Lawsuit Abuse Watch, was a warning on a tractor that read:
'Danger: Avoid
Death' (See picture to the right)
Other honourable mentions were:
'Do not iron while wearing shirt'
Warning label on a letter opener that says: 'Caution: Safety goggles recommended.'
Fuel Tank Cap: 'Never use a lit match or open flame to check the fuel level'
A cartridge for a laser printer warns, 'Do not eat toner'
A label on a hair dryer reads: 'Never use hair dryer while sleeping'
A warning on an electric drill made for carpenters cautions: 'This product not intended for use as a dental drill.'
On a child's buggy: 'Remove Child Before Folding'
A label on a baby-stroller featuring a small storage pouch that warns:
'Do not put child in bag.'
A dishwasher carries this warning: 'Do not allow children to play in the dishwasher.'
A popular manufactured fireplace log warns:'Caution - Risk of Fire.'
'The Vanishing Fabric Marker should not be used as a writing instrument for signing checks or any legal documents.'
The label on a bottle of drain cleaner warns: 'If you do not understand, or cannot read, all directions, cautions and warnings, do not use this product.'
See more funny warning signs
A Christmas Caution
Be good, or this is where Santa will put all your presents!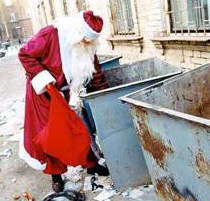 See more funny Christmas warnings.
Silly Warnings -
Funny Warnings as a Result of Official Research
Children who watch lots of adverts for junk food. Guess what -
research shows they are more likely to eat unhealthy foods (University
of Alberta).
Children who don't like peas and carrots, will eat them if parents
disguise them by mushing the vegetable in other dishes. (Penn
State University)
Call centre staff who try to befriend you be using 'Your Name'
dubbed by synthetic software are irritating. (Oxford University
Research Dept).
People who exercise are better at their work. (Leeds University)
Addendum:
Will and Guy are looking for a nice little
job where you can get paid for doing work like this.
Ten Signs of a Hangover
You get it into your head that chirping birds are the Devil's pets.
Trying to gain control of the situation, you continue to tell your
room to "Stay still."
Looking at yourself in the mirror induces the same reaction as
drinking a glass of fresh paint.
The bathroom reminds you of the fairground cry, "Step right up and
give it whirl!"
You'd rather chew tacks than be exposed to sunlight.
You set aside an entire afternoon to spend some quality time with
your toilet.
You replace the traditional praying on your knees with the more
feasible praying in a fetal position.
Your catch phrase is, "Never again."
You could purchase a new fridge on the proceeds from recycling the
bottles around your bed.
Your new response to "Good morning," is "Be quiet!"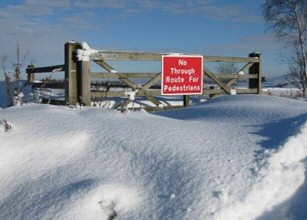 Not a Joke - Forewarning of a UK Parcel Scam:
A card is posted through your door from a company called PDS (Parcel Delivery Service) suggesting that they were unable to deliver a parcel and that you need to contact them on 0906 6611911 (a premium rate
number). DO NOT call this number, as this is a mail scam originating from Belize. If you call the number and you start to hear a recorded message you will already have been billed £15 for the phone call.
If
you do receive a card with these details, then please contact Royal Mail Fraud on 02072396655 or
ICSTIS (the premium rate service regulator) at
www.icstis.org.uk
Update:
There have been numerous variations of this
scam so beware.
Footnote:
Please send us your genuine silly Christmas
warnings.
See more funny warnings and lucky escapes:
•
Funny warnings •
Funny safety pictures •
Safety at work •
Funny health & safety •
Shoot self
•
Funny warning labels •
Silly Labels •
Funny product labels •
Silly Christmas warnings •
Home
• Lucky escapes •
Lucky escape •
Safety PowerPoint •
Funny warning signs •
Accident video clips