Will and Guy have searched the internet and have found the best love stories
to entertain our readers. Some are true; others are from history or
from famous works of fiction.
All the stories are touching, moving and amazing tales of love.
A Truly Beautiful Tale of Love
A middle-aged gentleman walked into the make-up section of a department
store. The salespeople approached him assuming he was buying goods for his
significant other.
To their surprise, he begged them to teach him how to put on make-up.
They were a bit taken aback, but seeing as the store was not particularly
bustling at that hour, indulged him. He took detailed notes throughout the
rather thorough lesson, and finally at the end they simply couldn't hold it
in any longer, and asked what had inspired him to learn this art.
He replied, 'My dear wife recently lost her sight in a terrible accident,
and so she can't put on her own make-up anymore. We've been married over two
decades, and she knows I think she's the most beautiful woman in the world
no matter what, but when we go out nowadays she doesn't have the confidence
she used to have. I came here because I want to be able to put her make-up
on for her so she can feel as beautiful on the outside as I know she is on
the inside.'

A Story of a Deep and Profound Love from China: The Tale of Liu and Xu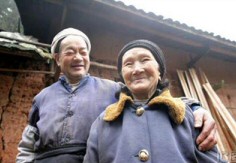 An incredible love story has come out of China recently and managed to
touch the world.
It is a story of a man and an older woman who ran off to live and love
each other in peace for over half a century.
Over 50 years ago, Liu, a 19 year-old boy, fell in love with a 29
year-old widowed mother named Xu. At that time, it was unacceptable and
immoral for a young man to love an older woman. To avoid the market gossip,
the couple decided to elope and lived in a cave in Jiangjin County in
Southern Chongqing area of China.
In the beginning, they had nothing, no electricity or even food. They had
to eat grass and roots they found in the mountain, and Liu made a kerosene
lamp that they used to light up their lives. In the second year of living in
the mountain, Liu began and continued for over 50 years, to hand-carve the
steps [over 6000] so that his wife could get down the mountain easily.
The couple had lived quietly together for over 50 years until recently.
Liu, now 72 years, returned from his daily farm work and collapsed. Xu sat
and prayed with her husband as he passed away in her arms.
So in love with Xu, was Liu, that no one was able to release the grip he
had on his wife's hand even after he had passed away.
Will and Guy have discovered that the local government in the area has
decided to preserve the love ladder and the place they lived as a museum, so
this love story can live forever.
Love Story - The Proposal
How to Make A Wedding Proposal Bus Driver Risks Embarrassment Primary
school teacher, Miss Alex Hyde was left almost speechless after her
boyfriend proposed to her in front of the entire school.
A risky proposition you may well think. Romantic bus driver Bob Doyle
popped the question at a specially arranged assembly. Bob, 49, even made a
video of himself singing the couple's favourite love song which was showed
on a giant screen in front of 700 pupils and staff.
He then took Alex, 38, onto the stage of Newbridge Preparatory School,
Wolverhampton, West Midlands, UK where he went down on one knee and asked
her to marry him. The pupils then erupted into cheers when she said "yes"
during the assembly recently. A brave man, we think, as he might have been
turned down.
Sad Love Story Of Antony And Cleopatra
The true love story of Antony and Cleopatra is one of the most memorable,
intriguing and moving of all times.
The story of these two historical characters had later been dramatized by
William Shakespeare and is still staged all over the world.
Richard Burton and Elizabeth Taylor
The relationship of Antony and Cleopatra is a true test of love. They
fell in love at first sight. The relationship between these two powerful
people put the country of Egypt in a strong position. However, their love
affair outraged the Romans who were wary of the growing power of the
Egyptians. Despite all the threats, Anthony and Cleopatra got married.
It is said that while fighting a battle against Romans, Antony got false
news of Cleopatra's death. Shattered, he fell on his sword.
When Cleopatra learned about Antony's death, she was distraught and later
she took her own life.
Great love demands great sacrifices.
Odysseus and
Penelope: A Story Commitment to Love
Few couples understand sacrifice quite like this Greek pair say Will and
Guy.
After being torn apart, they wait twenty long years to be reunited. War
takes Odysseus away shortly after his marriage to Penelope. Although she has
little hope of his return, she resists the 108 suitors who are anxious to
replace her husband.
Odysseus is equally devoted, refusing a beautiful sorceress's offer of
everlasting love and eternal youth, so that he might return home to his wife
and son.
We feel that this story, written by Homer, reminds us all that true love
is worth waiting for.
Cartoon by Kaufman

Sir Lancelot and Queen Guinevere: A Medieval and Tragic Love Story
This love story of Sir Lancelot and Queen Guinevere is probably one of
the best-known stories of Arthurian Legend. Incidentally, it's only
recently that I made the connection between Gwen Fawr (Gwen the Great in
Welsh) and Guinevere.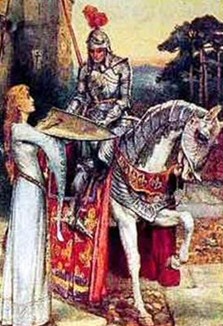 Lancelot falls in love with Queen Guinevere, King Arthur's wife. Their
love grows slowly, as Guinevere keeps Lancelot away from her. Eventually,
however, her love and passion overpowers her and the pair became lovers.
One night, Sir Agravain and Sir Modred, King Arthur's nephew, led a band
of 12 knights to Guinevere's chamber where they burst in upon the lovers.
Discovered, Sir Lancelot makes a fighting escape, but poor Guinevere is not
so lucky. She is seized and condemned to burn to death for her adultery.
However, fear you not say Will and Guy; Sir Lancelot returns several days
later to rescue his beloved Guinevere from the fire.
This whole sad affair divides the Knights of the Round Table and
seriously weakens Arthur's kingdom. Poor Lancelot ends his days as a lowly
hermit and Guinevere becomes a nun at Amesbury where later she dies.

The Incredible, Tragic and Moving Love Story of Laila and Majnu


Laila was a beautiful girl born in a rich family. Being no less than a
princess, she was expected to marry a wealthy boy and live in grandeur and
splendour.
Inevitably, some might say, she fell in love with Majnu, a poor lad.
Their passionate love for each other knew no bounds and as fate would have
it, the two lovers were banished from seeing each other.
Laila's parents married her off to a wealthy boy and she lived in a big
mansion. She couldn't bear the separation and committed suicide.
Majnu bereft and saddened by her death became insane and ultimately died
on Laila's grave.
The star-crossed lovers immortalized their feeling of love for each other
by giving away their lives in the name of love. Their agony is felt by many
in their hearts even today, when the heart-rending saga of Laila and Majnu
is narrated to them.
The story of Laila-Majnu has several variations. In India, it is believed
that Laila and Majnu breathed their last in a village in Rajasthan, where
they took refuge. Their graves are believed to be located in Bijnore
village, near Anupgarh in the Sriganganagar district.
Another, a rural legend in the area holds that Laila and Majnu originally
belonged to Sindh, from where they escaped to these parts of India and
finally, died in the Indian territory.
Another variation of the romantic tale of Laila and Majnu pictures both
the lovers meeting in school for the first time. Majnu is captivated by
Laila's beauty and falls in love in her. He is beaten by the schoolteacher
for being more attentive to Laila than studies. As their families learn
about this, the lovers are separated.
However, they meet again when they grow older. Laila's brother Tabrez
warns her against marrying Majnu. So deeply in love with Laila, Majnu
murders Tabrez, and is arrested.
Laila is married off to some other man, who challenges Majnu to death as
he gets to know Laila's inclination towards Majnu. While Majnu is killed by
Laila's Husband, she kills herself on learning of Majnu's death.
Helen of Troy: A Love Legend
Recounted in Homer's "Iliad", the story of Helen of Troy and the Trojan
War is a Greek heroic legend, combining fact and fiction.
Helen of Troy is considered one the most beautiful women in all
literature. She was married to Menelaus, king of Sparta.
Paris, son of King Priam of Troy, fell in love with Helen and abducted
her, taking her back to Troy.
The Greeks assembled a great army, led by Menelaus's brother, Agamemnon,
to retrieve Helen. Troy was destroyed. Helen returned safely to Sparta,
where she lived happily with Menelaus for the rest of her life.
A Collection of Modern Short Love Stories
True Love Story -
Flybe Airline Plays Cupid
Michael Young fell in love with a fellow passenger on a Flybe flight from
Belfast to Newcastle. The girl who caught his attention was Juliet Lever,
who was sitting next to him in row 2. Sadly, Michael was too shy to ask Juliet for her
phone number. He confirmed this on the Victoria Derbyshire show on BBC
Radio 5 Live today.


He pined for her so much after they parted that he contacted the airline and begged bosses to ask her to get in touch
with the girl in seat 2C. They obliged and Juliet, 29, phoned him and they agreed to go out to dinner. A
whirlwind romance followed and they got married the next month.
Juliet, who now lives with Michael in Manchester, said, 'Every girl dreams of a fairytale romance and you couldn't
get better than
this.'
Flybe's
Head of Customer Relations, Ella Jones commented, 'Michael's
tale pulled heart strings so we played cupid.'
An Ugly Duckling Story of Love
There once was an ugly duckling..............a story of true love?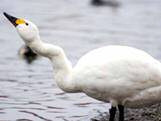 A male swan shunned by females
because of his deformed neck may finally have found a girlfriend after
seven years. 'Crinkly' the ugly swan became well-known at bird sanctuary
in Gloucester UK. Each winter he would flying in from Russia, conservation workers
and visitors have watched with dismay as Crinkly
failed miserably to attract a mate. Experts at Slimbridge were amazed when Crinkly first arrived as a cygnet with parents Lucius and Coletta, with a strangely deformed neck probably caused by a birth
defect.
'We were worried about Crinkly because he is such a strange-looking bird,' said Jools Mackin, spokesperson for Slimbridge Wildfowl and Wetlands Trust. Until now, none of the females at the
sanctuary was
prepared to mate with him but conservation workers say they can see signs of a budding romance.
'We are delighted because we think Crinkly has finally found a girlfriend,' commented Ms Mackin. 'He appears to
be loosely associating with another Slimbridge Bewick's swan called Taciturn. It is too early to say whether or not they are mates, but we'll be monitoring them over the next few days to see. At the moment they
are associating on Swan Lake. They are flying in and out together and we do hope they will become mates.'
Footnote:
Please send us your short love stories.
See another short love story:
• Short love stories
• Chinese love stories • Love in the animal kingdom •
Animal love stories
•
Stories about people •
Love story •
Best of love quotes •
Valentine love •
Valentine love story
•
Funny short stories
• Sisterly love •
Very short stories
• Unlikely animal friends •
Home