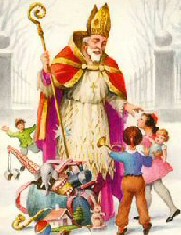 Santa Claus, Father Christmas Kris Kringle or Pere Noel - call
him what you will - we have his picture or cartoon.
Santa Claus Pictures For Children
Santa Claus Sleigh
Santa Sculpture
Funny Father Christmas
Pictures
More Santa Claus Pictures
Santa Delivering To Children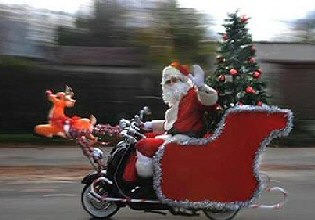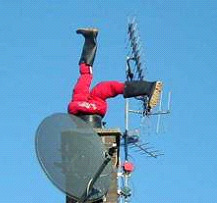 Why does Santa go down the chimney?
Because it soots him!
How to Behave with Santa Claus
Santa knows if you've been naughty or nice, and this holiday season, the
men who put on the red suit are spilling the beans about how kids, and
adults, behave on Santa's lap.
From kids who cry and the reasons why, to
parents who think they can use their kids to prank the jolly old elf, Santa
has seen it all.
With the help of Santa Mike from Chicago and Santa Robert from
Cincinnati, we've compiled some stories that will give you a holiday
chuckle.
You Can't Get Much Past a Child - Even if you're Santa
One Santa says that he chews gum or uses breath mints, because kids are
very honest about whether Santa's breath stinks. Sometimes that honesty
hurts Santa's feelings.
One little girl, about 5 years old, was rattling off her Christmas wish
list, when she paused to ask Santa a question.
'Are you chewing gum?' she asked.
Santa, taken aback by the question, admitted that yes, in fact, he was
chewing gum.
'Why are you chewing gum?' she asked.
Santa fessed up and admitted that he chews gum so that his breath would
be nice for the children.
'OK,' she said, and went back to her list without skipping a beat.
The Girl Knows What She Wants
Santa is accustomed to kids bringing their lists with them when they
visit him. But one little girl really knew what she wanted and how to get it
The girl, about 6 years old and dressed in her frilliest dress, sat on
Santa's lap and proceeded to read more than 20 items off of her list --
everything from Barbie's and dolls to a particular brand of baby carriage.
As the little girl reached the end of her list, she turned to Santa and
said, 'If you can't bring all of this, don't worry. My daddy will give it to
me.'
'Do you want to give me the list?' Santa asked.
'No, I think I should keep it for my daddy,' she replied.
Santa, Will and Guy all agreed.
Letters To Santa
Dear Santa,
Thanks for the race car last year. Can I have another one,
only this time one that is faster than my best friend's race car?
Ricky
See more funny letters to Santa.
Make My Day - Be Naughty!
Christmas Sandwich
It's not always toys that kids want for Christmas. Santa gets some other
unusual requests
One 6-year-old boy sat on Santa's lap and when it came to telling Santa
what he wanted for Christmas, he said, 'A sandwich.'
Santa notes that the boy didn't look underfed or that he had missed any
meals, but that was all the boy said he wanted.
Once the boy left Santa's lap, his mother came over to ask Santa what her
son wanted.
Santa told her the boy wanted a sandwich.
'You're serious?' she asked.
The boy's mother said they had just eaten before going to see Santa and
had no idea why he would say such a thing.
Funny Picture of Father Christmas and His Reindeer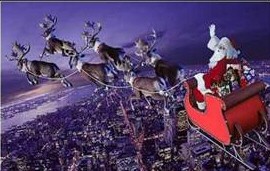 Poisoned Santa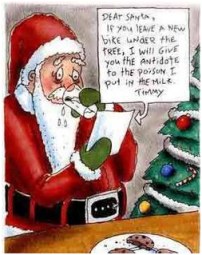 Dear Santa
If you leave a
new bike under the tree, I will give you the antidote to the poison I put in the milk.
Timmy.
Yes There Is A Santa Claus
If you want the great gift giver
To come on his sleigh and deliver
Then remember this simple rhyme
And recall it at Christmas time
"If in
Santa you do not believe
Christmas gifts you will not receive"
Welsh Santas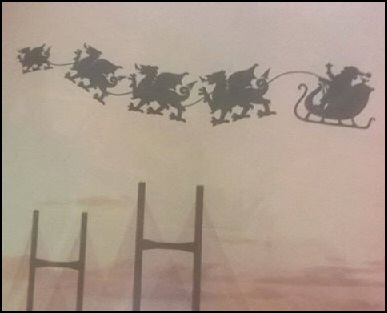 More Funny Santa Pictures For Kids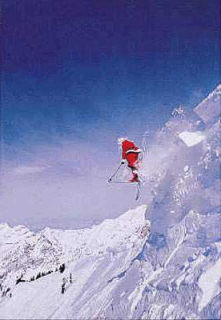 See more snow pictures
See more funny Santa pics
and cartoons
Santa Claus and Coca
Cola - The Urban Myth
A popular urban myth is that back in 1928 Coca Cola invented Santa Claus.
What fuels this myth is that his red coat matches perfectly the Coca Cola
livery.
The truth is that while early Santa Claus often wore green, Santa Claus
in red was established by the 1860s, long before Coca Cola was invented.
Other Names for Santa Claus
While it is true that the name Santa Claus was an American 'invention' sometime before 1870. The
original name for the 'figure' associated with the mid-winter festival was
Saint Nicholas, or St. Nick. Other languages have variations or
translations of Saint Nicolas, for example, Père Noel, Papa Noel, Babbo
Natale, Papai Noel, Father Christmas, and Kris Kringle.
See more on the
origins of Santa Claus
Santa Sacked for Smacking Boy
A Santa Claus is facing the sack from a Dutch shopping centre after he smacked a young boy for pulling his beard.
Peter Hendriks hit the boy on the backside in front of dozens of shoppers in the town of
Rijswijk. Defending his actions, he said: 'If I hadn't
done that, he would have pulled off my beard and dozens of children would have been traumatised.'
Santa Claus Movies For Kids
Bad Santa (2003) A screwball dark comedy Directed and co-written by Terry
Zwigoff. Starring Billy Bob Thornton as the title character and Tony
Cox his partner.
Santa Claus (1959) Directed by René Cardona.
Santa Claus (1985) Starring Dudley Moore.
Here are the more recent Santa Clause 1, 2 and 3 trilogy.
The Santa Clause (1994)
The Santa Clause 2: The Mrs. Clause (2002)
The Santa Clause 3: The Escape Clause (2006)
Santa Claws (1996) is a poor film, one to avoid.
Santa Has Trouble Flying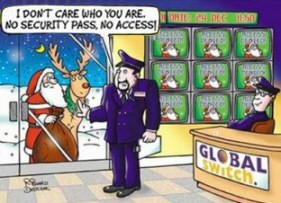 A Picture of Santa Flying Off-course!
One More Funny Santa Cartoon to Frighten The Children
See more funny Santa cartoons.
Footnote:
Please send us more of your funny Santa
pictures for kids.
See more funny Santa jokes and funny pictures.
Also snowman pics
∗ Funny Santa Claus
pictures
∗ Father Christmas
∗ Funny Santa cartoons
∗ Funny Santa sleigh
∗ Children with Santa ∗
Santa Shot
∗ Snowman jokes
∗ Santa Claus history
∗ Kids jokes
∗ Santa pictures kids ∗ Santa Banta jokes
∗ Funny snowmen
∗ Santa sculpture
∗ Santa quotes