Here is
Will and Guy's collection of Santas with their toboggans, or other funny
snow vehicles.
Santa's Sleigh in Trouble
Santa Claus' sleigh broke down on Christmas Eve. He flagged down a passing motorist and asked,
'Can you help me fix my toboggan, please?'
'Sorry,' the car driver replied,
'I'm not a mechanic - I'm a chiropodist.'
'In that case,' said Santa,
'Please can you give me a tow?' [Toe]
Not So Funny Sana Sleigh Cartoon - Another Breakdown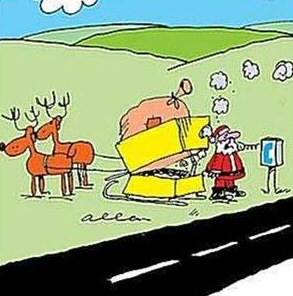 "It just goes JINGLE, JINGLE, then stops!"
Amusing Father Christmas Sleigh - 10 Horsepower Version?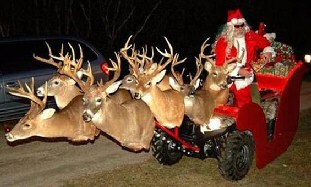 Santa gets ticketed by police - what a killjoy!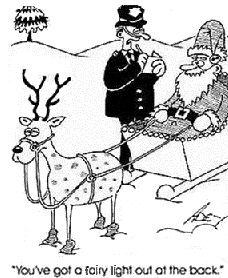 Santa Claus and Rudolph Take to
the Air
Santa's suitcase sticker reads: "Real Pilots Fly Sleighs".
Santa Claus Sleigh Flies Off-course!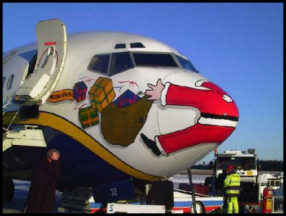 Bad flight?
An aeroplane was flying over the jungle when the engine stalled. The pilot ejected and drifted gently down to land. Unfortunately he landed in a large cooking pot which was gently simmering over a low fire.
All the local tribesmen turned to look at him until the chief, blinking in disbelief asked, 'What's this
flya doing in my soup?' (You've guessed it - out of a Christmas cracker.)
Funny Santa
Sleigh - Back On the Ground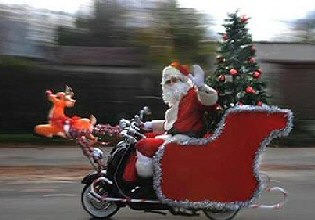 Sleighs: Some Interesting Facts
When Catherine the Great* travelled from St. Petersburg to Moscow
for her coronation ceremony, the court followed in fourteen large sleighs
and nearly 200 smaller ones. The grandest sleigh in the entourage was a
miniature palace on runners; in addition to a bedroom, it contained an area
in which to entertain and a small library.
*Catherine II, known as Catherine the Great of Russia (1729-1796) was
Russian Csarina 1762-1796.
Vandals Strike Father Christmas' Sled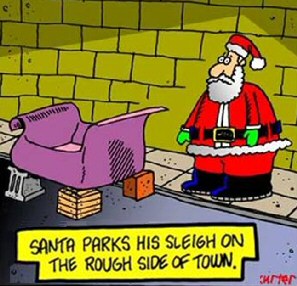 Dear Santa....
French police have had their wish granted after writing to Father Christmas to ask for new police cars. Police in Marignane, near Marseille told Santa 'even your sleigh is faster' after being told
there was not enough money in the coffers to replace their ageing cars. The letter, addressed to Father Christmas and written on official police note paper, read, 'Dear Santa, our cars can't
handle the job any more. If you think we are exaggerating, you can try out the cars yourself. Even your sleigh is better than one of them.'
Local authorities have now put up the cash to
buy new cars for police after seeing the letter published in the Christmas stories section of a local paper.
Understandably, Father Christmas Abandons His Sleigh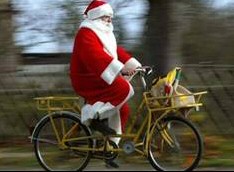 On a Happier Note, Father Christmases Have Their Own Tour de France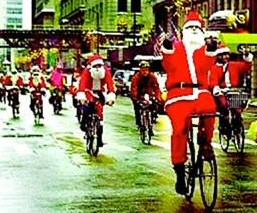 More
Santas Abandon their Sleighs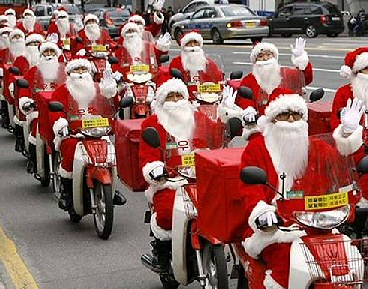 See more Santa Claus pictures
South Korean postmen, wearing Father Christmas outfits, ride motorbikes to
deliver Christmas gifts to poor people for their charity campaign in Seoul.
More Funny Santa Vehicles - Speeding Santa
The German newspaper Munster am Sonntagg reports that a speeding Santa will have to find a new way to deliver his presents this year after German police have prosecuted him and he has
received a driving ban.
Bernhard Siewert, 36, was stopped by road traffic police near Munster while dressed as Father Christmas. He said he was only speeding because he was late for a festive party at an
OAPs home where he had to give out presents.
The police officers said they had caught him on camera driving at 92 mph in a 60 mph zone and could not ignore the law even for Santa.
Bernhard was given a fine and
a three-month driving ban.
Father Christmas
Caught in Police Road-block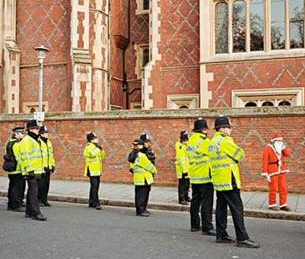 An honest politician, a kind lawyer, and Santa Claus were walking down
the street and they saw a $20 bill. Which one picked it up?
Santa! The other two don't exist!
Return to Basics -
Santa's Sleigh with
His Very Red-nosed Reindeer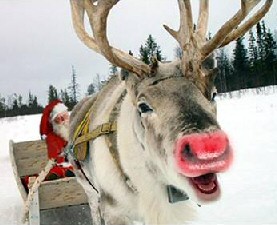 With Bells On It
You will have heard the expression: "We'll be there with bells on," but
do you know the origins of the saying? We have researched this using the
internet.
Apparently, years ago, once snow had a good covering on the ground,
people used horse drawn sleds and sleighs. The rural roads were unadopted [had no tarmacadam] and the runners of
these vehicles left ruts to be followed in the deep snow cover and in the
mud. Many folk walked to their destinations and used the ruts as "the path
of least" resistance to follow.
In the winter months, these pedestrians were bundled up from head to toe
against the cold, it was impossible for them to hear a sleigh coming until
it was on top of them. The snow cushioned the hoof beats and made the
runners almost silent. Drivers and riders in these open vehicles got the
full brunt of the wind and cold in their faces, making visibility dicey at
best; nonexistent in the dark. Consequently, the foot traveller was at great
risk of mortal injury.
Bells, handmade, by local blacksmiths, were attached to the harnesses and
leather trappings so the walkers hear them coming and could quickly "get out
of their rut", before being run over.
Since each bell was slightly
different in shape and size, it had its own sound. Putting a set together
meant that each person's horse harness had its own distinctive sound and
rhythm with the horses movements. People would know long before seeing them,
who was coming down the lane.
Inhabitants living in roadside homes could tell who was passing and in
what direction they were going without looking. They also knew when there
was a stranger in the vicinity or someone was using new harnesses. If
company was coming, people might say: "We'll be there with bells on", so you
knew, even in the dark, when they were coming down the lane and could meet
them at the door with a smile, a hug and a warm drink.
Jingle Bells - In-sleigh Music
Jingle Bells is one of the most famous American Christmas songs.
Apparently Will and Guy have discovered it was originally written for
Thanksgiving.
The author and composer of Jingle Bells was a minister called James
Pierpoint who composed the song in 1857 for children celebrating his Boston
Sunday School Thanksgiving.
The song became so popular that it was repeated at Christmas, and indeed
Jingle Bells has been reprised ever since. The essence of a traditional
Christmas is captured in the lyrics of Jingle Bells and the sound effects
using the bells have become synonymous with the arrival of Father Christmas
or Santa Claus to the delight of children of all ages. Incidentally, we have
learned that Pierpoint originally named his song: "On a one horse open
sleigh."
Jingle Bells
Dashing through the snow
In a one horse open sleigh
O'er the fields
we go
Laughing all the way
Bells on bob tails ring
Making spirits
bright
What fun it is to laugh and sing
A sleighing song tonight
Oh, jingle bells, jingle bells
Jingle all the way
Oh, what fun it
is to ride
In a one horse open sleigh
Jingle bells, jingle bells
Jingle all the way
Oh, what fun it is to ride
In a one horse open
sleigh
A day or two ago
I thought I'd take a ride
And soon Miss Fanny
Bright
Was seated by my side
The horse was lean and lank
Misfortune
seemed his lot
We got into a drifted bank
And then we got upsot
Oh, jingle bells, jingle bells
Jingle all the way
Oh, what fun it
is to ride
In a one horse open sleigh
Jingle bells, jingle bells
Jingle all the way
Oh, what fun it is to ride
In a one horse open
sleigh, yeah
Jingle bells, jingle bells
Jingle all the way
Oh, what fun it is to
ride
In a one horse open sleigh
Jingle bells, jingle bells
Jingle
all the way
Oh, what fun it is to ride
In a one horse open sleigh.
See more Santa Claus
funnies
Footnote:
Please send us your Santa sleigh cartoons
and funny pictures.
See more funny Santa jokes and funny pictures.
Also snowman pics
∗ Funny Santa Claus
pictures
∗ Father Christmas
∗ Funny Santa cartoons
∗ Funny Santa sleigh
∗ Children with Santa ∗
Santa Shot
∗ Snowman jokes
∗ Santa Claus history
∗ Kids jokes
∗ Santa pictures kids ∗ Santa Banta jokes
∗ Funny snowmen
∗ Santa sculpture
∗ Santa quotes