St. Swithin's day if thou dost rain
For forty days it will remain
St. Swithin's day if thou be fair
For forty days 'twill rain nae mair. (no more)
14th July 2010. On St Swithin's day it rained for
at least part of the day in practically the whole of the UK, thus we should
expect a cold wet August. This is indeed how the next month panned
out. Dull.
St Swithin's History
During the 800s, a man named Swithin (spelling also recorded as 'Swithun')
was the Bishop of Winchester in England. Some 100 years after his death in
862, and for reasons not documented, Bishop Swithin's remains were transferred
to Winchester Cathedral on 15th July 971.
On that same day there was a tremendous
rainstorm. Legend has it that Bishop Swithin was so angry about the move from
his final resting place that he caused the storm. According to old
rain-saint English
folklore, if it should rain on 15th July, then St. Swithin will make it rain for
the following 40 days. Incidentally, this 40 period ends on St.
Bartholomew's Day, which is the 24th of August.
Henry the VIII is responsible for St Swithin's fall from grace. In
the middle ages the shrine of St Swithin in Winchester Cathedral was a most
popular place of pilgrimage. For reasons which we have not been
able to establish, King Henry, or someone highly placed in his court, took
against poor St Swithin and demolished his shrine.
St Swithin - Superstitions of the Rain-saint
Oddly enough, while most of us would rather not see rain on July 15th,
apple-growers hope for a good soaking on this day. This is because they
believe that
the 'saints are watering the crops.' If they fail to do so, the apple-crop
will be a poor one. Furthermore, no apple should picked or eaten before
July 15th. The other side of the superstition is that apple-growers
believe all apples still growing at St Swithin's day will ripen fully.
In recent times, St Swithin's day was dry in 1995, and it remained dry for 38 of the 40
days between 15th of July and 24th of August. Whereas in 1985, it rained on St Swithin's day,
and continued to rain for 30 of the 40 days that followed.
On this day beware of 'dogs eating grass' as it is an old superstition that
this will bring rain. Furthermore, rain is highly likely when a cat busily
washes its ears, this is another ancient British superstition.
Other countries have similar customs to St Swithin, but with different
names and different dates. The French have St Medard's day on 8th of
June, while the Belgians have St. Godelieve on 27th of July. My point
is this is a recurring superstition, but each variant has a different days
and emphasises different aspects.
St. Swithin's Churches
England has several churches dedicated, or named after St Swithin, here are a few examples dedicated to the 'rain-saint'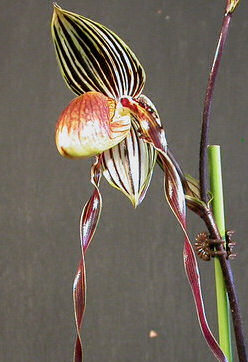 Retford, Yorkshire 1258 (Restored 1658)
Bude, Cornwall (15th century)
Sproatley, Yorkshire (1819)
Lincoln (Mid 19th century)
Norwich 1882
St Swithin Orchid - Paphiopedilum
St Swithin is also the name give to a hybrid orchid. The St Swithin orchid is
created by crossing Paphiopedilum rothschildianum with Paphiopedilum
philippinense.
As you can see from the picture to the right, St Swithin is one of the
biggest, and most interesting, examples of the Orchid genus.
Twinning St Swithin
The French have a similar belief about the weather on 8 June, which is St
Gervasius' Day. However, Will and Guy feel that St Swithin should be
twinned with St Punxsutawney and
Groundhog day. Our thinking is that in addition to their forecasting
prowess, there is a near symmetry between February and July.
Weather Snippets
Mexico
What is the Mexican weather report?
Chilli today and hot tamale.
Coast clear?
A husband and his wife were sound asleep when suddenly the phone rang. The husband picked up the phone and said, 'Hello? How the heck do I know? What do you think I am, a weatherman?'
He then slammed the
phone down and settled into bed.'
Who was that?'
asked his wife. 'I don't
know. It was some guy who wanted to know if the coast was clear.'

Monday Blues
There's
a technical term for a sunny, warm day which follows
two rainy days. It's
called Monday.
British Summer Time
Summer in the UK usually:
Hallo, did you have a good Summer?
Yes indeed, we had a great barbeque that afternoon.
Nightmares?
One summer evening during a violent thunderstorm
a mother was tucking her small boy into bed. She was about to turn off the light when he asked with a tremor in his voice, 'Mummy, will you sleep with me tonight?'
The mother smiled and gave him a reassuring
hug. 'I can't
dear, 'she said. 'I have to sleep in Daddy's
room.'
A long silence was broken at last by a shaken little voice saying, 'The big sissy.'
St Swithin's 14th July 2009
On St Swithin's day it rained for
at least part of the day in practically the whole of the UK, thus we should
expect a cold wet August. However, weather experts said that the
effects of El Nino mean that the next 40 days will be sunny and dry.
Footnote
Please send us your St Swithin's Day trivia
See more Saints Days and other special days in
summer:
•
World Environment Day quotes •
Wesak Day •
Midsummer's Day •
Lady Day
•
Special Days •
Canada Day •
St George's Day •
St Swithin's Day
•
National Day of Prayer •
May Day •
Special day today •
4th July •
Bastille Day