The national day of Wales, while not a public holiday, you will see an
ingenious variety of leeks and daffodils displayed throughout Wales on the
1st of March. Incidentally, as you would suspect with a surname of
Thomas, Guy is Welsh.
The Red Dragon of Wales (Ddraig Goch)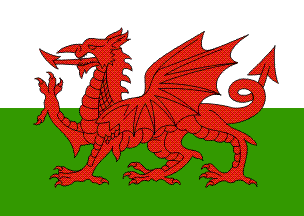 The red dragon (Ddraig Goch) is the Welsh flag. According to legend, King Arthur also flew the red dragon on his battle standard. It was also
displayed by Henry VII at the Battle of the Roses, moreover, when he
became King of England in 1485, he decreed that the Red Dragon should be the official flag of Wales.
Technically the Welsh Red Dragon is passant, in contrast to the English lion which is rampant.
History of Saint David
Saint David is the patron saint of Wales, (Dewi Sant in Welsh). He lived in the 6th century and died on Tuesday 1st March 589. Understandably, there are few contemporary written records of Saint
David's achievements, however scholars are satisfied that he was a real person.
500 years later there are written records by Rhigyfarch and also by the most
famous chronicler of this era, Gerald of Wales (Giraldus Cambrensis). They
show that David was canonised in 1120 by Pope Callixtus II and thus became an proper and
official Saint. Relatively few other 'Saints' can both trace their ancestry and claim papal blessing.
One of the most important royal families in West Wales was that of Cunedda
and it is probable that St David was the son of Non and the King of Ceredigion.
According to his biographers, David was born at Capel Non; whether this chapel
'Non' was named after his mother before or after he was born is not clear.
The Welsh in general, and Gerald of Wales in particular, are great story
tellers. One of my favourite sagas is that of Llanddewi Brefi.
According to legend St. David was trying to speak to a large crowd when one
the men at the back piped up 'we cannot see you'. Whereupon the ground on
which St David was standing rose, up and formed a hill. As a result of St.
David's miracle, everyone had a good view and could hear his sermon. This
famous spot is to be found in the village of Llanddewi Brefi.
Saint David was based in a monastery in the Glyn Rhosyn valley of
Pembrokeshire. After several re-buildings, this monastery is better known today as St. David's Cathedral. Records show that Saint David, was active and dynamic. As well as busying himself founding
monasteries in Wales, Brittany and possibly Cornwall, he found time to make pilgrimages to Jerusalem and Rome.
His missionary and monastic deeds may also account for his other nickname, Dewi
Ddyfrwr. Dewi = David and Ddyfrwr means water drinker.
Recent History
While the Cornish and Breton languages are struggling, Welsh is a Celtic
language in the ascendancy. Part is because it is still taught is primary
schools, part because it has it's own TV Channels from the 1960s.
Another positive sign is that 66% of people who live in Wales would like
March 1st - St David's Day to be a public holiday. The majority
would willingly give up the May Day holiday in favour of a day off to celebrate
St David's Day.
The Welsh Leek
While the Red Dragon is the national flag, Wales has two other emblems, the leek and the daffodil.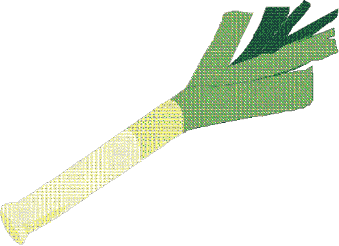 Interestingly, the leek also features on the back, or tails of the one pound coin.
Hence when we had to toss a coin for kick-off I always called 'Tails for Wales'.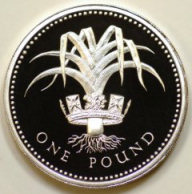 As a boy, my
Mother would make colourful cloth leeks so that I could proudly pin one to my lapel without the accompanying stench of a real leek.
There is a nuance - no more than that - for girls to wear daffodils and boys to
wear leeks on St David's Day.
The Welsh Daffodil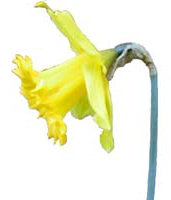 There is a link between the leek and the daffodil, it is that in Welsh the
daffodil is St Peter's leek Cenhinen Bedr. Botanically there is wild
subspecies of Narcissus pseudonarcissus called the Tenby daffodil, however
most Welshman are more than happy to wear the larger common garden daffodil,
simply because it's bigger and cheaper!
St David's day is on March the 1st. Each year I judge
the arrival of spring by how many real daffodils
bloom before St David's day.
St David's Day Celebrations Around the World
Welsh enclaves are not as famous, numerous or boisterous as of those of the
Irish in Boston. However their are places around the world where they do
celebrate 1st of March - St David's Day.
Pennsylvania is more associated with Quakers, but actually, many were Welsh
Quakers who settled in the 'Welsh Tract' and this is why they honor March 1st in
that part of America. What attracted the Welsh to Pennsylvania was the
coal; after all, they had mining experience from the valleys back home.
Strangely, Pennsylvania was nearly called 'New South Wales'. Meanwhile
the Australian 'New South Wales' despite it's coal, does not retain strong Welsh
links. In fact, many of these coal miners came from Newcastle-upon-Tyne,
and then they formed a Newcastle, a Gateshead and a Hexham in Australia.
Although New South Wales is not a particular Welsh stronghold, their are plenty
of Welsh enclaves in Australia, for example in Victoria.
Perhaps the most famous Welsh emigration was those brave souls who boarded the
ship 'Mimosa' to Patagonia.
One attribute that this community retains is Welsh hymn singing, they never
miss a chance for a Cymanfa Ganu either on St David's Day or at the various
Eisteddfods.
Other hotspots for celebrations include Hong Kong, Toronto Canada and New
Zealand.
Is The Welsh Language Dying?
The number of fluent Welsh speakers is falling by around 3,000 people a
year, a new report read by Will and Guy suggests.
The Welsh Language Board (WLB) said deaths and people moving from Wales
are having the biggest impact. The report says that around 6,500 Welsh
speakers die annually and 5,200 move away, out-pacing adult learners and
children learning or raised in Welsh.
It found the number of people who say they speak Welsh fluently is
approximately 300,000. It suggested that four areas - Anglesey, Gwynedd,
Ceredigion and Carmarthenshire - remain important for the language,
accounting for 56% of all fluent Welsh speakers.
Finally it concludes that the number of people able to speak Welsh rose
between 1991 and 2001, mainly because more young people were learning the
language at school.
Welsh Language Facts
Until the mid-1800s, more than 80% of people in Wales could speak Welsh
Factors causing its decline included the Industrial Revolution, with the
fall continuing in the 20th Century
The 1991 Census found 508,000 Welsh speakers in Wales (18.7% of the
population)
The 2001 Census showed 582,000 (20.8%) Welsh speakers, up 2.1%
The 2001 Census also showed 457,946 (16.3%) can read, write and
speak Welsh
In 2001, 797,717 (28.4%) people had at least one skill in Welsh,
either understanding, speaking, reading or writing
See our Welsh Humour »
Footnote:
According to Rhigyfarch, St David's last words were: 'Be steadfast brothers,
and do the little things'
See more Saints Days and other examples of special
events:
•
Special Day Events
•
St David's Day •
St Patrick's Day •
St George's Day •
St Andrew's Day
• 4th July • Welsh humour •
Scottish jokes • Burns Night •
Shrove Tue •
Candlemas
• Special day today
•
Bastille Day •
St Swithin's •
Lammas •
Lady Day •
May Day