Grandma Beats Up Airport Security Guards
By Bob Wallace

Charges were dropped yesterday against Ruth 'Grammy' Gordon, an 83-year-old wheelchair-bound grandmother, who was originally charged with assault and battery, and assault with a deadly weapon, because of an altercation she had last week with six airport security guards, that left all six hospitalised. 'Justice has been served', said the 95-pound mother of three and grandmother of six, as she sat in her wheelchair, aided in her breathing by an oxygen bottle. 'Now I'm going to sue every fool in the federal government for ignorance, stupidity, and just plain general incompetence. I'm an American, and I won't be treated like this.' The problem began last month as Gordon was attempting to board an airplane. 'These guys are supposed to be some kind of professionals', she said, 'but they're dumber than rocks. Here they were letting guys who looked just like terrorists walk through without searching them, and then they pull me aside and tell me they're going to search me? I don't think so.' According to one witness, Bud Cort of Cuyahoga Falls, Ohio, one guard, 'who weighed about 300 pounds, looked like he was drunk, and had his shirt out, told this woman she couldn't board the plane unless they searched her. He was really rude. That's when the trouble started.'

Videotapes showed that Gordon ran the guard down with her motorized wheelchair, then sat on top of the screaming man while spinning her chair in circles. 'Doofus was so fat he couldn't get up', said Gordon with a giggle. One guard who attempted to pull Gordon's wheelchair off of the screaming man from behind was hit over the head with an oxygen bottle and knocked unconscious. A third guard, who approached Gordon from the front, was also left dazed on the floor. Witnesses said she was cackling, 'Put your hands on an old lady, will you?' as she bashed both guards. The tape also showed a fourth guard attempting to grab Gordon's wheelchair. Gordon removed a knitting needle from her purse and stabbed him in his left buttock.' What a wimp, 'she told reporters.' He started screaming and grabbing his butt and running like a puppy that someone kicked.' 'It was amazing', said another witness, a Scott Ryan. 'The whole crowd just stood there cheering and clapping. I mean, she was whupping butt.' A fifth guard that attempted to grab Gordon had the seat of his pants set on fire with a cigarette lighter than had escaped detection.' He just went whoosh across the concourse, screaming and slapping at all these flames flying out of his rear, 'said Ryan. A sixth guard did finally manage to get Gordon in a body hug. 'I think that was the wrong thing to do, 'said another witness, who declined to be identified.' She just grabbed him by his greasy hair with one hand and cracked him across the jaw with her skinny fist. And down and out he went.' After all this, Gordon's chair was still sitting on top of the first guard. The tapes clearly showed her leaning over and yelling, 'Apologize to me, you fat sumbitch, or when I'm done with you you'll just be a greasy spot on the floor!' As the crowd roared, the guard cried, 'I'm sorry, I'm sorry! Uncle! I won't do it again!'

Finally, Gordon surrendered without further incident, and was taken to jail and released on her own recognizance.' We didn't have any choice, 'said an unidentified officer of the court.' Over 200 people showed up to support her. I think if we had demanded bail, there would have been a riot.' Over 20 lawyers offered to defend her for free. However, realizing the precariousness of the case, Gordon was not charged with anything. 'I doubt there's a jury in the whole country that would have found her guilty of anything, 'said one of the lawyers. 'I'm flying again tomorrow', Gordon told reporters. 'And I suggest no one at the airport so much as look at me wrong.'
Footnote researched by Alicia Moss
Ruth 'Grammy' Gordon is an urban myth.  In fact, it's a fiction invented by Bob Wallace.  Clues are the references to 'Bullwinkle' (Bullwinkle Security Company, R.J. Squirrel Airport; Frostbite Falls, Minnesota; Badanov Hospital) Also the names mentioned in the piece, Bud Cort and  Ruth Gordon happen to be the two stars of the 1971 film Harold and Maude.
Janet Lane - A Real Life 'Grammy Gordon'
It was a sunny October day in Devon, England.  Janet Lane, a 68 year-old grandmother, was sitting on a park bench enjoying the unusually warm autumn sunshine when three teenage boys approached and asked for a cigarette.  When she said, 'no', to her horror one snatched her handbag containing £100 in cash and her mobile phone. But Mrs Lane was mad, and what the boys did not was that she was the 1953 Yorkshire cross-country running champion.  A career in nursing had kept her fit and she leapt up and gave chase.  The pursuit took her 100 yards across the park into a hotel.  In a magic moment the 68 year old grandmother caught one the boy of 15 who had robbed her and forced him to drop her bag complete with her money. When she recovered her breath and her composure, Mrs Lane, said: 'Those boys saw a little old lady and thought I was easy pickings, but there was no way I was going to sit there and let them get away with it. I was so angry when they took it. I had been to collect my pension and I had water rates to pay with that money. 'My first reaction was, 'They are not having my bag'. I used to be a very good runner when I was younger so I just got up and ran after them.' The police are continuing their inquiries.
Mrs Gwyneth Davies (86) Corners Intruder with Her Crutches
Treharris, Merthyr, South Wales.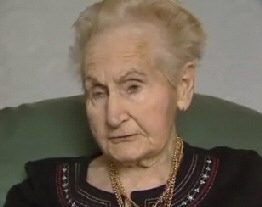 One day Mrs Davies was moving around her house when she heard a noise in the kitchen.  It was an intruder.  Mr Davies whacked the 26-year-old man around the head with a metal walking sticking.  The four blows left him disorientated. After she phoned the police, Mrs Davies commanded the man to sit on a stool.  'To be fair,' she said, 'they weren't long coming'.  The officers soon took the man to the Merthyr police station, where he was charged with burglary. She later told an interviewer, 'He was right in front of me and he must have thought I would be no match for him. "But I had my metal crutch with me and it turned into a very useful weapon. I lashed out at him with it and as he turned away from me I whacked him four times across the back. I was brought up with six brothers and put on the boxing gloves to spar with them.  He was stunned and pretending to cry - it was better than going to the pictures.  He was whimpering and I told him to sit on the kitchen stool and not to move.'  Mrs Davies, who has been widowed for 20 years went on to say, 'When the police arrived they couldn't believe what I'd done. They were all asking me if I was all right - I told them: 'You're asking the wrong one!'." During the Second World War Mrs Davies worked at London's Woolwich arsenal during where she helped produce fuses and detonators for landmines.  After the war she worked at a munitions factory in Bridgend
Grambo
70-year-old Grandmother Beats Robbers with a Pan
The true story of grandmother Ellen Basinski who fended off a bunch of would be robbers with a sauce pan.   On February 27th, 2009 in Elyria, Ohio USA, Ellen Basinski was on the phone to her husband when four youths pushed their way into her home, and tried to rob her. Ellen had raised 5 boys and was not intimidated by the 4 hoodies who tried to take her money.  She set about one of them with her pan. Later, one of the robbers told the police that he threw a bottle of whiskey at the woman to distract her so his friend could get away from her beating. Ellen was miffed when the  police took away her favourite sauce pan away as evidence.  However police Chef Emeril Lagasse said he would happily replace the utensil.  Friends now call her Grambo.
Minnesota State Trooper Stops Granny
I made a traffic stop on an elderly lady the other day for speeding on Eastbound at Mile Marker 73 just East of Sedan, KS. I asked for her driver's license, registration, and proof of insurance. The lady took out the required information and handed it to me. In with the cards I was somewhat surprised (due to her advanced age) to see she had a conceal carry permit. I looked at her and ask if she had a weapon in her possession at this time. She responded that she indeed had a .45 automatic in her glove box. Something about her body language, or the way she said it; made me want to ask if she had any other firearms. She did admit to also having a 9mm Glock in her center console. Now I had to ask one more time if that was all. She responded once again that she did have just one more, a .38 special in her purse. I then asked her, "What are you afraid of?" She looked me right in the eye and said, "Not a damn thing!"
Don't Mess with Older Women
SHE WALKED UP AND TIED HER OLD MULE TO THE HITCHING POST. AS SHE STOOD THERE, BRUSHING SOME OF THE DUST FROM HER FACE AND CLOTHES, A YOUNG GUNSLINGER STEPPED OUT OF THE SALOON WITH A GUN IN ONE HAND AND A BOTTLE OF WHISKEY IN THE OTHER. THE YOUNG GUNSLINGER LOOKED AT THE OLD WOMAN AND LAUGHED, "HEY OLD WOMAN, HAVE YOU EVER DANCED?" THE OLD WOMAN LOOKED UP AT THE GUNSLINGER AND SAID, "NO, I NEVER DID DANCE... NEVER REALLY WANTED TO." A CROWD HAD GATHERED AS THE GUNSLINGER GRINNED AND SAID, "WELL, YOU OLD BAG, YOU'RE GONNA DANCE NOW," AND STARTED SHOOTING AT THE OLD WOMAN'S FEET. THE OLD WOMAN PROSPECTOR -- NOT WANTING TO GET HER TOE BLOWN OFF -STARTED HOPPING AROUND. EVERYBODY WAS LAUGHING. WHEN HIS LAST BULLET HAD BEEN FIRED, THE YOUNG GUNSLINGER, STILL LAUGHING, HOLSTERED HIS GUN AND TURNED AROUND TO GO BACK INTO THE SALOON. THE OLD WOMAN TURNED TO HER PACK MULE, PULLED OUT A DOUBLE-BARRELED SHOTGUN, AND COCKED BOTH HAMMERS. THE LOUD CLICKS CARRIED CLEARLY THROUGH THE DESERT AIR. THE CROWD STOPPED LAUGHING IMMEDIATELY. THE YOUNG GUNSLINGER HEARD THE SOUNDS, TOO, AND HE TURNED AROUND VERY SLOWLY. THE SILENCE WAS ALMOST DEAFENING. THE CROWD WATCHED AS THE YOUNG GUNMAN STARED AT THE OLD WOMAN AND THE LARGE GAPING HOLES OF THOSE TWIN BARRELS. THE BARRELS OF THE SHOTGUN NEVER WAVERED IN THE OLD WOMAN'S HANDS, AS SHE QUIETLY SAID, "SON, HAVE YOU EVER KISSED A MULE'S ASS?" THE GUNSLINGER SWALLOWED HARD AND SAID, "NO M'AM... BUT.... I'VE ALWAYS WANTED TO."
There are a few lessons here for all of us:
Never be arrogant.
Don't waste ammunition.
Whiskey makes you think you're smarter than you are.
Always, always make sure you know who has the power.
Don't mess with old women; they didn't get old by being stupid...And that's a fact!
I just love a story with a happy ending, don't you?
Footnote:
Please send us your urban myth tale.
See more urban myths, hoaxes, imposters and fakers
•
Urban Myths
   • Kilroy & Chad   • Grammy Gordon   • Smithsonian Barbie exhibit • Spaghetti trees   • rand(200,99)   • Taxi driver jokes   • Traffic ticket   • April Fools day hoaxes • Greatest hoax   • Credit card scam   • Letter   • Imposter stories  • Military hoax