Regarding the England match against Argentina; it is being said that
Jonny Wilkinson is passed his best because he missed more penalties than the
England football team.
Clean, Funny, Hilarious, Irreverent Rugby World Cup Humour
Celebrate the 2011 World Cup with Funny Jokes and Stories from Will and
Guy
New Zealand -v-
Australia 23rd October 2011
A New Zealand fan was watching the Rugby World Cup final. In the
packed Eden Park stadium, there was only one empty seat - right next to him.
'Who does that seat belong to?' asked Shaun from the row behind.
'I
got the ticket for my wife,' replied Patrick.
'But why isn't she here on this special occasion?'
'I'm afraid she
died in an accident.'
'So you're keeping the seat vacant as a mark of respect,' said Shaun.
'No,' said Patrick, 'I offered it to all of my friends.'
'So why didn't they take it,' asked a puzzled Shaun.
'They've all
gone to her funeral.'
Classic English Rugby World
Cup Joke
Question: What do you call an Englishman with the
World Cup in his hands?
Answer: The Engraver.
The Pope and British Rugby Fans
The Pope was cruising along the beach near Christchurch in the Pope-mobile when there was a
frantic commotion just off-shore. A helpless man, wearing an English rugby
jersey, was struggling frantically to free himself from the jaws of a 30
foot shark.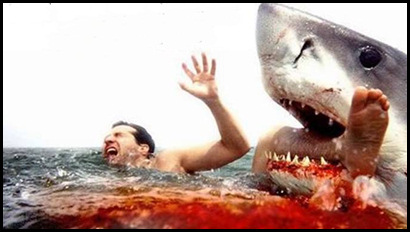 As the Pope watched in horror, a speedboat pulled up with three men
wearing Welsh, Irish and Scottish rugby jerseys. The Scotsman quickly fired a harpoon
into the shark's side while the other two reached out and pulled the hapless
English fan from the water. Then, using long clubs, the three beat the shark
to death and hauled it into the boat.
Immediately the Pope shouted and summoned all three to see him, 'I give you my
blessing for your brave actions. I heard that there were some bitter hatred
between the Celts and England rugby fans, but now I have seen with my own
eyes that this is not true.'
As the Pope drove off, the harpooner asked his mates, 'Who was that?'
'It was the Pope,' one replied. 'He is in direct contact with God and has
access to all of God's wisdom.'
'Well,' the harpooner said, 'he may have access to God and his wisdom,
but he doesn't know anything about shark fishing. Is the bait holding up OK?
Or do we need to get another Englishman?'
Classic English Rugby World
Cup Joke
Martin Johnson takes the English team out for training and tells
everyone to assume their normal position.
So they all go and stand behind the goalposts and wait for the
conversion.
All Blacks -v- England
The All Blacks were playing England, and after the half-time whistle blew
they found themselves ahead 50-0, Jonah Lomu getting eight tries. The rest
of the team decided to head for the pub instead of playing the second half,
leaving Jonah to go out on his own.
'No worries,' Jonah told them, 'I'll join you later and tell you what
happened.'
After the game Jonah headed for the pub where he told his team mates the
final score: 95-3.
'What!" exclaimed a furious Michael Jones. 'How did you let them get
three points?'
Jonah replied apologetically, 'I was sent off with 10 minutes to go.'
The Rugby Referee
Craig Joubert, the rugby referee died and went to heaven.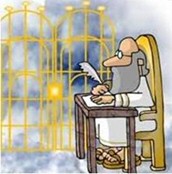 Stopped by St Peter at the gates he was told that only brave people who
had performed heroic deeds and had the courage of their convictions could
enter. If he could describe a situation in his life where he had shown these
characteristics, he would be allowed in.
''Well,' said Mr Joubert, 'I was controlling a game between New Zealand
and England in the World Cup Quarter-Final.'
England were two points ahead with a minute to go. Chris Ashton
made a break, passed inside to Johnny Wilkinson. We was driven
on by his forwards, before he passed out to Mike Tindall who went over in
the corner. But Tindall dropped the ball before he could ground it. As
England were clearly the better side all game, I ruled that he had got it
down and awarded the try without calling for the video ref.'
'OK, that was fairly brave of you, but I will have to check it in the
book,' said Peter, before disappearing to look it up. When he came
back he said, 'Sorry, there's no record of this. Can you help me to
trace it? When did all this happen?'
Craig Joubert looked at his watch and replied, 'Forty-five seconds ago at
the West Stand end.'
A Quick Guide on How to Understand New Zealanders
Min - Male of our species. As in Irish min.
Inner me - Enemy. For example, Australia are the inner me.
Sucks - Six.
Tin - Ten. Thus a likely scoreline: Argentina tin, England
sucks.
Build a New Zillund Sentence
Ear roebucks - Aerobics
Bull - Bill
Fear hear - Blonde!
That fear heard Bull is doing his ear roebucks.
See more on how
to speak New Zealand.
Rugby
Support
in NZ
The family of Auckland Blues Rugby supporters head out shopping one
Saturday before Christmas. While they were in a sport's shop, the son picks
up a Crusaders rugby jersey and says to his sister, 'I've decided I'm going
to be a Crusaders supporter and I'd like this jersey for Christmas.'
The sister is outraged at this, promptly whacks him round the head and
says, 'Go talk to your mother.' Off goes the little lad, with Crusaders jersey in hand and finds his
mother. 'Mum ?'
'Yes son?'
'I've decided I'm going to be a Crusaders supporter and I'd like this
jersey for Christmas.'
The mother is outraged at this, promptly whacks him round the head and
says, 'Go talk to your father.' Off he goes with the Crusaders jersey in hand and finds his father,
'Dad?'
'Yes son?'
'I've decided I'm going to be a Crusaders supporter and I would like this
jersey for Christmas.'
The father is outraged at this, promptly whacks his son round the head
and says, 'No son of mine is ever going to be seen in THAT!'
About half an hour later, they are all back in the car heading home. The
father turns to the son and says, 'Son, I hope you've learned an important
lesson today?'
The son turns to his father and says, 'Yes, Father, I have.'
Father says, 'Good son, and what is it?'
The son replies, 'I've only been a Crusaders supporter for an hour and
already I hate you Auckland b*****ds.'
Rugby Heaven

During a South Africa v Australia match at Newlands Stadium lightning
storm hit Capetown and a bolt was conducted through the towers to the touch
line.
In a tragic accident coaches, Robbie Deans of the Wallabies and Peter de
Villiers of the Springboks were killed.
They were taken straight to heaven where they were warmly greeted by the
Almighty.
After a while, Robbie was taken to his new accommodation. He was pleased
to find a lovely Aussie-style cottage with statues outside in the form of
Aussie rugby greats.
As a constant background he could hear the sweet voices of angels singing
"Go Wallabies Go" and "Waltzing Matilda."
Robbie was delighted until he suddenly heard some even more beautiful
singing coming from the top of the hill. He listened closer and could hear "Nkosi sikelel' iAfrika.'
Robbie looked up the hill to see a great palace with statues outside of
Francois Piennar, Victor Matfield, and John Smit.
A party was taking place in the garden with Castle ales flowing freely as
the crowd watched Bryan Habana scoring another great try at Newlands.'
Robbie went to the Lord and said, 'Look, I don't want to appear
ungrateful - my cottage is great, but why does Peter get the huge mansion?'
God broke into a laugh as he replied, 'Robbie, you've got it all wrong.
That's not Peter's place - it's mine.'
A major rugby tour by the British Isles to New Zealand is a cross between
a medieval crusade and a prep school outing. - John Hopkins

See a modern insight into the rugby world cup 2011.
Welsh Rugby World Cup Joke
Snow White was returning from Merthyr to the
cottage in the woods
where she lived with the 7 dwarfs. In the distance she could
see black smoke, then as she got nearer she realized that their cottage had
burnt down.
Frantically, Snow White searched amongst
the trees for the dwarfs, then she heard a lone voice saying, 'Wales
for the World Cup, Wales for the Rugby World Cup, Wales for the New
Zealand World Cup.
On hearing these chants, Snow White gave a little sigh of relief - she
knew that at least Dopey was safe.
Mr Indestructible
After JPR Williams was involved in a road traffic accident: Typical,
isn't it? The car's a write-off. The tanker's a write-off. But JPR
comes out of it all in one piece. - Gareth Edwards
Quotations
from the Rugby World Cup and other Important Occasions
Some of these quotes are from the Rugby World Cup, others are by famous
internationals.
Remember that rugby is a team game; all 14 of you make sure you pass
the ball to Jonah. FAX to the New Zealanders before the 1995 World Cup
semi-final.
'There's no doubt about it, he's a big b****rd,' Gavin Hastings,
master of the obvious, on Jonah Lomu.
We're going to tear those boys apart. Message stuck-up on the
changing room wall by England captain Will Carling before his team faced
the All Blacks in the 1995 World Cup semi-final. It took all of
90 seconds for New Zealand to score their first
try as they demolished England 45-29.
I think Brian Moore's gnashers [teeth] are the kind you get from a
DIY shop and hammer in yourself. He is the only player we have who looks
like a French forward. England prop Paul Rendall on his front row
colleague.
If you can't take a punch, you should play table tennis. French coach Pierre Berbizier illustrates his nation's
attitude to on-pitch violence.
You've got to get your first tackle in early, even if it's late.
Welsh hard-man Ray Gravell explains his rugby philosophy.
I played ten injury-free years between the ages of 12 and 22. Then,
suddenly, it seemed like I was allergic to the twentieth century. Former
England scrum-half Nigel Melville who spent most of the 1980s injured.
Don't ask me about emotions in the Welsh dressing room. I'm someone
who cries when he watches "Little House on the Prairie". Former Welsh
second row Bob Norster remembers that special Dragons' atmosphere.
The relationship between the Welsh and the English is based on trust
and understanding. They don't trust us and we don't understand them. Former RFU supremo Dudley Wood on Anglo-Welsh relations.
'A player of ours has been proven guilty of biting. That's a scar
that will never heal'. Bath coach Andy Robinson said after his prop Kevin
Yates was suspended for taking a chunk out of an opposing flanker's ear.
Classic French Rugby World
Cup Joke
Q: What do call an Frenchman holding a bottle of champagne after the
Rugby World Cup Final?
A: Waiter.

Some Clean, Funny, Rugby Shorts
Rugby is a good occasion for keeping thirty bullies far from the centre
of the city. - Oscar Wilde
I'm still an amateur, of course, but I became
rugby's first millionaire five years ago. - David Campese [1991]
On playing for Wales at Lansdowne Road, Dublin: I didn't know what was
going on at the start in the swirling wind. The flags were all pointing in
different directions and I thought the Irish had starched them just to fool
us. - Mike Watkins [1984]
On Jonah Lomu: I've seen a lot people like him, but they weren't playing
on the wing.- Colin Meads [1995].
Ray Gravell Eats Soft Centres. - Banner seen at Cardiff Arms Park.
World Cup Rugby Nicknames
Will and Guy have been debating the dearth of players' nicknames. Is
it just two old-timers with selective memory, or are there really fewer
nicknames today? Could it be that a combination of teams not drinking
together, coupled with a fear of being labelled *xyz_ist have surpressed
nicknames? Please prove us wrong and send us interesting nickames of
modern players.
* Where xyz could be race, age, or other form of discrimination.
Good nicknames from previous World cups
Chariots - Martin Offiah
Squeaky - Rob Andrew
Le Pit-Bull - Brian Moore (Now a commentator)
Present Day Examples
Shrek - Steve Thompson
Wellies - Stephen Jones
International Rugby Team Nicknames
The situation with International nicknames is different, it seems that
every nation has at least one shortened name to fire up its fans, and to
increase the commentators vocabulary.
Argentina: Los Pumas
Australia: The Wallabies
Canada: Canucks or Maple Leafs
Fiji: Bati [The Warriors] Sometimes referred to as The Flying
Fijians
France: Les Bleus or sometimes Les Tricolores
Georgia: The Lelos [The team's nickname comes from 'lelo burti', a
traditional Georgian sport with strong similarities to rugby]
Italy: Azzurri, The Gladiators of Rome
Japan: The Cherry Blossoms or The Brave Blossoms
Namibia: The Welwitschias [a desert flower]
New Zealand: The All Blacks
Romania: The Oaks
Samoa: Manu Samoa
South Africa: The Springboks
Tonga: Ikale Tahi [Sea Eagles]
USA: The Eagles
Wales: Dragons
Countries that appear not to have real nicknames: England, Scotland,
Ireland. Perhaps you know better?
Will has heard England referred to as "The Red and Whites" but it is not
a common nickname.
Scotland is known in some quarters as "Rob Roy's Army". The "Tartan Army"
tends to refer to the Football team.
Ireland may be called "Paddy's Army"
Embrace the New Zealand Culture
The owner of a bar in Wanaka is holding a competition to find the 'perfect woman', the prize is $NZ 1,000 and tickets for a rugby game.
Amongst the tasks the
candidates will be expected to undertake
are:
Reverse a trailer load of manure.
Change a car tyre.
Clear a pool table.
Darn a sock.
Lift a ram, and hold it for shearing.
See more sports jokes and funny stories:
• Colemanballs •
Basketball • Soccer
• Tennis jokes •
Baseball jokes •
Funny sport quotes
• Clean cricket jokes •
Funny cricket stories • Cricket nicknames • Sports nicknames
• Sports Home •
Clean golf jokes • Funny golf pictures
• Rugby
nicknames • Rugby stories