Royal births. The Duchess of Cambridge is expecting a baby in July 2013.
Will and Guy have the following thoughts on the new royal birth.
Looking Forward to a New Royal Baby
British Royal Wedding
Jokes
Royal Succession of the New
Royal Baby
The first child of The Duke and Duchess of Cambridge will be the third in
line to the British throne. The Succession to the Crown Act 2013 means
that the passing of the British Crown will no longer depend on gender.
In practice this means that if William and Kate's firstborn is girl, she
will become queen, even if she subsequently has younger brothers.
We have to note in passing that the rules regarding royal succession have
been continuously re-written. For example, both Henry IV's when
deposing Richard II, and Henry VII when defeating Richard III in battle, had
to twist the current rules of succession to
justify their being crowned king. Not to mention the turmoil during
and following the reign of Henry VIII, and more recently the abdication of Edward VIII.
We cannot help wondering if the new royal baby will be given the name of a
previous monarch, or whether William and Kate will break with tradition and
call their child Michael, Katherine, or another name not previously used by
a British monarch.
Interesting Facts About Royal Births
Home secretaries used to attend royal births. The custom was ended in
1948 ahead of the birth of Prince Charles. Thus the Archbishop of Canterbury won't attend this royal birth, as was
the custom in the past.
Forty two eminent public figures were called in to verify the birth of
King James II's son, James Francis Edward, in 1688 at St James's Palace.
People doubted that the King's wife Mary of Modena was actually pregnant
and, once she went into labour, there were rumours spread by cheap
broadsheets that the baby had been smuggled into the bedchamber in a warming
pan, or that it had been sneaked into the bed through a secret door in the
bedhead.
The birth of Princess Margaret in 1930 was two weeks later than planned.
The Home Secretary, JR Clynes, had to remain in Scotland while he waited to
witness the birth at Glamis Castle. When the baby was finally on its way,
Clynes was already ready for bed, but had to rush to the castle for the
birth.
A surname will not necessarily be required, as the new baby will have the
title HRH Prince or Princess. However, if Kate and William want to include a
surname, there are three choices available -
Mountbatten-Windsor, the combined names of the Queen and Prince Phillip.
(George V adopted Windsor in 1917 – after the castle – instead of
Saxe-Coburg and Gotha due to anti-German feeling during The Great War.)
Wales, the Name of William's Royal House
Cambridge, the title given to the couple on their marriage. The
news will be posted on an ornate easel in the forecourt of Buckingham Palace
rather than attached to the railings (the usual custom). The foolscap-sized
note, bearing the Palace letterhead and signed by key medical staff, will be
the UK's first chance to find out if it is a boy or a girl. The Queen,
senior members of the royal family, and the Middleton family - if they are
not at the hospital - will be told about the birth first.
After the note is displayed, an announcement will be posted on Twitter
and Facebook, and the media will be informed.
Prince William is taking two weeks' paid paternity leave. He will then
return to his job as an RAF search and rescue pilot.
Price Philip and Prince Charles' Birth
Prince Phillip was playing squash when Charles was born.
The Royal birth will be celebrated with a 41-gun salute by the King's
Troop Royal Horse Artillery. The basic royal salute is 21 rounds, but
because it will be conducted in Green Park, a royal park, an extra 20 rounds
are fired. At the Tower of London, 62 rounds will be fired - the basic 21,
20 because the Tower is a Royal Palace and 21 for the "City of London".
Union jacks will also be flown from all Government buildings, Royal Naval
ships, and defence establishments.
The birth will take place in the private Lindo Wing of St Mary's Hospital
in Paddington, West London, England. This might seem obvious but Prince
William was actually the first would be king to have a hospital birth.
It is not yet known where the royal baby will be christened. (Prince
William - like his father the Prince of Wales - was christened by the
Archbishop of Canterbury in the Music Room at Buckingham Palace). The robe,
made of fine Honiton lace lined with white satin, was made for the
christening of Queen Victoria's eldest daughter. It has subsequently been
used for several generations of Royal christenings. The current Queen wore
it, her children all wore it and so have all but one of her grandchildren -
including Princes William and Harry.
A Question Of
Marriage Guidance
Kate, young single lady visits the local dating agency and explains,
'I'm looking for a husband. Can you please help me to find a suitable
one?'
The dating receptionist needs to find out some details so she asks, 'What are your requirements, please?'
'Well, let me see.' Kate says, 'He needs to be fine looking, polite,
humorous, sporty, knowledgeable, good at singing and dancing. Willing
accompany me the whole day at home during my leisure hours, if I don't go
out. Telling me interesting stories when I need companion for conversation
and be silent when I want to rest.'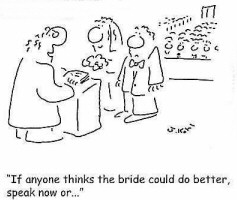 The receptionist listens politely and carefully and responds, 'I
understand. You need a television.'
Five Funny Wedding Shorts
Philip: I'm a man of few words.
Charles: I'm married, too.
The five essential words for a good marriage: 'I apologize'
and 'You are right.'
A wedding ring may not be as tight as a tourniquet, but it
does an equally good job of stopping circulation.
If your wife wants to learn how to drive, don't stand in her
way.
My opinions are my wife's, and she says I'm lucky to have
them.
William and
Kate British Royal Wedding Photo
A portrait by food artist Prudence Staite, commissioned by Crown
Carveries, of Prince William and Kate Middleton made from typical foods
found on a carvery.
The picture took about four hours to make using typical ingredients found
at a Crown Carvery including turkey, gammon, beef, carrots, peas, broccoli,
cauliflower, potatoes, Yorkshire puddings and gravy.
Will and
Guy's Twenty Fun British Royal Wedding Trivia
William and Kate
The wife of the British king automatically becomes the queen. That
means Kate [Catherine] Middleton will one day become England's sixth
Queen Catherine.
Other British Queen Catherine's being: Catherine of Valois,
Catherine of Aragon, Katherine Howard, Katherine Parr and Catherine of
Braganza.
Prince William and Kate Middleton are to marry at Westminster Abbey
on April 29th, 2011, which has been declared a bank holiday [national
holiday in the UK] in celebration.
It's also been the site of countless other ceremonies ; including
the weddings of his grandparents, then future Queen Elizabeth II and
Prince Philip, and his great-grandparents, the future King George VI and
Queen Elizabeth.
The couple, both aged 28, met, as students, at St Andrews
University, Fife, Scotland.
William has given Kate his mother Diana's 18-carat engagement ring,
which is a sapphire surrounded by diamonds. (picture right)
William has chosen to marry a "commoner"; there's no rule that says
the king has to marry a fellow royal.
The King of England may marry a commoner, but not a Catholic. That's
specified under the 1701 Act of Settlement.
The late Princess Diana. (below right)
The best man is to be Prince Harry, William's younger brother.
Westminster Abbey has long been used for Royal Weddings and Royal
Coronations and Funerals since William the Conqueror won the throne in
1066. It's also the final resting place of 17 monarchs. [The funeral for
William's mother, Princess Diana, was held there in 1997.]
The present church, begun by Henry III in 1245, is one of the most
important Gothic buildings in the UK.
Sir David Manning, the former British ambassador to the USA, will
give the future Royal bride "advice and mentoring" on a range of
subjects including state matters and foreign affairs.
Prince William and Kate Middleton will go on a nine-day tour of
Canada for their first official overseas tour after their wedding.
Prince William has received his first honorary Army appointment -
becoming Colonel of the Irish Guards.
The second-in-line to the throne already holds honorary ranks in the
RAF [Royal Air Force] and Royal Navy.
A royal bride takes her husband's rank upon marriage, so Miss
Middleton will become an HRH: Her Royal Highness.
A comic book telling the story of Prince William and Kate
Middleton's romance is due to be published in April, joining a host of
other books and memorabilia flooding the market ahead of the April 29
royal wedding.
The first televised royal wedding was on May 6th , 1960, when
Princess Margaret, younger sister of Queen Elizabeth II, said "I do" to
Antony Armstrong-Jones. An estimated 20 million viewers tuned in.
King Henry VIII married six times, and four of his brides were
commoners. Two of them were beheaded (Anne Boleyn and Katherine Howard),
one died of complications from childbirth (Jane Seymour) and the last
(Catherine Parr) survived him, and went on to marry again.
See also the Queen's
Diamond Jubilee
St Andrews University Has Created a Scholarship in the Couple's Honour
Prince William and fiancée Kate Middleton have visited the university
where they met, and said it felt 'like coming home'.
The couple, whose romance blossomed when they studied in the Fife town,
returned for the university's 600th anniversary celebrations.
Hundreds of people were at the university to see their first official
engagement in Scotland.
St Andrews has created a scholarship in the couple's honour, as a wedding
gift.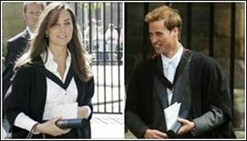 Addressing students, university staff, and alumni, Prince William said,
'This is a very special moment for Catherine and me. It feels like coming
home. Despite being one of Europe's leading research institutions, the third
oldest university in the English-speaking world and of course, far and away
the best university in the world, St Andrews has that uncanny knack of
feeling like home.'
Prince William and Kate Middleton each graduated from the university in
2005.
See more of our funny
wedding jokes »
Footnotes:
Please send us your Prince William and
Princess Kate.