Will and Guy think of pool as a winter game. Here is some tricky play we
hope that you will enjoy.
Spot the dominoes lined up on the pool table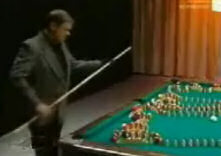 Cueing for the key shot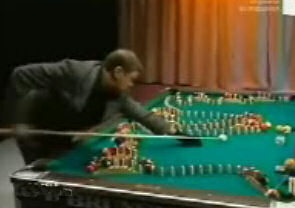 See three balls heading for the bottom left pocket, amazingly they all miss one
another and drop into the pocket.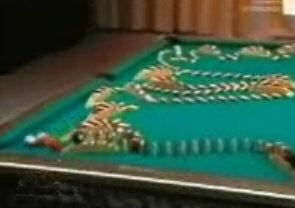 And there's more.... Another table of dominoes and pool balls.
Pool Trick Shots Video
The above sequence does not show the movement, so see the full show on our video clip:
N.B. With some browsers you need to click twice on the Play arrow

to start the video.
N.B. Help for Mozilla browsers
See more funny performers and amusing artists:
•
Artists •
Springboard •
Pool dominoes trick shot •
Piano balls •
Clean Circus Jokes
•
Unexpected knowledge from movies •
Hokey Pokey •
Mime •
Budgie Einstein •
Home
•
Funny Ironing Board •
Stand-up comedy •
Horn player •
Night Clubs •
Tallest man