Rory is a Shetland miniture pony and Millie is a Labrador dog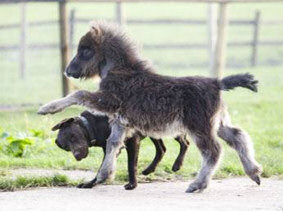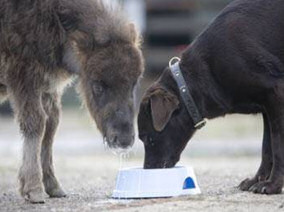 Here is Rory playing with Millie; he has picked up many canine traits because he copies the dogs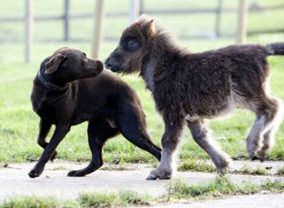 Rory head in bucket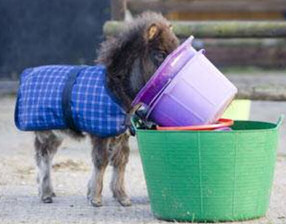 Great PowerPoint Presentation featuring Rory a Shetland pony and Millie a Labrador dog
Miniature Shetland Pony - Rory and Millie (Right click Save Target As)
How to Create a Great PowerPoint Presentation
Making presentations in PowerPoint is satisfying, moreover, it's easy to get started. The PowerPoint program is intuitive to learn and easy to create your own PPT slides and build them into a slide show.  If you have Microsoft Office you may find that you already have PowerPoint along with Word and Excel. One way to begin is simply to open any example presentation.  Just download one of our free PPT files and open it with PowerPoint.  As you examine the slides, so it will become obvious how to add pictures and titles, if you do get stuck, ask the wonderful built-in 'Help'.  To make a great slide show requires these skills;
Imagination - Think of an idea, build a themed slide set
Artistic - An eye for a good picture
Wordsmith - Choose a catchy title for each slide
Humour - Your viewers will appreciate a funny PowerPoint Presentation
PowerPoint mechanics - Actually, this is the easiest skill of them all, the program is so intuitive.
Good luck with creating your great PowerPoint Presentation Will and Guy
The Tale of Rory the Miniature Shetland Pong and Millie the Dog.
In the above PowerPoint Presentation, Rory is the Shetland pony and Millie is the dog. Rory is 8 weeks old and he lives at the Essex Horse and Pony Sanctuary in the UK after being rejected by his own mother Rory has befriended two Labradors called Millie and Alfie, who live at the sanctuary.  While playing with Millie, Rory has picked up many canine traits because he copies the dogs.  Sue, in the sanctuary office, has grown very fond of Rory as she nursed him when he was ill when he first arrived.  Alfie used to wash Rory's hooves when Sue was cuddling the pony. Rory also loves to have his tummy tickled.
Desmond and Dobbin

(More of a Joke than a True Story)
Desmond, who was a real town dweller, drove his car into a ditch when out on the country roads. Luckily, a local farmer came was passing by with his big strong horse called Dobbin. He hitched Dobbin up to the car and shouted loudly, 'Pull, Dolly, pull!' Dobbin didn't move one inch.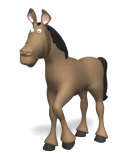 Then the farmer yelled, 'Pull, Robbie, pull.' Still Dobbin failed to respond. Once more the farmer commanded in a stentorian voice, 'Pull, Ringo, pull.' Again - nothing. Then the farmer nonchalantly and quietly muttered, 'Pull, Dobbin, pull.' Immediately the horse easily dragged the car out of the ditch. Desmond was very appreciative but also very curious. He asked the farmer why he called his horse by a different name three times. The farmer whispered by way of reply, 'Oh, Dobbin is blind and if he thought he was the only one pulling, he wouldn't even try.'
See more funny pictures of animals, also jokes and stories
• Animal index   • Rabbit & snake   • Hippo & Tortoise   • Rory and Millie   • Pamplona • More animals   • Funny donkey jokes • Ass jokes •
Horse jokes
   • Snails   •
Clean jokes
• Interesting animal facts   • Animal videos   • Odyssey   • Bee stories   •
Pig jokes