These polar bear pictures
were taken on the western side of Hudson Bay at Churchill, Manitoba, Canada.
Thanks to John, one of our readers, we have identified the photographer as
Norbert Rosing.
Trepidation As the Bear Approaches the Huskies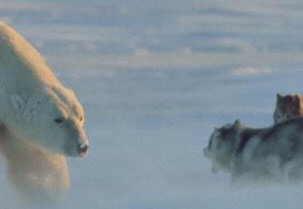 Polar bear and husky
get to know one another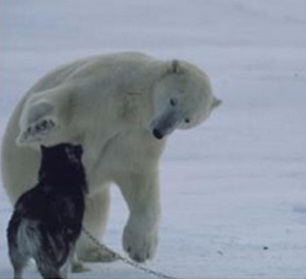 Let us remember that polar bears are confined to the north pole. As for
the Huskies, there are several distinct breeds originating from Canadian, Alaska, Greenland and Russia. However, we believe that the dogs featured here maybe Siberian Huskies.
Polar bear and husky -
Friends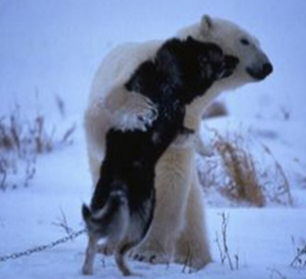 Go on - Give us a kiss!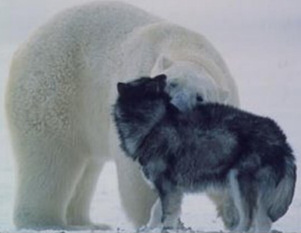 Polar Bear Meets Huskies
Will created this great PowerPoint Presentation for your enjoyment:
Polar Bear Meets Huskies (Right click Save Target As)
Polar Bear Meets Huskies - PowerPoint Slides
Trepidation as the bear approaches the huskies
The two get to know each other
Friends
Give us a kiss
And a cuddle
Friends for life
See more polar bears in action
How to Create a Great PowerPoint Presentation
Making presentations in PowerPoint is satisfying, moreover, it's easy to get
started.
The PowerPoint program is intuitive to learn and easy to create your own PPT
slides and build them into a slide show. If you have
Microsoft Office you may find that you already have PowerPoint along with Word
and Excel.
One way to begin is simply to open any example presentation. Just
download one of our free PPT files and open it with PowerPoint. As you examine the slides, so it will become obvious how
to add pictures and titles, if you do get stuck, ask the wonderful built-in 'Help'. To
make a great slide show requires these skills;
Imagination - Think of an idea, build a themed slide set
Artistic - An eye for a good picture
Wordsmith - Choose a catchy title for each slide
Humour - Your viewers will appreciate a funny PowerPoint Presentation
PowerPoint mechanics - Actually, this is the easiest skill of them all, the
program is so intuitive.
Good luck with creating your great PowerPoint Presentation
Will and Guy
Video Clip of Polar Bears and Huskies
Polar bears and dogs playing
Polar Bears in Summer
From one extreme to another. Poor polar bears overheating in summer. As Europe swelters in the heatwave zoo-keepers have been trying hard to look after their animals. At Zurich zoo
animals have been fed a diet of frozen berries, meat and bones to help them stay cool in the intense summer heat.
The 'alternative ice cream' offered to animals instead of their usual fare has been a big
hit with large cats, apes and wolves, Zurich Zoo said in a statement. 'The ice cream should at least offer the animals a temporary way to cool down.'
A polar bear enjoys a mackerel-flavoured
ice cube at La Fleche zoo, western France. The snack is one way for the animals to keep cool.
To go off at a tangent, 'Polar bear ice-cream' reminds me of the old tale of feeding penguins to the polar bear.
See what happened when a joker fed 8 penguins to the polar bears.
See more Christmas warnings and funny stories:
∗ Funny Christmas pictures ∗
Funny Christmas warnings ∗ Global warming ∗
Christmas trivia
∗ Christmas traditions around
the world ∗
Polar bear Christmas ∗
Polar bear & huskies ∗ Home
∗
Christmas mistletoe ∗
Christmas cats ∗
Christmas dogs ∗
Funny polar bear pics ∗
Kwanzaa