P.C. "Shiny Buttons" Gray is the archetypical plodsworth.
He booked a driver for blowing his nose, and also a pedestrian who dropped
a £10 note for littering the pavement.
Plodsworth
Tales and Funny Stories
Plodsworth -
Motorist Fined for Blowing His Nose
In October 2009 Michael Mancini was stuck in a queue of traffic, all day
he had a runny nose so he reached for a paper tissue. Even though his
hand-brake was on, P.C. "Shiny Buttons" Gray issued Mr Mancini with a £60
on-the-spot fine. His alleged offence was being 'not in proper control
of his vehicle'.
At first Mr Mancini adopted a low-key approach confident that the police
and the Scottish procurator fiscal would quietly bin his ticket.
However, when Strathclyde Police confirmed: 'A 39-year-old man is the
subject of a report to the procurator fiscal in connection with an alleged
traffic offence on October 26 2009.' Mr Mancini decide to break his
silence and let the world decide if "Shiny Buttons" has act constitutes good
policing.
Policeman Stuart Gray, nicknamed PC Shiny Buttons for his zealous
approach to the job, also handed out three points - even though Mr Mancini
had his handbrake on. Will and Guy think that a snowman has more
chance of lasting until Easter, than Mr Mancini being successfully
prosecuted for blowing his nose in a tissue. Imagine the ramification
if people could not blow their nose when driving their cars!
Update: 27th February 2010
A businessman who claimed
he was fined by police for blowing his nose while driving has had the case
against him dropped. The 39-year-old refused to pay the £60 fine and the
case had been expected to be heard by a court. Will and Guy have
learned that prosecutors said no further action would be taken.
Plodsworth - Operation 'Own Goal'
Part 1 - Deploy Clamp
Even the police are not spared the attention of wheel clampers.
When two British Transport Police officers returned to their vehicle they
found that over-zealous wardens had clamped it. It happened despite
the dog unit van being clearly marked - note the blue light on top of the
car! There was also police identification on the windscreen.
The British Transport Police had to fax Westminster City Council, London,
England, to confirm it was a police vehicle before it was released.
Worse was to follow when a clamper finally turned up to take it off: he had
brought the wrong key.
A senior police source commented to Will and Guy, 'You would think the
wardens would use their common sense.'
Part 2 - Deploy Dog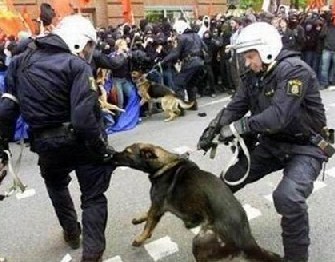 Magistrate Plodworth
Joan Higgins, aged 66, has been selling pets and fishing tackle for years
from her shop in Sale, Manchester, England. Then one day a Plodsworth
in the form of a trading standards officer decided to lure her into selling
a goldfish to an underage boy.
The first point about this surreal case is that it does not seem
unreasonable for a 14 year old to buy a goldfish. You can understand
the police setting up 'sting' operations for shops selling cigarettes or
booze to underage youths, but why are they wasting £20,000 on operations to
trap shopkeepers selling goldfish?
So far, so bad - but it gets worse, the magistrate fined Mrs Higgins
£1,000, presumably as an example to other shopkeepers. If you are
struggling to believe the story up to this point, then you will be
incredulous with the sting in the tail, 66 year old Mrs Higgins was told to
wear an electronic tag and was made the subject of a curfew order normally
reserved for violent repeat offenders. Why was it necessary in this
case?
We wonder if Mr Iain Veitch, head of public protection at Trafford
Council, is sane when he said: 'Let this conviction send out a message that
we will not tolerate those who cause unnecessary suffering to animals. The
council will always try to support pet and business owners so that they are
able to care for their animals properly, but where they continually ignore
the advice they are given, we will not hesitate to use our statutory
powers.'
In case you are wondering, no animals were hurt in this true story, the
goldfish was adopted by an animal welfare officer.
American
Plodsworth - They Fine an OAP for Being Too Slow

A pensioner using a walking stick has been fined for crossing the road too slowly reports The Scotsman.
Mayvis Coyle, 82, said she began shuffling across a busy five-lane street in San Fernando
Valley, California, when the pedestrian light was green, but she was stopped by a policeman when she failed to reach the other side before the light turned red.
He issued the pensioner a
$115USD [£65]
ticket and said she was obstructing traffic. Mrs Coyle, who is contesting the ticket, said, 'I think it is completely outrageous. He treated me like a six-year-old.'
Police said they were cracking down
on people who disobeyed traffic signals because of the high number of pedestrian accidents. Around a third of pedestrians killed in the San Fernando Valley between 2003 and 2005 were elderly. The Los Angeles
Police Department allows pedestrians one second to cover four feet.
Where Should Police Draw the
Line?
In all seriousness, where should police and traffic wardens draw the
line? Motorists not wearing seat belts are a danger, and should be pulled-over
and charged. But what about drivers who are just laughing, or eating a
sandwich? Unless there are extenuating circumstances issuing tickets
does not seem like good policing to Will and Guy.
More examples of excessive zeal by plodsworths
March 2009 - Gary Saunders booked for laughing in the Mersey Tunnel.
Incidentally, Liverpool Comedians have been trying to get a giggle out
of the Mersey Tunnel ever since it was built!
March 2007 - Keith Pemberton, from Cheshire, England, was
fined £60 for eating a sandwich at the wheel.
June 2009 - It's "Shiny Buttons" again; PC Gray issued a £50 fixed
penalty notice to Stewart Smith in Ayr, Scotland, just because he
dropped a £10 note.
Plodsworths - Variation of
Jobsworth
Dale Carnegie once said that it was easier to earn a million dollars than
coin a new word. Well, in January 2010 Will and Guy have invented the
word Plodsworth.
The true 'Jobsworth'
or Plodsworth is one who knows the rules backwards, if there is any flexibility with a rule he
will choose not to use it. It's
important to distinguish jobsworths from someone who really has no flexibility and really would lose
their job. A Plodsworth is a sub-species of jobsworth, which is confined
to the police force; 'plod' being a derogatory British word for policeman.
Will and Guy first heard the term Jobsworth in the 1970s when Esther
Rantzen in the TV programme That's Life! introduced a 'Jobsworth of
the Week'. The compound word comes from the phrase 'I can't do that,
because it's more than my job's worth.'
Guy and Will have researched the following examples which we hope will amuse you:
More
Funny Plodsworths - Can You Believe It?
A woman has been accused of littering, after sweeping leaves into a pile. Street sweepers refused to remove the leaves at the end of Sandra Pote's drive because some were in her garden. Sandra, 61,
thought she was doing the cleaning truck crew a favour as they drove down the road in Torquay, Devon, but she was accused of fly-tipping by the council, reports BBC news.
Torbay council insisted the couple
should have taken the leaves to a tip. A spokesman said, 'Householders have a responsibility to deal with leaves on their property'.
Footnote:
Please send us your amusing plodsworth tales.