Funny Pigeon Story
The baby pigeon complained to his mother before flying a long distance, 'I can't
make it, I'll get too tired.'


His mother replied, 'Don't
worry, I'll tie a piece of string to one of your legs and the
other end to mine.'
The baby started to cry.
'What's
wrong?'
asked the mother sympathetically.
'I don't
want to end up being pigeon towed.'
Pigeon Tracking
Reported by Reuters News Agency [London] on February 1 that a flock of pigeons fitted with mobile phone backpacks is to be used to monitor air pollution over the skies of San Jose, California. The idea is
the brainchild of researcher Beatriz da Costa, of the University of California at Irvine, and two of her students.
Each of 20 birds will be released in August 2006 and carry a GPS satellite tracking
receiver, air pollution sensors and a basic mobile '
phone, capable of detecting carbon monoxide and nitrogen dioxide.
Text messages on air quality will be beamed back in real time to a special pigeon 'blog', a
journal accessible on the Internet. Miniature cameras slung around the pigeons'
necks will also post aerial pictures. The data they send back will be displayed on the blog in the form of an interactive map.
Fake Pigeon Story
Will and Guy bring you the story behind the pigeon story. Zhang Liang, apologized for his 'bad behavior' when he forged a picture of
pigeons receiving bird flu vaccine shots from medical workers.
Amazingly this picture won first prize in the 2005 China International Press
Photo Contest. 'I would like to apologize to the public,' said Liang, who
was dismissed from Harbin Daily.
He copied the pigeon in the top right corner of his photo and pasted it in
the top left corner.
'I did it to make the photo perfect,' Zhang was quoted as saying. 'It was the
first time for me to perfect pictures with computer technology and I did it only
once.'
Bread Statue - Popular with
Pigeons
A statue of a woman made out of bread is proving popular with pigeons in a park in Santiago, Chile.
Constanza Puente's
latest work is a life size self portrait of the 6 foot tall artist.
Las Ultimas
Noticias, reports that her bread sculpture is on public display in the grounds of the Chilean capital city's
Catholic University Extension Centre.
Pigeons Revenge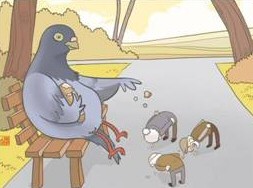 Hilarious Pigeon Shorts
Accept that some days you are the pigeon and some days the
statue - Dilbert [Scott Adams]
France has found a unique way of controlling its unwanted
critter population. They have done this by giving unwanted animals
like snails, pigeons, and frogs fancy names, thus transforming
common backyard pests into expensive delicacies. These are then
served to gullible tourists, who will eat anything they can't
pronounce - Chris Harris
St Mark's Square
Venice - Unpopular with Pigeons
The mayor of Venice, Italy had a tricky decision to make. Pigeon
feeding in St. Mark's Square had become a tradition, and supported an industry
of supplying and selling grain to feed the birds. However, the pigeon
droppings and their pecking at statues to get the last seed was causing damage
to the fabric of the city.
Dealing with the pigeon problem is part of a bigger plan to improve decorum
and cleanliness in St Mark's Square. Tourist who litter can also be fined.
They are also told to cover up and not to walk around bare-chested.
The mayor's decision was to ban the sale and distribution of grain to feed
the birds. Those who ignore his ban ban will be fined 50 Euros It is
estimated that cleaning the monuments and repairing the damage caused by pigeons
was costing each Venetian taxpayer 250 Euros each year.
Will and Guy hope that other cities take Venice's example and try and reduce
the pigeon populations which are solely sustained by people feeding them scraps.
Pigeon Entrepreneur
Did you hear about the man who became a millionaire with one homing pigeon?
He sold it for a dollar and it kept coming home a million times!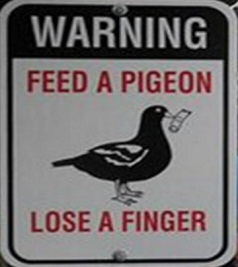 Pigeon Spy Story -
Iran Arrests Pigeons for Spying
In what Will and Guy thinks may be a major escalation of tension between
Iran and the West, Iranian security forces have announced that they have
arrested two pigeons for spying. The two pigeons were detained in Natanz,
near Iran's uranium enrichment facility; one of the major sources of the
diplomatic chill between Tehran and Western governments.
According to a report in Etemad Melli, a local newspaper, one of the
pigeons was apprehended in the nearby city of Kashan, beside a rose water
production plant. Both pigeons were described as having 'metal rings' and
'invisible string' on their bodies, we have discovered. This is not
the first animal-espionage incident in Iran. In July 2007, it was reported
that 14
squirrels had been detained on the Iranian border for spying.
We know from history that animals have long been used in military and
intelligence operations, from dolphins being trained to detect mines to
chickens recently being used by US forces in Kuwait to discover chemical
weapons. During the Second World War, Britain awarded 32 medals for bravery
to military pigeons. No third party has yet claimed the pigeons as
their own and Will and Guy have been unable to ascertain if the two pigeons
are currently being detained, are still alive, or indeed what may happen to
them.
Interesting Facts About Pigeons
In bygone times there was an industry in using carrier pigeons as messengers.
The military rules of the Middle East first developed this communication method.
And messenger pigeons were still used in World War II.
This ability lives on in some areas in the form of racing homing pigeons.
It's hard to believe, but pigeons can reach 100mph in flight.
Other members of the Rock Pigeon have been selectively bred for the 'Dove Ceremonies' that you
occasionally see at weddings or funerals.
In some parts of the world there is a whole industry in raising squabs for their
meat - it tastes like chicken!
More Fascinating Pigeon
Information
To keep alive in the wild, a pigeon needs to keep its eyes open for
predators. Having eyes on the side of its head gives it a field of view of
340 degrees and, in order to fly at speed, its brain can process visual
information three times faster than a human's.
If a pigeon watched a feature film, 24 frames per second would appear to
it like a slide presentation. They would need at least 75 frames per second
to create the illusion of movement on screen. [This is why pigeons seem to
leave it until the very last second to fly out of the way of an oncoming
car: it appears much less fast to them.]
Pretty Pigeon
Footnote:
Please send us your pigeon story, jokes or interesting facts.
See more bird jokes, funny pictures, stories and videos
•
Funny short bird stories •
Birds on wire •
Budgie story •
Funny parrot stories •
Birds PPT
•
Hummingbirds •
White Peacock •
White Stork •
Flamingo •
Funny Owls •
Robin - Bird of Pray
•
Bird flu •
Swine flu jokes •
Funny penguin pictures •
Kitten and Budgerigar •
More animals