1) Poor Cat. What happens when:
1) You have nothing to do
2) You own a sharp knife
3) You have a large lime
4)
You own a patient cat
5) You drink too much tequila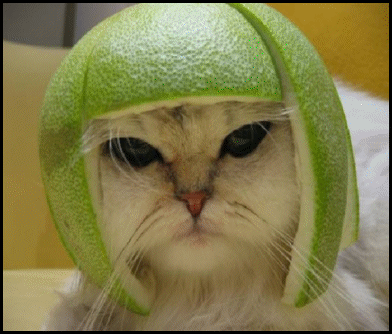 2)
Meanwhile - A Cat in Bliss
I wonder what this cat is dreaming of?
This picture makes me sleepy. Even if I just look at the penguins in the background I to start day dream.
3)
Guy loves happy endings. Cat found after six years
A cat has been reunited with it's
owner after six years.
Colin the tomcat vanished from Emma Phillips'
home in Barkingside, Essex, in 1999.
Colin lived as a stray until a woman handed him to pet rescue charity the PDSA.
A microchip was found in his neck and Emma was called.
Emma recognised him straight away: 'He had a rip in his ear
and black dots on his face.'
Report from The Sun newspaper
More funny cat pictures
See Will's top ten funny pictures
Will's Top Ten Pictures Home

1) Fantastic Pictures

2) Check your Mental Heath

3)
Plane Illusion

4) Deep Trouble

5) Marriage Bureau

6) Poor Cat

7)
Dublin Bus

8) Toilet Humour

9) Want to be a Bear?

10)
Finger Painting