Here is a selection of funny banner headlines. Once you alerted to the phenomenon, I guarantee
that you will start seeing amusing headings in your newspaper headlines.
Unusual, Strange and Funny Newspaper Headlines
The meaning is not quite what the editor had in mind, nevertheless, they gave Will and Guy a chuckle.
Funny News Headlines
Newspaper Headlines -
With Subtitles
Naughty but Hilarious Newspaper Story
More, Strange and
Funny Newspaper Headlines
Another Batch
of Funny Newspaper Headlines
Funny Newspaper Stories
Funny News Headlines
Researched by Alan Turnham
Something Went Wrong in Plane Crash, Expert Says
Cold Wave Linked to Temperatures
Typhoon Rips Through Cemetery; Hundreds Dead
Juvenile Court to Try
Shooting Defendant
War Dims Hope for Peace
If Strike Isn't
Settled Quickly, It May Last Awhile
Enfield ( London ) Couple
Slain; Police Suspect Homicide
Red Tape Holds Up New Bridges!
Local High School Dropouts Cut In Half
Astronaut Takes Blame for Gas in Spacecraft
Hospitals are Sued by 7 Foot Doctors
Police Begin Campaign to Run Down Jaywalkers
More
Funny Newspaper Headlines - With Subtitles
Miner Refuses to Work after Death
[That-good-for-nothing lazy so-and-so!]
Man Struck By Lightning: Faces Battery Charge
[He probably IS the battery charge!]
Panda Mating Fails; Veterinarian Takes Over
[What a man!]
New Study of Obesity Looks for Larger Test Group
[Weren't
they fat enough?!]
Kids Make Nutritious Snacks
[Taste like chicken?]
Amazing,
True, Naughty But Hilarious Newspaper Story
The Bristol Evening Post newspaper has informed Will and Guy of the
following amusing happening.
Outside Bristol Zoo is a car park, with spaces for 150 cars and 8
coaches. It has been manned 6 days a week for 23 years by the same
charming and very polite car park attendant with a ticket machine. The
charges are £1 per car and £5.per coach. [$1.60 and $8.12 USD]
Apparently on Monday 1st June, he did not turn up for work. Bristol Zoo
management phoned Bristol City Council to ask them to send a replacement
parking attendant. The Council told Zoo, 'That car park is your
responsibility.'
The Zoo replied, 'The attendant was employed by the City Council...
wasn't he?'
The Council said, 'What attendant?'
Gone missing from his home is a man who has been taking daily the car
park fees amounting to about £400 per day [$650 USD] for the last 23 years.
Footnote
It's funny how one story triggers memory of
a similar tale. Guy once knew a council car park attendant back in the
1960s. He had an scam whereby he left the car park at 5:00pm, but
returned unofficially at 6:00pm and reopened the car park. At the end
of the night he pocketed all the evening's takings.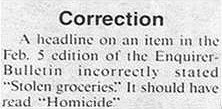 More, Strange and
Funny Newspaper Headlines
Unknown source: Two Convicts Evade Noose, Jury Hung.
Unknown source: Local High School Dropouts Cut in Half.
Aberdeen Evening Express: At the height of the gale, the harbourmaster
radioed a coastguard on the spot and asked him to estimate the wind speed. He
replied that he was sorry, but he didn't have a gauge. However, if it was any
help, the wind had just blown his Land Rover off the cliff.



The Times: A young girl who was blown out to sea on a set of inflatable teeth
was rescued by a man on an inflatable lobster. A coastguard spokesman commented,
'This sort of thing is all too common.'
The Daily Telegraph: Commenting on a complaint from a Mr Arthur Purdey about
a large gas bill, a spokesman for North-west Gas said 'We agree it was rather
high for the time of year. It's possible Mr Purdey has been charged for the gas
used up during the explosion that destroyed his house.'
BBC news online: Researchers at Leicester University discovered that playing
songs such as Simon and Garfunkel's 'Bridge Over Troubled Water', and popular
1950s standard 'Moon River' to cows succeeded in relieving tension - and
boosting milk yields.
De Groene Amsterdammer: A Dutch veterinarian was fined 600 guilders [about
$240USD] for causing a fire that destroyed a farm in Lichten Vourde, the
Netherlands. The vet had been trying to convince a farmer that his cow was
passing flatulent gas; to demonstrate, the vet ignited the gas, but the cow
became a 'four-legged flame-thrower' and ran wild, setting fire to bales of hay.
Damage to the farm was assessed at $80,000USD.The cow was unharmed.
Manchester Evening News: Police called to arrest a naked man on the platform
at Piccadilly Station released their suspect after he produced a valid rail
ticket.
Barnsley Chronicle: Police arrived quickly, to find Mr Melchett hanging by his
fingertips from the back wall. He had run out of the house when the owner, Paul
Finch, returned home unexpectedly, and, spotting an intruder in the garden, who
had been visiting Mrs Finch and, hearing the front door open, had climbed out of
the rear window. But the back wall was 8 feet high and Mr Melchett had been
unable to get his leg over.
Belga [The Belgium news agency]: man suspected of robbing a jewellery store in
Liege said he couldn't have done it because he was busy breaking into a school
at the same time. Police then arrested him for breaking into the school. Daily Telegraph: In a piece headed 'Brussels Pays £200,000 Pounds to Save
Prostitutes: the money will not be going directly into the prostitutes' pocket,
but will be used to encourage them to lead a better life. We will be training
them for new positions in hotels.'
Cilantro (Coriander) - or
Cement!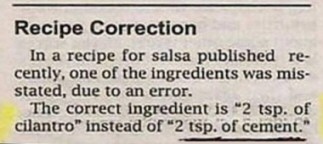 Guy calls cilantro coriander and Will knows this herb as Chinese parsley;
actually it's funny news item even if you don't know what this word means!
Another Funny Cooking Story
Another Batch of Funny Newspaper Headlines
Drunk Gets Nine Months in Violin Case
Safety Experts Say
School Bus Passengers Should Be Belted
Survivor of Siamese Twins Joins Parents
Iraqi Head Seeks Arms
Eye Drops off Shelf
Reagan Wins on Budget, But More Lies Ahead
Shot Off Woman's
Leg
Helps Nicklaus to 66
Enraged Cow Injures Farmer with Axe
Two Soviet Ships Collide, One Dies
Two Sisters Reunited after 18 Years in Checkout Counter
Cold Wave Linked to Temperatures
Red Tape Holds Up New
Bridge

Deer Kill 17,000
Man Struck by Lightning Faces Battery Charge
New Study of Obesity Looks for Larger Test Group
Kids Make Nutritious Snacks
Chef Throws His Heart into Helping Feed Needy
Fire British Union Finds Dwarfs in Short Supply
Ban On
Soliciting Dead in Trotwood
Lansing Residents Can Drop Off Trees
Local High School Dropouts Cut in Half New
Vaccine May Contain Rabies
College Opens Doors
to Hearing
Old School Pillars are Replaced by Alumni
Include your Children
When Baking Cookies
Hospitals are Sued by 7 Foot Doctors
See our funny small ads section
Out-takes - Intriguing newspaper headlines that did not make our main joke list
Will and Guy have sympathy with the newspaper editors who allowed these
bloopers to slip through the net to end up being published. As the writers
of this particular website we do not always place totally correct stories or
jokes on the site. Proof reading is, of course, essential, but sometimes
errors can be overlooked. We are always grateful to have our errors pointed
out, so that we may correct them.
Having said that, we still find these mistakes amusing and funny
Bank Drive-in Window Blocked by Board
British Left Waffles on
Falkland Islands
Air Head Fired Steals Clock, Faces Time
Lung Cancer in Women Mushrooms
Farmer Bill Dies in House
Teacher Strikes Idle Kids
Plane Too Close to Ground, Crash
Probe Told Miners Refuse to Work after Death
Drunken Drivers Paid £1000
War Dims Hope for Peace
If Strike isn't
Settled Quickly, It May Last a While
Typhoon Rips Through Cemetery; Hundreds Dead
Astronaut Takes Blame for
Gas in Spacecraft
Arson Suspect is Held in Massachusetts
Man Minus Ear Waives Hearing Deaf
Funny Newspaper Stories
Editor: a person employed by a newspaper, whose business it is to
separate the wheat from the chaff, and to see that the chaff is printed.
Elbert Hubbard
From the South Wales Argus
Emily Tomlinson reporting to the police that her Ford Focus car was stolen.
In the report she also mentioned sheepishly that her Nokia phone was in the
car.
The policeman who took down her details was quick-thinking and called
Emily's Nokia phone and told the person who answered that he had read seen
an advert in the Argus, and the Ford seemed just the car he was looking
for. They arranged to meet in a motorway service on the M4, where the
thief was arrested.
Stop Press:
Please send us your Funny Newspaper Headlines
For example, CB sent us this Newspaper item:
Wanted, member for vacant West Ward (Fool time position)
See more funny newspaper headlines, stories and ads :
•
Funny newspaper headlines
•
Funny adverts •
Bygone times •
Amusing letters •
Silly book titles
•
Newspaper funnies •
Dear Abby letters •
Funny application •
Funny hotel notices •
Clean jokes
•
Strange but true stories •
Messages on notice boards
•
Funny newspaper ads •
Hilarious stories