Will and Guy have scoured the newspaper tabloids and broadsheets to bring you comic
headlines, amusing small ads and funny news stories.
Funny Newspaper Stories on Other Pages
Funny Newspaper Ads
Funny Letters to Government
Agencies
Funny Notices in Hotels
Human
Resources Horror Stories
Funny Application Form
Jargon of the
Academic
Newspaper Funnies
We have trawled American Chronicles, British Broadsheets and
Australian Tabloids to bring you these funny newspaper articles.
Funny Pizza Story
As many as twenty prisoners at the Risdon Prison in Hobart, Tasmania,
Australia, captured a prison officer in a protest over conditions in the
maximum security jail Will and Guy have learned. The inmates made 24
demands to authorities initially and these were refused. They attempted
one further demand which was for fifteen pizzas, cola and some garlic
bread instead.
Round about midnight, the final sticking point with the inmates was
that they were requiring pizzas to be delivered immediately if the
hostage was to be released. A prison staff member negotiated the
delivery of the 15 pizzas, Graeme Barber, Tasmania's Director of Prisons, told The Advocate newspaper and then the officer was set
free. We learn that he is recovering from his ordeal at home. No word is available from the well fed inmates.
An Amusing Phone a Villain News Story
A woman was reporting her car as stolen, and mentioned that there was
a car phone in it. The policeman taking the report called the
phone and told the man who answered that he had read an advert in the
newspaper and wanted to buy the car. They arranged to meet and the
thief was duly arrested. You couldn't make it up!
An Hilarious Car Story from a Tabloid
45 year-old Amy Brasher was arrested in San Antonio, Texas, USA,
after a mechanic reported to police that 18 packets containing illegal
drugs were hidden in the engine compartment of the car which she had
brought to the mechanic for an oil change.
According to police, Brasher later said that she didn't realize that
the mechanic would have to raise the hood [bonnet - UK] to change the
oil.
A Silly but Funny Story where a Policeman Escapes Serious Injury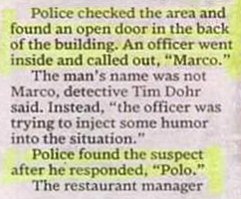 A policeman in Braunschweig, Germany, grabbed a 70 year old thief as
he fled from a clothes shop after stealing a shirt we have learned.
The shoplifter tried to evade capture by biting the arresting officer
before realising he had left his dentures at home; so instead of sinking
his teeth into the officer's arm, he was only able to leave a wet mark
from his gums.
Police spokesman Gunther Brauner reported, 'He tried to bite the
officer several times, but had forgotten to put his false teeth in and
so was unable to cause him any harm.'
Prisoner
Facing 2000 Years - Could Face More Time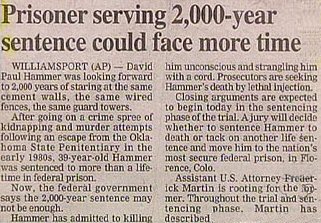 Hilarious Tale When a Cow Runs Amok
A veterinary surgeon from Holland has been fined 600 guilders [about
$240 USD] we have discovered, for causing a fire that destroyed a farm
in Lichten Vourde, in the Netherlands.
The vet had been trying to convince a farmer that his cow was passing
flatulent gas; to demonstrate, the vet ignited the gas, but the cow
became a "four-legged flame-thrower" and ran wild, setting fire to
bales of hay.
Damage to the farm was assessed at $80,000 USD. Will and Guy have received news that no cows were injured in the
conflagration.
Newspaper Funny About A Man Who Is Arrested While Being A Nosey Parker
Mr R.C. Gaitlin, aged 21 years, walked up to two patrol officers who
were showing their squad car computer equipment to children in a
Detroit, USA, neighbourhood. He inquired how the system worked, the
officers asked to use his I.D. for an example.
Gaitlin gave them his driver's license; the police officers entered
it into the computer, and moments later they arrested him for a robbery
committed in St. Louis, Missouri.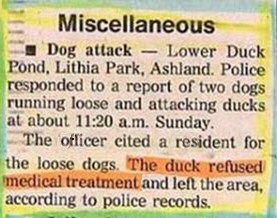 Unbelievable tabloid story say Will and Guy.
Funny Tabloid Headlines
Miner Refuses to Work after Death
[That-good-for-nothing lazy so-and-so!]
Red Tape Holds Up New Bridges!
Old School Pillars are Replaced by Alumni
Funny Newspaper Adverts
In the classified ads: Sewing-machine mechanic to work in ladies' housecoats. Good wages and working conditions.
Evening Chronicle: Wanted. Man to take care of cow that does not smoke or drink.
Dinner Special --- Turkey $4.35; Chicken or Beef $4.25; Children $2.00.
For sale: an antique desk suitable for lady with thick legs and large drawers.
Dental Implant Insurance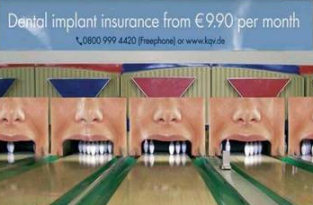 Short Stories from the Newspapers
From The Derby Abbey Community News: 'We apologize for
the error in the last edition, in which we stated that 'Mr Fred Nicolme is a
Defective in the Police Force'. This was a typographical error. We meant of
course that Mr Nicolme is a Detective in the Police Farce.

No benefits for ill man
Agency says terminal illness not severe enough.
Safety film - Report: A company trying to continue its
five-year perfect safety record showed its workers a film aimed at
encouraging the use of safety goggles on the job. According to the Health
and Safety Council News, the film's depiction of gory industrial accidents
was so graphic that twenty-five workers suffered minor injuries in their
rush to leave the screening room. Thirteen others fainted, and one man
required seven stitches after he cut his head falling off a chair while
watching the film.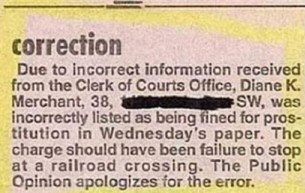 Daily Telegraph: In a piece headed 'Brussels Pays £200,000 Pounds to Save
Prostitutes: the money will not be going directly into the prostitutes' pocket,
but will be used to encourage them to lead a better life. We will be training
them for new positions in hotels.'
The Times: A young girl who was blown out to sea on a set of inflatable teeth
was rescued by a man on an inflatable lobster. A coastguard spokesman commented,
'This sort of thing is all too common.'
Funny Notices in Hotels
In case of fire, do your utmost to alarm the hotel porter.
Customers are expected to complain at the office between the hours
of 9 and 11 am daily.
Teeth extracted by the latest Methodists.
See more funny
notices in hotels
Unusual Text Message
Had a text from my mate the other day
'I've just been
arrested and charged with being the ugliest man on Britain - please come down to the police station and prove them wrong'
Examples taken from letters written to various government agencies
You have changed my little boy to a girl. Will this make any
difference?
I have no children yet as my husband is a bus driver and works night
and day.
In accordance with your instructions, I have given birth to twins in
the enclosed envelope.
Funny Letters to USA
Agencies
The Plot Thickens
A blonde stormed up to the front desk of the library and said, 'I have a complaint!'
'Yes, Ma'am?' said the librarian looking up at her.
'I borrowed a book last week and it was horrible.'
Puzzled by
her complaint the librarian asked, 'What was wrong with it?'
'It had way too many characters and there was no plot whatsoever,' said the blonde.
The librarian nodded and said, 'Ahhh. So you must be the
person who took our 'phone book.'
See more funny library
stories
Footnote:
Please send us your newspaper funnies,
amusing
stories, headlines and adverts.
See more strange but funny true stories:
•
Home •
Funny short Stories •
After Dinner •
Strange People •
Short stories for women
•
Stories • Urban Myths
• Newspaper Funnies •
Unusual Words •
Funny Animals •
Wisdom
• Funny crime stories •
Tests •
April Fool's Day hoaxes •
True Titanic story •
All sections