Each country has its own way of celebrating the new year. In many European countries, the New Year celebrations are more important than those for Christmas.
World-wide New Year Customs
Happy New Year in Different Languages
Scotland - Hogmanay
What is Hogmanay?
The Hogmanay festivities get underway about lunch time on the 31st of December. At about 2 minutes to midnight a lone piper plays, then after the chimes of midnight everyone
sings Auld Lang Syne. In rural areas you may find first footing dances, called ceilidhs. It is considered lucky if the first person to cross the threshold is a tall dark stranger. This
superstition may have resulted from fear of fair Viking raiders who were bent on rape and pillage.
Possibly a more modern tradition is exchanging gifts known as 'Hogmanays'. Indeed it is
interesting to observe which countries and cultures exchange gifts at Christmas, and which exchange their presents (or 'Hogmanays') at new year. What shaped Hogmanay from the 17th to the 1950s
was that Scots rejected Christmas because they thought it a Catholic and an English festival. As a result Protestant Scots worked through Christmas Day and Boxing Day then celebrated Hogmanay with a
vengeance.
Derivation of the Word 'Hogmanay'
The majority opinion is that comes from the Gaelic oge maidne
meaning 'New Morning'. However, several French words have also been suggested as the source. Hoguinané, or anguillanneuf, which roughly translated means New Year Gift.
Perhaps
the best way of summing up the Scot's attitude to celebrating Hogmanay is to declare the 2nd of January as a public holiday - to recover from the new celebrations. It is worth noting that there is big
difference between the raucous celebrations with strangers in Edinburgh and Glasgow; compared with the more ritualized celebration where you know everyone in Scottish Islands such as Lewis.
Will and Guy's
Clean Funny Hogmanay Jokes
See in The New Year with Some Clean Scottish Humour
It was a bitterly cold day on the golf course and the caddy was
expecting a large tip from his rich Scottish client. As they neared the
clubhouse, the caddy heard the words he was longing to hear, 'This is for
a hot glass of whisky.' He held out his hand and a sugar cube was placed
in it.
An American entered a bar and stood beside a Scotsman
'Where are you from, pal?' asked the Scotsman, after they'd chatted for
a while. 'I'm from the finest country in the whole wide world,' said the
American.
'Are you?' said the other. 'You have a very funny accent for a
Scotsman.'
Some say the old ones are best. You can make up your own
mind with these short clean Scottish jokes
What do you call the Scottish dentist?
................................. Phil McCavity.
Did you hear about the Scotsman who washed his
kilt?............. He couldn't do a fling with it.
Hear about the skeleton that wore a kilt?
.............................. It was Boney Prince Charlie.
How do you know if a Scotsman is left-handed?
He
keeps all his money in his right-hand pocket.
How do you get a Scotsman to climb onto the roof of his home?
Tell him that the drinks are on the house.
A Scotsman went to England for the weekend. He took a clean shirt
and a twenty pound note with him.
When he arrived home he hadn't
changed either of them.
Auld Lang Syne
Featuring Norwegian Singer Sissel
Three More New Year Customs
These days apple bobbing is associated with Halloween, but in
Celtic societies they also play this game of trying to grab an apple
in one's teeth at New Year. Bonfires are also associated with
New Year, the town of Biggar in Scotland have a reputation for a
particularly warm fire at Hogmanay.
Another concept is that of the underdog, or every dog has his
day. In essence roles are reversed, officers become other ranks, and
other ranks become top-dogs.
The first footing custom whereby the first man who set foot over
the threshold set the homesteader's luck for the year. A dark
(non-Viking) carrying a bottle of whisky was particularly portentous
of a good year ahead. A grey-haired man with with coal, cakes
and a few coins was also welcome.
Will and Guy Take a Funny Sideways Scottish Swipe At The
Average Englishman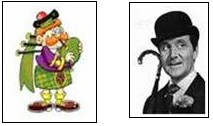 The average Englishman, sitting in his home which he calls his
castle, puts on his water proof clothing as he goes out; a raincoat
patented by Charles Macintosh of Glasgow, Scotland.
He drives a car fitted with tyres invented by John Boyd Dunlop of
Dreghorn, Irvine, Scotland.
At the office he receives his mail with adhesive stamps which,
although they bear the Queen of England's head, were invented by John
Chambers of Dundee, Scotland.
During the day he uses the telephone; invented by Alexander Graham
Bell of Edinburgh, Scotland.
At home in the evening he watches his son ride his rear wheel
driven bicycle; invented by Kirkpatrick MacMillan, a blacksmith born
in Thornhill, Scotland.
He watches the news on television which was invented by John Logie
Baird of Helensburgh, Scotland and hears an item about the U.S. Navy
founded by John Paul Jones of Kirkbean, Dumfries, Scotland.
He has now been reminded too much of Scotland and in desperation
picks up the Holy Bible, only to find that the first man mentioned in
the good book is a Scot: King James VI, [the first king of both
Scotland and England] who authorised the Bible's translation which was
published in 1611.
No where can an Englishman turn to escape the ingenuity of the
Scots; he could take to drink but the Scots make the finest in the
world, he could take a rifle and end it all but the breech-loading
rifle was invented by Captain Patrick Ferguson of Pitfours, Scotland.
If he escaped death, he could find himself on an operating table,
being injected with Penicillin, discovered by Alexander Fleming of
Darvel, Scotland, and given an anaesthetic, discovered by Sir James
Young Simpson of Bathgate, Scotland.
When he comes round from the anaesthetic he would find no comfort
in learning that he was as safe as the Bank of England which was
founded by William Patterson of Dumfries, Scotland.
Then he might run away to Auckland in New Zealand only to find
that John Campbell from Glasgow founded the city.
He may then choose to study in Canada and he would soon discover
that James McGill, born in Glasgow, founded the University in
Montreal.
So he then tries to settle in Chicago, USA where he finds that the
Pinkerton Detective Agency in Chicago was founded by Allan Pinkerton
from Scotland in 1850.
See here for
more Scottish jokes
Maeshowe Orkney Isles (Scotland) Cairn built 5,500 years ago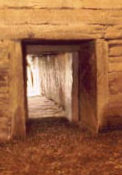 At the winter solstice, the sun is so low in the Orkney islands that its rays light up the back wall of the cairn. As the midwinter sun slips below the horizon, its last rays shine directly
through Maeshowe's entrance passage to illuminate the rear wall of the central chamber.
This solar phenomenon only happens once a year on the shortest day - weather permitting.
It's fascinating to think how our ancestors not only calculated what would happen, but had the time and patience to construct the aperture.
See more on the lunar New Year.
New Year in Europe
France - New Year's Eve is: La Saint-Sylvestre Jour de l'An (New Year's Day)
The French call New Year's Eve La Saint-Sylvestre. It is celebrated with a feast called le Réveillon de Saint-Sylvestre. This
tradition includes dishes such as foie gras washed down with champagne. The event can be a dinner with friends and family or a communal ball (une soirée dansante).
Following la Saint-Sylvestre is Jour de l'An (New Year's Day); this is a time for meeting friends and family and exchanging good wishes and maybe gifts. The French round off the holiday season on
Epiphany.
Italy - La Festa di San Silvestro
Germany - Saint Sylvester
Chaul Chnam Thmey - Cambodia
Ōmisoka - Japan
German New Year Tradition - Neujahrsbräuche
Bleigießen pronounced BLYE-ghee-sen) 'Lead pouring' (das Bleigießen) is an old
custom where sages read molten lead, much like mystics read tea leaves. What they do is melt a lead cherry sized piece of lead a tablespoon (by holding a flame under the spoon) and then poured the
molten lead into a bowl of water. The resulting pattern is
interpreted to predict the coming year. Common interpretations include, a ball (der Ball), indicates that luck will roll your way. What people fear is any sign of a cross pattern (das Kreuz) as
that signifies a death.
They Do a
Great New Year Celebration in Hong Hong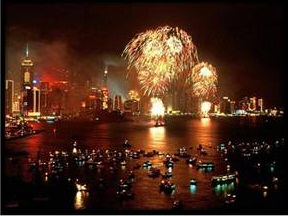 I would love to be in one of those boats out on the water.
New Year Celebration
in London, England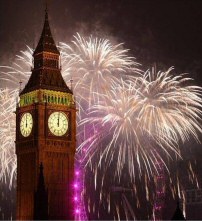 Spectacular New Year Fireworks in Dubai ...... Also In Groznyy,
Chechnya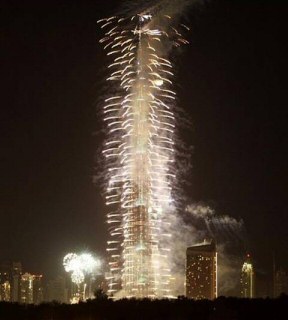 The Burj Khalifa, Dubai
Wales Mari
Lwyd (Grey Mare)
Footnote:
Please write to Will and Guy if you have any examples of New Year
traditions.
See more New Year jokes and funny pictures:
• New Year
• New Year Jokes
• Traditions
• Funny New
Year Resolutions
• Key Questions
• Chinese
New Year Jokes
• Chinese
New Year Stories •
New Year quotes
• Mari Lwyd
• Happy New Year different languages
•
Chinese New Year Masks • World-wide New Year
customs