Last Monday in May
Memorial Day, originally called Decoration Day, is a day of remembrance for
those who have died in the service of the USA.
Observance of Memorial
Day in the USA
Memorial Day is a United States federal holiday is observed on the
last Monday of May.
It commemorates U.S. soldiers who have died while in the military
service.
First enacted by former enslaved Africans to honour Union soldiers
of the American Civil War - it was extended after World War I to honour
all Americans who have died in all wars.
Many people observe Memorial Day by visiting cemeteries and
memorials. A national moment of remembrance takes place at 3 pm local
time.
Another tradition is to fly the flag of the United States at
half-staff [half-mast] from dawn until noon local time.
Volunteers often place American flags on each grave site at National
Cemeteries.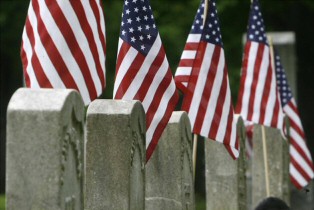 Buddy Poppies for Memorial Day
Buddy Poppies are still made today and given away around Memorial Day.
The donations received for Buddy Poppies go directly to support disabled
veterans and the families of fallen veterans.
Memorial Day is a day when the US pays respect to all fallen troops from
all military conflicts. They place flags on the graves of veterans, and the
President lays a commemorative wreath at the Tomb of the Unknowns.
Parades on Memorial Day are generally low key processions of military
groups, veterans groups, scouts and service organizations. They march to
each cemetery and military shrine in a community, fire off salutes in honour
of the dead, and place flags at grave sites. This is the true meaning of
Memorial Day.
The red poppy is the traditional flower to honour and commemorate
veterans in North America, Europe and Australia.
The red poppy was made famous by a poem - In Flanders Fields -
written during World War I by Canadian army surgeon Lt. Col. John
McCrae. See below
Because of the poem's popularity, the red poppy was adopted as the
Remembrance Flower for war dead of Britain, France, the United States,
Canada and other Commonwealth countries.
On Memorial Day, many US veterans wear a red lapel poppy to honour
their fallen soldier buddies.
In Flanders Fields
In Flanders fields the poppies blow
Between the crosses, row on row,
That mark our place; and in the sky
The larks, still bravely singing,
fly.
Scarce heard amid the guns below. We are the dead. Short days ago
We lived, felt dawn, saw sunset glow,
Loved, and were loved, and now we
lie
In Flanders fields. Take up our quarrel with the foe:
To you from
failing hands we throw
The torch; be yours to hold it high.
If ye
break faith with us who die
We shall not sleep, though poppies grow
In
Flanders fields.
by John McCrae.
Memorial Day Humour
It may seem callous, insensitive, unpatriotic to even mention humour on
the same page as Memorial Day. Yet Will and Guy feel that one can
inject humour into virtually any topic, providing it's done tastefully.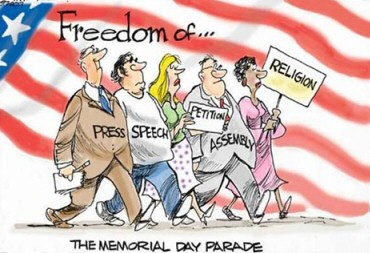 Three Things to Remember on Memorial Day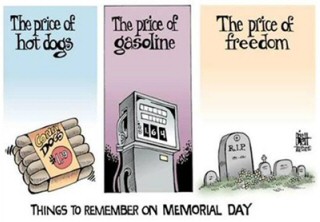 Official Memorial Days - Variations Following the Last Monday in May
2011
Actual Memorial Day: May 30 Monday
Memorial
Day Observed: Same day
2012
Actual Memorial Day: May 30 Wednesday
Memorial Day Observed: May 28 Monday
2013
Actual Memorial Day: May 30 Thursday
Memorial
Day Observed: May 27 Monday
2014
Actual Memorial Day: May 30 Friday
Memorial
Day Observed: May 26 Monday
2015
Actual Memorial Day: May 30 Saturday
Memorial Day Observed:
May 25 Monday
2016
Actual Memorial Day: May 30 Monday
Memorial
Day Observed: Same day
2017
Actual Memorial Day: May 30 Tuesday
Memorial
Day Observed: May 29 Monday
2018
Actual Memorial Day: May 30 Wednesday
Memorial Day Observed: May 28 Monday
2019
Actual Memorial Day: May 30 Thursday
Memorial
Day Observed: May 27 Monday
A Reminder

Let Us Not Forget Remembrance Day 11th November
Remembrance Day [Australia, Canada, United
Kingdom], also known as Poppy Day [Malta and South Africa], Veterans Day [USA, and Armistice Day [France, New Zealand, and many other British Commonwealth countries]; is a day to commemorate the sacrifice of
veterans and civilians in World War 1, World War 2, and all other wars.
It is observed on 11th November to recall the end of World War I on that date in 1918. [At 11am a two minute silence is observed at war
memorials, cenotaphs, religious services and shopping centres throughout Britain; the Great War ended at the11th hour of the 11th day of the 11th month]. The observance is specifically dedicated to
members of the armed forces who were killed during war.
See more on Remembrance Day.
Remembrance Day is also
Known as Veterans Day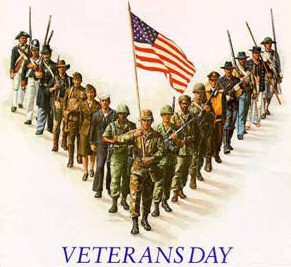 The Last Post - "Taps"
The Last Post is played at military funerals and at the end of a
Remembrance Day service. This haunting melody to recognise the fallen is also, played
in the USA and Canada where it is refered to as "Taps".
It was probably Brigadier General Daniel Butterfield, who was instrumental
in commissioning "Taps" circa 1862. Reports that
Union Army Captain Robert Ellicombe was responsible seem to be an urban
myth.
When "Taps" is played at a funeral, it is customary to salute if you are
in uniform, or else place your hand over your heart if in mufti. However, these words, which may accompany "Taps", were originally called
Butterfield's Lullaby and were probably sung at the soldiers' lights out.
Day is done.
Gone the sun.
From the lakes
From the hills.
From the sky.
All is well.
Safely rest.
God is nigh.
Fading light.
Dims the sight.
And a star.
Gems the sky.
Gleaming bright.
From afar.
Drawing nigh.
Falls the night.
Thanks and praise.
For our days.
Neath the sun
Neath the
stars.
Neath the sky
As we go.
This we know
God is nigh.
Memorial Day - Last Monday in May
Calendar of special day events, days of celebration:
• Special day today
•
Memorial Day •
Grand National •
Trafalgar Day •
Labor Day
•
Midsummer's Day •
Festival days •
Father's day •
Lady Day •
Earth Day •
Remembrance Day
• 4th of July •
Pamplona Bulls •
Blackberry day •
Tomatina Spain •
Friday 13th superstitions