I don't know the key to success, but the key to failure is trying to please
everybody. Bill Cosby
Three Categories Loser of the Week
Car Loser of the Week
Drink Driver Runs Himself Over
An driver from Concord, USA, drove his car at a gang of Hell's
Angels while waving a pool cue. He then got out of his car and managed to run himself over. We did not make this up, it was reported
in the San Francisco Chronicle. Richard Brooks, 50, was
driving along Highway 4 near Concord, California, when he saw the bikers, many of whom were wearing leather and skull caps.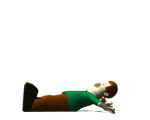 California Highway Patrol Officer Scott Yox told the SF Chronicle that the
man waved a pool cue at the bikers and swerved his car towards them. The bikers split into two groups to get out of his way and the irate driver aimed his car at two bikers who had pulled off the highway. He
got out of his car with the pool cue - but before he could do anything, he was knocked down by his own car which had been left in reverse.
The man was knocked into the highway and his car reversed into
the central reservation. Some of the bikers grabbed him and pulled him out of danger. The man suffered cuts and scratches and was taken to hospital. He could face charges of assault with a deadly weapon and
drink driving.
Woman Lets Her Dog Drive the Car
A Chinese woman has been involved in a car crash - because she let her dog drive. The accident happened in the city of Hohhot, capital of north China's
Inner Mongolia region, Xinhua news agency has reported.
The woman, named only as Li, decided to let her dog drive when she noticed how he was of crouching on the wheel. She let the dog steer while she operated the accelerator and the brake. The experiment resulted
almost immediately in a collision with another car.
Loser of the Week - Welcome Back!
An 82-year-old pensioner who destroyed a diesel pump and overturned her car on the forecourt is welcome back, says the fuel station's manager.
Suzanne Cordeau was trying to manoeuvre her Toyota
Starlet closer to the pump when she accidentally hit the accelerator instead of the brake. The car careered across the forecourt in Tewkesbury, Gloucestershire and hit a diesel pump, knocking it off its
foundations. Mrs Cordeau's car then hit a kerb before turning over on to its roof.
She escaped with minor injuries, but it took a team of 12 fire-fighters to free her from the wreckage.
Beware Dangers of
Foggy Weather - Loser of the Week
Losers of this week are: Two motorists had an all too literal head on collision in heavy fog near the small town of Guetersloh, Germany. Each was guiding his car at a snail's
pace near the middle of the road
because of the thick fog. At the moment of impact their heads were both out of the windows when they smacked together. Both men were hospitalised with severe head injuries. Their cars weren't
damaged at all and
didn't
have a mark on them.
Car Catches Fire
This picture reminds me of a true story of a friend who had a '
Friday'
car; so called because the vehicles made at the end of the week, when everyone is just thinking of Saturday, are always rough. My
friend Jasper had such a car, everything seemed to go wrong. The side trim fell off on the way home from the showroom, the tires wobbled it would not start in hot weather, the saga went on.....the seat
was loose, the immobiliser cut in for no good reason. When he complained, he had bought the car from new, his car dealer ignored the problems and denied flatly that there was anything wrong with his car.
One day the car plain caught fire for no good reason. Jasper pulled into the lay-by and got out unharmed. Phew he thought, now I can claim on the insurance. To his horror, a good Samaritan
pulled up with the world's
biggest car fire extinguisher. The poor man did not know what hit him when Jasper swore at him and told him in the strongest of terms - go away. Jasper did not want his
Friday car saved from the fire that was nicely burning his 'Friday'
car.
Car Thief - Loser of the Week
A car thief who ran out of petrol in rush hour traffic was arrested after police helped him push the stolen vehicle to the side of the road reports The Moscow Times. Helpful officers in Moscow, Russia, were
about to leave the scene and let Alexei Ashurin wait for breakdown services when they noticed the red 15 year old Volkswagen's lock was broken and a screwdriver was sticking out of the ignition.
After
checking the number plate, they discovered the vehicle had been stolen and that Ashurin was wanted for a string of other motoring thefts. He admitted to stealing the car and is now facing up to two years in
prison if convicted.
Cyclist - Loser of the Week
We also have a cyclist who is candidate for loser of the week.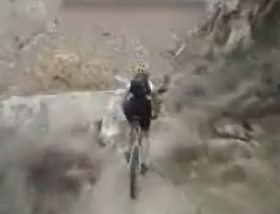 Click here to see what happened
next
See more funny cyclist pictures
General Losers and More Heroic Failures
Heroic Failure or Accident Prone
This gentleman must rival all comers for the loser of the year award. Found in the Guardian in Jon Henley's '
Diary'
column.
Alistair Fellows from Burton-on-Trent was struck by lightning last week and
lived to tell the tale.
Amazingly, Mr Fellows had previously narrowly escaped electrocution after cutting through a power cable.
Other mishaps include the following: he has fractured his skull
twice, been hit by a runaway lorry, and had a toothbrush surgically removed from his ear. See more Lightning Strikes
'Oh, 'stammered the woman, 'I was expecting the baker.'
The gas man blinked, excused himself and
departed.
A
Classic Loser - Toothless wonder
A man in Brevard County, Florida, has reported to the authorities that someone reached into his mouth and removed his gold teeth as he slept.
Detectives said they had responded to a reported theft at a
home in Florida on Sunday. The report, by the Sheriff's office, said Bryan Osteen had spoken to officers and told them that someone had entered his bedroom and taken the teeth, worth $80 USD [£43] out of his
mouth. Osteen said that he is a heavy sleeper and did not wake up during the incident. He added that he had friends at his home and believes one of them might have had something to do with the crime.
Heroic Failure? Or Loser of the Week?
A man who had just returned home from holiday had his luggage thrown away by dustmen. Phil Newbon from Spalding, Lincolnshire, left his luggage on the pavement as he returned home and when he glanced back he
realised it was being crushed by grinders inside the back of their dustcart. His clothes, mobile phone, sat-nav, digital camera and gifts for family and friends were destroyed. Even his duty free was being
crunched up.

Phil, who says the total value was £1,600, said, 'I couldn't
believe my eyes. I only left my bags there while I chatted to a pal after getting a lift back from the airport. Then they were
gone and everything was being smashed to pieces. I thought I was being set up for a TV stunt. The council told me people often leave suitcases out for collection and I'm sure that's
true. But I doubt they have
25kg of luggage inside, tags still attached and a bag of hand luggage and duty-free next to them.'
Phil is now trying to get compensation from South Holland council, Lincs, but says he has been told he
will not get a penny in compensation.
Loser of the week
A pensioner who was trapped upside down in a hole for four hours was rescued after a postal worker saw his feet sticking out. Albert Hughes, 70, was trying to adjust
the water flow to his garden sprinklers when he fell head first into the narrow shaft housing the water meter.
When post woman Janelle Maury called to deliver letters, she saw his boots and heard his
cries for help reports the Mirror.'
His feet were at ground level but that was all I could see. When I was closer I could see he was down there. I just couldn't
believe he was upside down for that long.'
The emergency services arrived but they couldn't
pull him out by hand. Firemen had to erect a tripod over the hole. They then attached a rope and straps to his feet and winched him out of the pit at his home
in Spokane, Washington state, USA.
He was released, later the same day, from hospital uninjured.
P.S. Please write to Will and Guy if you have a candidate for
loser of the week
See the biggest collection of 'Loser of the Week' and heroic failures ever assembled
•
Coolest losers •
Loser week •
Funny loser of the week •
Loser month •
Heroic failures
•
Jobsworth •
American jobsworth •
Plodsworth •
Stupid boy •
Bad luck superstitions •
Home
•
Prison or work? Difference? •
Jerry Builders •
Funny folly houses •
Murphy's Law •
Bad jokes