'There are more fools in the world than there are people.'
Heinrich Heine
Do it Yourself Burial
A Dutch gravedigger had a lucky escape after he accidentally buried himself. The 62-year-old man, from Nieuwleusen, was digging a grave in Zwolle cemetery when it happened, reports Gazet van Antwerpen,
Belgium. A trailer containing the earth he had removed tipped over and fell into the grave, knocking over the man and covering him completely. Luckily, a workmate was able to move the trailer and uncover the
gravedigger's face to let him breathe. He called the fire brigade who managed to free the man after an hour. He was unhurt apart from a bump on the head.
Smoking and Drinking?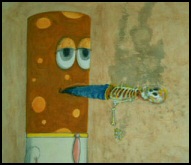 It's one of those unwritten rules of life: never smoke cigarettes while
drinking petrol. A man in the town of Gross Godems, Germany, was being treated
for serious burns after accidentally setting his apartment ablaze when he mixed
up a bottle of petrol with alcohol, police report.
The 56-year-old, whose name
was not released, apparently grabbed the wrong bottle and took a swig from the
gasoline flask. Realising his mistake, he quickly spat the liquid out again.
Unfortunately for him, the petrol hit a lit cigarette, sparking the fire.
Will and Guy think that 'you could not make it up.'
A Classic Loser of the Month - Toothless wonder
A man in Brevard County, Florida, has reported to the authorities that someone reached into his mouth and removed his gold teeth as he slept.
Detectives said they had responded to a reported theft at
a home in Florida on Sunday. The report, by the Sheriff's office, said Bryan Osteen had spoken to officers and told them that someone had entered his bedroom and taken the teeth, worth $80 USD [£43] out of his
mouth. Osteen said that he is a heavy sleeper and did not wake up during the incident. He added that he had friends at his home and believes one of them might have had something to do with the crime.
See more dentist stories
The Whole Town is the Loser of the Month
A seaside town was swamped with semolina after a factory blasted out two tonnes of the dessert ingredient. People living in Great Yarmouth, Norfolk, East Anglia woke up one morning to find their town covered
in the fine white grain. The council staff who had tried to clear up the mess made the mistake of adding water - accidentally turning the powder into a massive slippery pudding.
A council spokesperson
said, 'It looked like there had been a heavy frost. Everywhere was just white, even the grass. We had 10-15 people trying to clear it up, but as soon as it got wet it became more of a problem.'
The semolina was
eventually cleared up and Great Yarmouth is now back to normal.
Bank Robbery - No
Mrs W. Sexton was
mistakenly told by her bank her balance had reached a staggering £91 million recounts the Scotsman newspaper.
Wendy Sexton, 51, whose husband Colin is the chief executive of Bristol City Football Club,
received a letter from HSBC saying they were 'pleased to inform' her that the closing balance on her account was a breath-taking £91 million plus change. It was the kind of money that would have turned League
One side Bristol City into Premiership contenders.
Unfortunately for the couple their millionaire status was short-lived. The cheque accompanying the letter was for just £13.73.
Remember what
Bill Lyon said
If at first you
don't succeed, find out if the loser gets anything.
Lewis Hamilton - Banned for Speeding
In the week before Christmas, Lewis Hamilton, Britain's Formula 1 star, has been clocked on a French motorway travelling at 196 kms per hour [121 mph approx] and banned from driving for a month reports BBC
Radio news.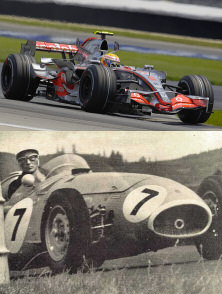 It's been a while since England had a motor racing hero. To old timers Stirling Moss is probably the most famous Formula one driver. (Jackie Stewart was Scottish). Will and
Guy see parallels between Lewis Hamilton and Stirling Moss, both were geniuses at the wheel, both had brushes with the traffic police.
In our youth policeman would often caution young tearaway drivers
who were only a little over the speed limit, or who they could not follow for long enough to book.
The policeman would often open the conversation with the phrase,
'Who do you think you are, Stirling Moss'. According to urban myth, one day a policeman pulled over a rotund middle-aged man because he was hammering a scooter at 50mph in a 30mph and said, 'Who do you
think you are, Stirling Moss'. The rotund man replied, well actually, I am Stirling Moss. Whereupon the young policeman's jaw dropped. When he recovered his composure he asked Stirling for his
autograph and gave him a police escort all the way home.
Fortunately, Lewis
Hamilton did not follow Stirling Moss' losing record of never winning the Formula one World Championship.
Whereas Stirling Moss was a heroic failure finishing 2nd in the Formula One
Championships in 1955, 1956, 1957 and 1958, Lewis won in 2008.
Incidentally, Stirling Moss was knighted and thus is really Sir Stirling
Moss; perhaps one day Lewis Hamilton may also be honoured with a title.
Footnote:
P.S. Please write to Will and Guy if you have a candidate for loser of the month
See the biggest collection of 'Loser of the Week' and heroic failures ever assembled
•
Coolest losers •
Loser week •
Funny loser of the week •
Loser month •
Heroic failures
•
Jobsworth •
American jobsworth •
Plodsworth •
Stupid boy •
Bad luck superstitions •
Home
•
Prison or work? Difference? •
Jerry Builders •
Funny folly houses •
Murphy's Law •
Bad jokes