Creating artificial Christmas trees has spawned a whole new
industry. The challenge is to use materials in a new way.
Will and Guy think that these monster trees are best seen outdoors and
at night when their lights displays come into their own.
More Unusual Christmas Trees
Giant Lego Christmas Tree
You can see the world's tallest toy Christmas tree at St Pancras station,
London. It took staff over 9 weeks to build the tree, apparently, it took
over half a Lego million bricks for the construction., the tallest tree ever
built with the toy bricks, according to the manufacturer.
Even the baubles that decorate the 10 metre high Christmas tree are made
out of Lego.
It's a family-friendly feature for the station, owned by High Speed 1,
which last year saw a 6.5 metre tall tree built out of Lanson champagne
bottles
Large Artificial Xmas Tree in Washington DC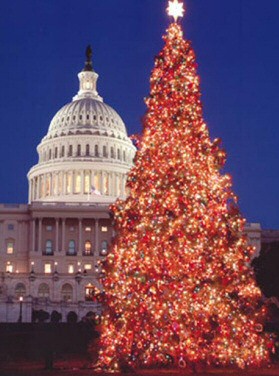 American can thank German immigrants for introducing Christmas trees to
America. One of the earliest records is to be found in Bethlehem,
Pennsylvania.
Large Dormat Christmas Tree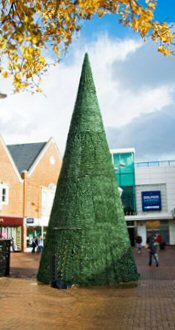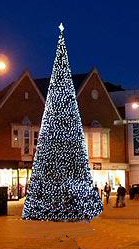 This monstrosity of a Christmas tree was erected in Poole,
Dorset, England.
The local health and safety committee say it's wonderful because, it has no trunk therefore it
won't blow over on street traders. There are no branches to break off
and land on someone's head, no pine needles to poke a passer-by in the eye,
no decorations for drunken teenagers to steal and no angel, presumably
because it would need a dangerously long ladder to place it at the top.
For as long as people in Poole could remember they had a lovely genuine
Norwegian fir, which was tastefully decorated in coloured lights at a cost of
about £500. In contrast the green doormat tree cost not £1,400 as we
first thought but a whopping £14,000.
We have to admit, after dark it looks a lot better with a display of fairy lights.
See our Christmas tree stories.
Giant Chocolate Christmas Tree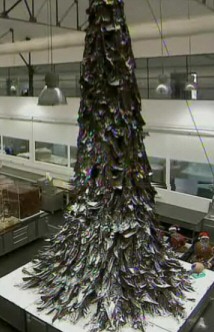 A French chocolatier has created a ten-metre-high chocolate Christmas
tree in his laboratory in Paris. Patrick Roger is one of France's most famous chocolatiers. He was named "Meilleur Ouvrier de France Chocolatier" [best
French artisan-chocolatier] in 2000, an award for professionals combining
art and taste and proving to be worthy representatives of French gastronomy.
His creation will be used to raise funds for a television charity event
to support research into neuromuscular diseases. The tree, which is
currently towering inside the chocolatier's factory in Sceaux, France,
weighs four tonnes and according to Mr Roger's is a piece of "architecture".
He informed Will and Guy, 'To achieve this kind of architecture - because
this really is a piece of architecture - we used a sort of cavity inside to
make the chocolate solid enough, because there is very strong vertical
pressure.'
The cute Christmas tree will be shown on France's Telethon, a nationwide
charity appeal show, and viewers will receive part of the sugary sculpture
in exchange for a donation. Mr Roger's laboratory apparently also
features a wide range of other chocolate sculptures, including reindeers and
other figurines. See Santa below.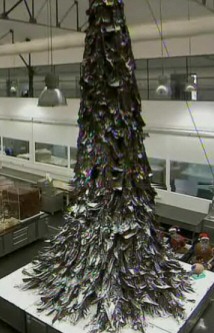 Giant Christmas Tree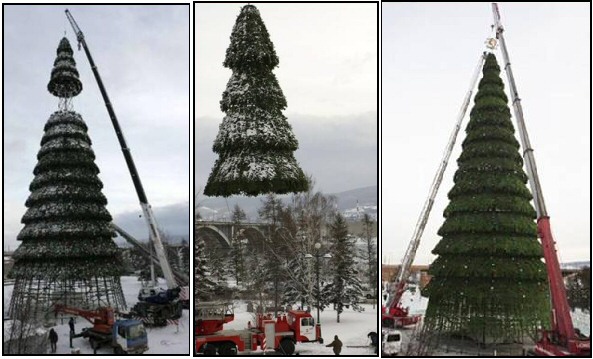 Will and Guy have discovered that in Russia's Siberian city of
Krasnoyarsk there has been erected a 46 metre high [151 feet] artificial
Christmas tree.
This may not be a cute Christmas tree, but it is certainly one of the
highest in Russia this year.
Monster Xmas Tree
'Grows'
Through the Roof
At first glance it looks as if the massive tree has burst straight
through the roof of the six-bedroom house in Carbery Avenue. Greg Howe
has painstakingly cut the £250 [$375 USD] tree into three sections with
the huge trunk in the living room, the middle section in a spare bedroom
and the top perched on a flat part of the roof.
Greg Howe enlisted the
help of several friends and the fire brigade to get the star on top of
the huge tree at his Bournemouth home. It is thought that in the
interests of safety the star is, in fact, a smoke detector.
Large Artificial Xmas Tree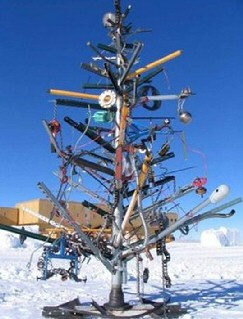 This pictures sums up why such fake trees should have the cheap and
nasty epithet 'Xmas', rather than the serene tag of 'Christmas'.
World's Largest Christmas Tree Display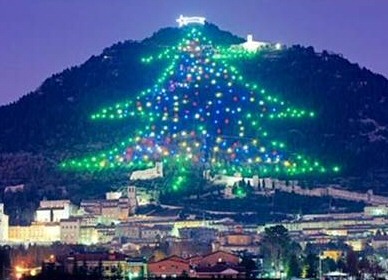 The world's largest Christmas tree display rises up the slopes of Monte
Ingino outside of Gubbio, in Italy's Umbria region. Composed of about 500
lights connected by 40,000 feet of wire. The image of the "tree" is a modern marvel for
an ancient city.
See more unusual Christmas trees »
Footnote:
Please send us your pictures of large
artificial Xmas
trees.
See more funny Christmas pictures of trees and snow:
∗ Large
artificial Christmas trees ∗ Santa sculptures ∗
Christmas Trees Around the World
∗
Cute Christmas trees
∗ Funny Christmas trees
∗ Unusual Christmas
trees ∗ Snow plough
∗ Funny Christmas pictures ∗ Animated Christmas
Cards ∗
Funny Christmas cartoons
∗ Home