Will and Guy ponder if these amusing labels have a positive or negative effect on the
product concerned. Is it a case of any publicity is good publicity?
Alternatively,
do the silly labels make the companies a laughing stock?
Funny Label - 'Our
President is an Idiot'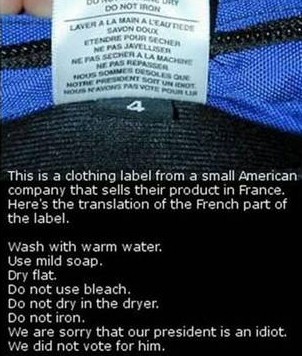 Translation of the above label from French into English
This is a clothing label from a small American company that sells their
product in France.
Wash with warm water.
~
~
Do not Iron
We
are sorry that our president is an idiot. We did not vote for him.
Guy wondered if this funny label was part of a new marketing drive to
create a DIS (respect) label. Then Will pointed out that no 'poser' would
pay top dollar for a fashion label that nobody could see.
Another Silly Label - But Oh So True!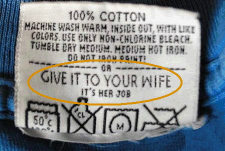 Wash it Again
My mother had decided to trim the household budget wherever possible, so instead of having a dress dry-cleaned she washed it by hand. Proud of her savings, she boasted to my father, 'Just think, Ivor, we are
five pounds richer because I washed this dress by hand.'
'Good', my dad quickly replied. 'Wash it again.'
If You Cannot
Read. Do Not Use This Product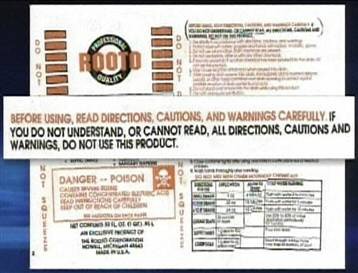 If you do not understand, or cannot read all directions, cautions and
warnings DO NOT USE THIS PRODUCT. (Surely one of the stupidest labels
out there?)
Strange Instructions on Labels
On Boot's
Children Cough Medicine:
'Do not drive a car or operate machinery after taking this medication'
(We could do a lot to reduce the rate of construction
accidents if we could just get those 5 year olds with head colds off those forklifts.)
On packaging for a clothes iron:
'Do not iron clothes on body'.
(But
wouldn't
this save me more time?)
On a Myer hairdryer:
'Do not use while sleeping'.
Silly Warning Labels and Signs
Danger - Do
not hold the wrong end of a chainsaw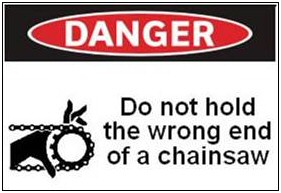 Often it's the ludicrousness of these warning labels that makes them so funny.
Here are
Funny Warning Labels on Appliances
On Odour Eaters: Please do not eat.
On a blender: On no account improvise as a
fish aquarium.
On stockings: Not to be used in the commission of a felony.
On gloves: For best results, do not leave at the crime scene.
On a fridge: Refrigerate after
opening.
On
alphabet blocks: Not for children.Letters may be used to construct words, phrases and sentences that may be deemed offensive.
On a cardboard windshield sun-shade: 'Warning: Do Not Drive
With Sun Shield in Place'.
On an infant's
bathtub: Do not throw baby out with bath water.
On a cup of McDonald's
coffee: Allow to cool before applying to groin area.
On a microscope: Objects in view are bigger and more frightening than they appear.
On a calendar: Use of term 'Sunday'
for reference only. No
meteorological warranties express or implied.
Another Batch of 5 Silly
Warning Labels
On a Taiwanese shampoo'Use repeatedly for severe damage.'
On a Korean kitchen knife
'WARNING: Keep out of children.'
On a frozen Chow Mein from China
'SERVING SUGGESTION: Defrost.'
On a New Zealand insect spray
'This product not tested on
animals.'
On the BOTTOM of a Tesco's Tiramisu dessert
'Do not turn upside
down' [........... too late]
Watch Out!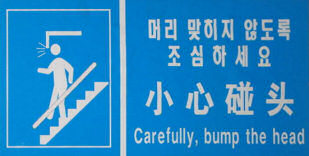 These funny warning signs make Will and Guy ponder: who put them there, are
the pictures real or fake.
See more funny examples of Engrish
Warning: Hell's Gate
Welcome to Pergatory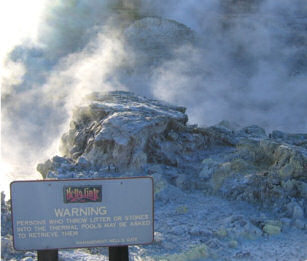 Warning. Persons who through litter or stones into the thermal pools may be asked to retrieve them.
See more funny 'rubbish' signs
Very Dark Caves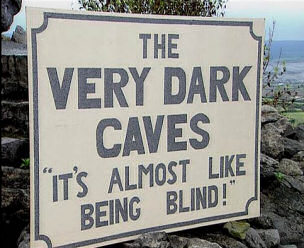 Often it's the absurdity of these notices that makes them so funny
Footnote:
Please send us your funny pictures of signs or
notices
Perhaps You Have Heard of
Sham Rocks?
Will and Guy bring you the real thing - Falling Rocks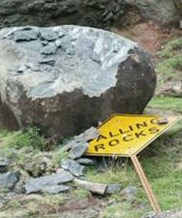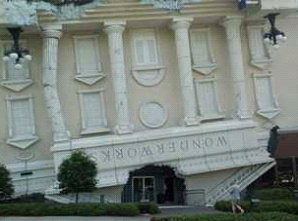 Wonderworks is an 'upside down' attraction in Florida, USA. Advertised as an 'amusement park for the mind', it features
over 100 interactive exhibits including a fighter jet exhibit, laser tag, virtual sports, and an earthquake simulator
Please Do Not Run Into the Walls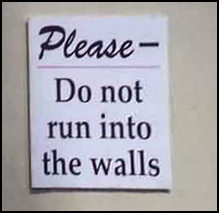 Who and why was this Silly Billy sign created?
To Digress, Talking of Walls ...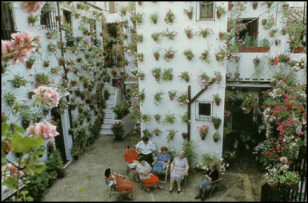 Footnote:
Please write to Will and Guy if you have any
pictures of funny signs or silly labels
See more pictures of funny signs,
and silly labels
• Pictures of stupid signs •
Silly signs •
Funny warning labels •
Sat-Nav •
Funny gaffes
• Pointless signs
• Funny caution signs •
No dogs •
Funny warning signs •
Funny toilet signs
•
Rubbish notices •
Funny sign pictures •
Funny shop notices •
Strange signs PPT •
Clean jokes