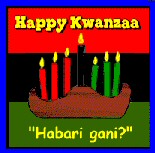 The fastest growing festival, Kwanzaa: December 26th to January 1st.
Kwanzaa - African-Amercian
Holiday
Kwanzaa, is an African-American celebration of cultural
reaffirmation, and is one of the fastest-growing holidays in the history of
the world.
Kwanzaa, which can also be spelt Kwaanza, is a week-long
secular holiday that celebrates African American heritage. Each year it is
celebrated from December 26th to January 1st. It took root 30 years ago,
when graduate student Maulana Karenga, disturbed by the 1965 riots in Los
Angeles, Watts area, decided that African-Americans needed an annual event
to celebrate their differences rather than the melting pot.
Principles of Kwanzaa
Kwanzaa celebrates what its founder called the seven principles of
Kwanzaa, or Nguzo Saba [originally Nguzu Saba - the seven principles of
blackness], which Karenga said, 'is a communitarian African philosophy,'
consisting of what Karenga called 'the best of African thought and practice
in constant exchange with the world.'
These seven principles comprise
Kawaida, a Swahili term for tradition and reason.
Each of the seven days
of Kwanzaa is dedicated to one of the following principles, as follows:
Umoja: Unity stresses the importance of togetherness for the family and the
community, which is reflected in the African saying, "I am We," or "I am
because We are."
Kujichagulia: Self-Determination requires that we define our common
interests and make decisions that are in the best interest of our family and
community.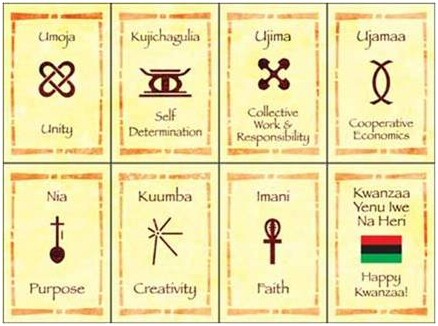 Ujima: Collective Work and Responsibility reminds us of our obligation to
the past, present and future, and that we have a role to play in the
community, society, and world.
Ujamaa: Cooperative economics emphasizes our collective economic strength
and encourages us to meet common needs through mutual support.
Nia: Purpose encourages us to look within ourselves and to set personal
goals that are beneficial to the community.
Kuumba: Creativity makes use of our creative energies to build and
maintain a strong and vibrant community.
Imani: Faith focuses on honouring the best of our traditions, draws upon
the best in ourselves, and helps us strive for a higher level of life for
humankind, by affirming our self-worth and confidence in our ability to
succeed and triumph in righteous struggle.
The Mishumaa Saba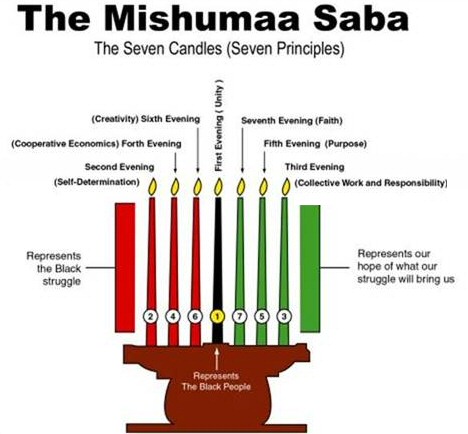 The Season of Kwanzaa
Kwanzaa Celebrations Include
Families celebrating Kwanzaa decorate their
households with objects of art; colourful African cloth such as *kente,
especially the wearing of kaftans by women; and fresh fruits that represent
African idealism.
*Kente cloth from Ghana. West Africa
It is
customary, Will and Guy have been told, to include children in Kwanzaa
ceremonies and to give respect and gratitude to ancestors. Libations
[drinks] are shared, generally with a common chalice.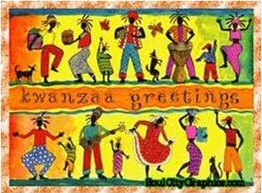 A Kwanzaa ceremony may include, say Will and Guy, drumming and musical
selections, libations, a reading of the African Pledge and the Principles of
Blackness, reflection on the Pan-African colours, a discussion of the
African principle of the day or a chapter in African history, a
candle-lighting ritual, artistic performance, and, finally, a feast
[*Karamu].
*A karamu is a feast that takes place on December 31st , the sixth day of
the Kwanzaa period.
The greeting for each day of Kwanzaa is Habari Gani? which is Swahili
for "What's the News?"
An Alternative and Funny
Look At Festivals
Continuing the current trend of large-scale mergers
and acquisitions, it was announced today at a press conference that
Christmas and Hanukkah will merge. An industry source told Will and Guy that
the deal had been in the works for about 1300 years.
While details were
not available at the time of writing, it is believed that the overhead cost
of having twelve days of Christmas and eight days of Hanukkah was becoming
prohibitive for both sides. By combining forces, we're told, the world will
be able to enjoy consistently high-quality service during the Fifteen Days
of Chrismukah, as the new holiday is being called.
Massive layoffs are
expected, with lords a-leaping and maids a-milking being the hardest hit. As
part of the conditions of the agreement, the letters on the dreidel
currently in Hebrew, will be replaced by Latin, thus becoming completely
unintelligible to a wider audience.
Also, instead of translating to "A
great miracle happened there," the message on the dreidel will be the more
generic "Miraculous stuff happens." In exchange, it is believed that Jews
will be allowed to use Santa Claus and his vast merchandising resources for
buying and delivering their gifts.
One of the sticking points holding up
the agreement for at least three hundred years was the question of whether
Jewish children could leave milk and cookies for Santa even after having
eaten meat for dinner. A breakthrough came last year, when Oreos were
finally declared to be Kosher. All sides appeared happy about this.
A
spokesman for Christmas, Inc., declined to say whether a takeover of Kwanzaa
might not be in the works as well. He merely pointed out that, were it not
for the independent existence of Kwanzaa, the merger between Christmas and
Chanukah might indeed be seen as an unfair cornering of the holiday market.
Fortunately for
all concerned, he said, Kwanzaa will help to maintain the
competitive balance. He then closed the press conference by leading all
present in a rousing rendition of "Oy Vey, All Ye Faithful."
Will and Guy Wish You A Happy Kwanzaa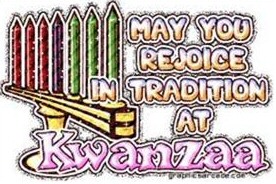 Footnote
Please send us your Kwanzaa jokes and funny stories.
See more New Year jokes and funny pictures:
• New Year
• Happy New Year different languages
• New Year Jokes
• Key Questions
• Chinese
New Year Jokes
• Kwanzaa •
New Year quotes
• Mari Lwyd
• Thai New Year •
Jewish New Year • World-wide New Year
customs