Jesus and Christmas
'It's a Boy' - Film to Teach Story of Christmas
The Angel Gabriel is one of the animated characters in the film being sent to primary schools throughout the UK to teach children the Christmas story. The point is to convince they youngsters that Jesus is not a swear word.
Christian charity the Breakout Trust said the file 'It's a Boy' was created after a child asked why Mary and Joseph had named their baby after a swear word.
Comedian Joe Pasquale and actor Steven Berkoff are among those providing the voices for the 30-minute film. [On DVD from 2005]
The soundtrack is performed by Sir Cliff Richard.
Christmas Gifts - Jesus Would Have Approved
Christmas Gift Suggestions:
To your enemy, forgiveness.
To an opponent, tolerance.
To a friend, your heart.
To a customer, service.
To all, charity.
To every child, a good example.
To yourself, respect.
Oren Arnold
Omnibenevolent deity
Santa Claus is clearly what Jesus would be if he was real. Nobody would ever consider nailing this omnibenevolent deity to anything, would they? Nor does he hold anything against you longer than a year. Steve James
Egg Sculptures of Biblical scenes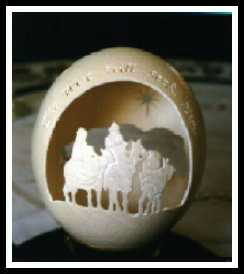 See more clever sculptures
Nativity Scene Carved from School Desks

A school handyman has carved a complete Nativity scene from old classroom desks. Chris Reeves used a pile of 1960's science desks destined for the rubbish tip to create amazing wooden figurines of Mary, Joseph, and Angel Gabriel. Jesus' crib took two months to complete and will now be blessed by a priest.
'I was taught basic carpentry years ago and it's something I enjoy but I'd never done anything quite like this before,' said Mr Reeves, 54. 'I was asked to make the figures and remembered there were some old teak desks lying around from when the school refurbished the science department. I thought the wood was too good to waste so I decided to use it.' he added.
The three feet high figures will now be displayed in the school foyer at the Nicholas Breakspear School in St Albans, Hertfordshire, and we have learned that the pupils absolutely love them.
What is a Nativity Scene?
A Minister is visiting his children at Christmas time. When he walks into the house, he sees a beautiful nativity display. His young granddaughter, Phoebe, walks up to him, and he asks her if she knows what it is.
Phoebe answers directly, 'Yes, Grampy ... it's breakable.'
A Christmas Prayer for Lonely Folk - By Henry Van Dyke
Lord God of the solitary,
Look upon me in my loneliness.
Since I may not keep this Christmas in the home,
Send it into my heart.
LET not my sins cloud me in,
But shine through them with forgiveness in the face of the child Jesus.
Put me in loving remembrance of the lowly lodging in the stable of Bethlehem,
The sorrows of the blessed Mary, the poverty and exile of the Prince of Peace.
For His sake, give me a cheerful courage to endure my lot,
And an inward comfort to sweeten it.
Purge my heart from hard and bitter thoughts.
Let no shadow of forgetting come between me and friends far away:
Bless them in their Christmas mirth:
Hedge me in with faithfulness,
That I may not grow unworthy to meet them again.
Give me good work to do,
That I may forget myself and find peace in doing it for Thee.
Though I am poor, send me to carry some gift to those who are poorer,
Some cheer to those who are more lonely.
Grant me the joy to do a kindness to one of Thy little ones:
Light my Christmas candle at the gladness of an innocent and grateful heart.
Strange is the path where Thou leadest me:
Let me not doubt Thy wisdom, nor lose Thy hand.
Make me sure that Eternal Love is revealed in Jesus, Thy dear Son,
To save us from sin and solitude and death.
Teach me that I am not alone,
But that many hearts, all round the world,
Join with me through the silence, while I pray in His name:
Our Father which art in heaven, hallowed be Thy name.
Thy kingdom come. Thy will be done in earth, as it is in heaven.
Give us this day our daily bread. And forgive us our debts, as we forgive our debtors.
And lead us not into temptation, but deliver us from evil:
For Thine is the kingdom, and the power, and the glory, forever. Amen.
The Christmas Story - Luke: Chapter 1
5.There was in the days of Herod, the king of Judea..........
26. And in the sixth month the angel Gabriel was sent from God unto a city of Galilee, named Nazareth.
27. To a virgin espoused to a man whose name was Joseph, of the house of David; and the virgin's name was Mary.
28. And the angel came in unto her, and said, Hail, thou that art highly favoured, the Lord is with thee: blessed art thou among women.
29. And when she saw him, she was troubled at his saying, and cast in her mind what manner of salutation this should be.
30. And the angel said unto her, Fear not, Mary: for thou hast found favour with God.
31. And, behold, thou shalt conceive in thy womb, and bring forth a son, and shalt call his name JESUS.
32. He shall be great, and shall be called the Son of the Highest: and the Lord God shall give unto him the throne of his father David:
33. And he shall reign over the house of Jacob for ever; and of his kingdom there shall be no end.
34. Then said Mary unto the angel, How shall this be, seeing I know not a man?
35. And the angel answered and said unto her, The Holy Ghost shall come upon thee, and the power of the Highest shall overshadow thee: therefore also that holy thing which shall be born of thee shall be called the Son of God. ...
37. For with God nothing shall be impossible.
38. And Mary said, Behold the handmaid of the Lord; be it unto me according to thy word. And the angel departed from her.