Can I Have Some Irish Sausages Please?
I used to be scared of all types of sausage. Now I just fear the wurst.
Irish Sausages Please
'Can I have some Irish sausages please?'
Asked Seamus. I want to make a proper Irish hot-dog.
The shop assistant looked at him and enquired, 'Are you Irish?'
'If I asked you for Italian sausage, would you ask me if I was Italian? Or, if I asked for German bratwurst, would you ask me if I was German? Or if I asked you for a Kosher hot dog, would you ask me if I was Jewish? Or, if I asked you for a Taco, would you ask me if I was Mexican? Would you, eh? Would you?'
The assistant replied, 'Well...er.... no'
.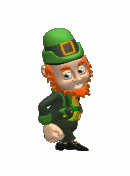 'And if I asked you for some Bourbon whiskey, would you ask me if I was American? What about Danish bacon, would you ask me if I was Danish?'
'Well, I probably wouldn't,' came the response.
Self-righteously, Seamus demanded, 'Well, all right then, why did you ask me if I'm Irish, just because I asked for Irish Sausages?'
'Because you're in a blooming shoe shop', replied the assistant.
See more Irish Jokes here
Smoked Sausage
A German lorry driver set fire to his cab after deciding to cook himself some sausages while driving. Walter Reckling, 46, kept the small gas cooker for roadside use but decided to use it on the road as he was late with a delivery.
He was cooking two sausages while travelling past Niederwuerschnitz in Saxony, Germany, when the cooker toppled over. It set fire to the seat which in turn set fire to the cab of the vehicle. Reckling was treated for smoke inhalation at a local hospital where he was also found to have been three times over the legal alcohol limit reported Ananova online.
On Your (Sausage) Bike
Here to the right is a bicycle made out of sausages. It was photographed outside one of the stands at Polagra, an international trade fair in Poznan, Poland.
'Bags I the handlebars' says Guy.
Irish Parking
These workmen have installed bollards to stop parking on the pavement outside the Royal Hospital in Belfast, Northern Ireland .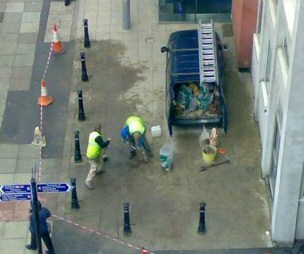 They are cleaning up at the end of the day. Will and Guy wonder how they will get their van out.
Other Amusing, Witty and Funny Irish Questions
Finnegan: Me wife has a terrible habit of staying up 'til two o'clock in the morning. I can't break her of it.
O'Callaghan: What on earth is she doin' at that time?
Finnegan: Waitin' for me to come home.
Chinese Horse Sausage

A 213 metre long and weighing some 1,256-kilogram horse casing sausage is dried in Yining of Northwest China's Xinjiang Uygur autonomous region.
Photos - Xinhua
A Kazak horse meat butcher made the sausage with casings from 30 horses and thigh meat from another eight 5-year-old horses.
It's a Dog's Life - For an Irishman
O'Leary went to London and found himself in the underground late one night. Seeing a notice "DOGS MUST BE CARRIED ON THE ESCALATOR", he moaned to himself, 'And where am I going to find a dog at this hour of the night?'
O'Neill was suffering from pains in his knees, so he visited Doctor Cullen.
'You're suffering from a disease that we medical experts call "kneeitis", diagnosed Doctor Cullen. 'Take it easy for a month or so and above all don't climb any stairs. That puts a terrible strain on the knees.'
A month later O'Neill returned and after a brief examination was found to have recovered completely.
'Can I climb the stairs now Doctor?'
'Certainly,' replied the Doctor Cullen.
'Thank Heavens,' uttered O'Neill, 'I was getting a bit fed up with climbing up the drainpipe every time I wanted to go to the toilet.'
A Good Reason to Give up Smoking

A man in Denver, taking a break from painting his home, managed to burn his house down after smoking a cigarette reports The Los Angeles Times.
Stevie Spencer, tried to put out the cigarette in a bowl which he had placed on the table prior to lighting. 'I forgot paint thinner was in the bowl, 'Spencer said, 'I thought it was water.'
The fire from the paint thinner ignited some papers nearby and spread rapidly.
Spence reportedly suffered minor injuries but his house was destroyed. Fire Chief Jay Flynn said the that house was too far gone to save it when fire-fighters arrived.
Little Old Lady
While in the queue to withdraw cash from the 'hole in the wall' [ATM] I was asked by an old lady if I would check her balance. So I pushed her over!
Footnote: Please send us your clean sausage joke.