Brief Background To Women's Day
The very first International Women's Day was launched in Germany, by
Clara Zetkin, on 19th March 1911 [not 8th March]. The date was chosen
because on 19th March in the 1848 revolution, the Prussian king
recognized, the strength of the armed people and gave
way before the threat of a proletarian uprising. Among the many promises he
made, which he later failed to keep, was the introduction of votes for
women.
In 1869 British MP John Stuart Mill was the first person in Parliament to
call for women's right to vote. On 19th September 1893, New Zealand became
the first country in the world to give women the right to vote.
In accordance with a declaration by the Socialist Party of America, the
first National Woman's Day (NWD) was observed across the United States on
28th February. Women continued to celebrate NWD on the last Sunday of
February until 1913.
In 1913 International Women's Day was transferred to 8th March and this
day has remained the global date for International Women's Day ever since.
Women in other countries did not enjoy this equality and campaigned for
justice for many years. 2011 sees the 100th Anniversary of this august
institution.
During International Women's Year in 1975, IWD was given official
recognition by the United Nations and was taken up by many governments.
International Women's Day is marked by a national holiday in China, Armenia,
Russia, Azerbaijan, Belarus, Bulgaria, Kazakhstan, Kyrgyzstan, Macedonia,
Moldova, Mongolia, Tajikistan, Ukraine, Uzbekistan and Vietnam.
The tradition, Will and Guy have learned often sees men honouring their
mothers, wives, girlfriends, colleagues, with flowers and small gifts.
In some countries IWD has the equivalent status of Mother's Day where
children give small presents to their mothers and grandmothers.
The 10
Best Female Pioneers by Rosie Boycott March 2012
Emmeline Pankhurst (1858-1928)
Her slogan was
'Deeds, not words' which defined her life.
Martha Gellhorn (1908-98)
With Ernest Hemingway,
Martha wend to Spain in 1937 and covered the civil war in 1937 and went
on to report on wars across the globe. Gellhorn was passionate about
truth and the power of witness.
Wangari Maathai (1940-2011)
The first person
from her family - and her village - to get an education, Maathai won a
scholarship to the USA.
Kathryn Bigelow (1951- )
In 2009, Bigelow became
the first woman to receive the best director Oscar.
Mary Wollstonecraft (1759-97)
Writer, feminist
and philosopher Wollstonecraft was the first woman to articulate the gap
between the rights of man and rights of women.
Rachel Louise Carson (1907-64)
Carson was the
founder of today's environmental movement.
Marie Carmichael Stopes (1880-1958)
Today there
are Marie Stopes clinics in more than 40 countries, continuing the
pioneering work of Stopes to bring sex education and birth control to
women regardless of their age, marital status or wealth.
Coco Chanel (1883-1971)
Even those who claim to
have no interest in fashion owe a debt to Gabrielle Bonheur 'Coco'
Chanel, the only clothing designer to be named on Time's list of the 100
most influential people of the 20th century.
Octavia Hill (1838-1912)
Hill is best known for
co-founding the National Trust, but she was also a tireless campaigner
on issues ranging from the importance of education to the protection of
green spaces in and around London.
Elizabeth Garrett Anderson (1836-1917)
When
Garrett Anderson was born, there were no female doctors in Britain. She
moved to France and qualified at the University of Paris instead. Then
Elizabeth set up in practice as a GP in London as the UK's first female
doctor, and in 1876 helped usher through parliament an act that formally
permitted women to be medics.
Footnote:
Will and Guy found this Rosie Boycott's
list interesting and refreshing. To bring things around full circle;
Emmeline Pankhurst pointed out that if women could be trusted with lives,
surely they could be trusted with the vote.
We have no quarrel with Rosie's list, yet as we were reading about these
inspirational women, however Guy wondered if Marie Curie, Florence
Nightingale or Mary Seacole should be included. Should either Queen
Elizabeth be on the list?
Challenge:
Who would be in your list of female
pioneers?
International
Women's Day In Modern Times
The Guardian newspaper in the UK is asking readers to compile a list of
the top 100 inspirational women. Will and Guy will watch this with great
interest.
Many talented and inspirational women leap into our minds. Here are a few
to remind you: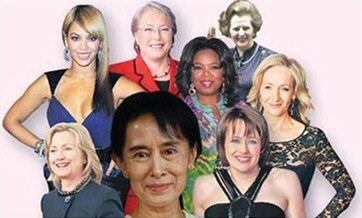 [Clockwise from left] Hillary Clinton, Beyoncé, Michelle Bachelet, Oprah
Winfrey, Margaret Thatcher, JK Rowling, Tanni Grey-Thompson and Aung San Suu
Kyi
On the First International Women's day 100 years ago, people marched
across Europe campaigning for women's rights to vote, work, be trained and
hold public office. A great deal has changed since then. These basic
rights are taken for granted in large parts of the world. Women have risen
to pole political positions in many countries, including the UK.
Discrimination Against
Women Persists Today In Many Counties
Women make up between 70% and 80% of the world's poor, illiterate and
refugee populations, and sexual and domestic violence continues to cause
alarm. A girl growing up in Chad today has about the same chance of dying
while giving birth as she has of going to secondary school.
Pregnancy is the biggest killer of women aged 15 to 19 in the developing
world.
While girls often do better than boys at school, women working
full-time in the UK are paid on average less per hour than men - 40 years
after the Equal Pay Act - and fill just 12.5% of boardroom posts in leading
companies.
Global Issues Which Still Confront Women Today [Taken from the IWD site]
Females in developing countries on average carry 20 litres of water
per day over 6 km
Globally women account for the majority of people aged over 60 and
over 80
Pregnant women in Africa are 180 times more likely to die than in
Western Europe
530,000 women die in pregnancy or childbirth each year
World population hit 6,872,741,131 on 1st January 2009
Of 1.2 billion people living in poverty worldwide, 70% are women
80% of the world's 27 million refugees are women
Women own around only 1% of the world's land
AIDS sees women's life expectancy of 43 in Uganda and Zambia
5 people are added to the world's population every 2 seconds
Women are 2/3 of the 1 billion+ illiterate adults who have no access
to basic education
However, we feel that IWD is not only about famous women; those unsung
heroines should also receive plaudits an not just on Women's Day 8th March.
The Story of an Unsung Heroine
Years ago, when my then husband had been made redundant, I was pregnant
with our second child and our daughter was only 10 months old.
We were on benefits for the first time in our lives - even the baby milk
was free - and our mortgage was being paid. Our pride was in our boots.
A free supermarket bus used to drop off people outside our house and a
lady got off the bus and came down our drive with two bags of shopping for
us.
She said she hoped I didn't mind but she'd heard of our troubles from
some of the neighbours and had bought us a chicken, fresh cream, cakes and
biscuits to help us out.
I stood on the doorstep and cried at her
kindness.
I offered to pay but she wouldn't hear of it and said I'd have the
opportunity to do the same for someone else one day when our fortunes took a
turn for the better.
I've done the same more than once and I'll never forget the stranger who
knocked on my door with free shopping for me and my family in our time of
need.
Told by Louise Hobson, Hull, UK.
Will and Guy's Top Ten Thought-Provoking Quotes By Women
One cannot be always laughing at a man without now and then
stumbling on something witty. Jane Austen
The trouble with some women is they get all excited about
nothing - and then they marry him. Cher
I earn and pay my own way as a great many women do today. Why should
unmarried women be discriminated against - unmarried men are not. Dinah Shore
Women are the real architects of society. Harriet Beecher Stowe

If you want something said, ask a man; if you want something
done, ask a woman. Margaret Thatcher
Remember, Ginger Rogers did everything Fred Astaire did, but
backwards and in high heels. Faith Whittlesey
Women have served all these centuries as looking glasses possessing
the magic and delicious power of reflecting the figure of a man at twice
its natural size. Virginia Woolf
God gave women intuition and femininity. Used properly, the
combination easily jumbles the brain of any man I've ever met. Farrah
Fawcett
Somewhere out in this audience may even be someone who will
one day follow in my footsteps, and preside over the White House as the
President's spouse. I wish him well. Barbara Bush
Follow your instincts. That's where true wisdom manifests itself.
Oprah Winfrey
Footnote
Please
send us your interesting International Women's Day story.
See more clean woman jokes, funny stories and
amusing PowerPoint Presentations
•
Woman jokes •
Body parts
• Wedding jokes
• Marriage bureau
• Funny bride
• Home
• Clean women jokes •
Good wife • Perfect woman
• Women's golf jokes
• Scottish wife
•
Women's stories • Women's day •
Women live longer
• Sisterhood
• Nuns Humour