The sheer variety of cars is fascinating, even thought the number of
companies making cars is declining, the interest in cars especially for boys
remains strong.
Peel 50
The world's smallest production car, the Peel 50, is driven on a road in
London. It is over fifty years since the three-wheeled bubble car was
created, this brand new P50 Peel car was test driven on the bustling streets
of the nation's capital.
Reaching a top speed of 28 miles-per-hour in ten seconds flat this
48-inch-tall prototype may look retro but in engineering terms every nut and
bolt is strictly 21st Century.
We are still waiting on the cost of the Peel 50.

Another Contender for The
World's Smallest Roadworthy Car?
It looks like a circus trick, but this tiny set of wheels could be the
world's smallest roadworthy car. The mini motor, only 39 inches high and 26
inches wide, started life as a Postman Pat children's ride.
Car fanatic Perry Watkins has transformed it into the most compact, if
not most comfortable, car in the country. Perry, 47, reinforced the
fibreglass shell with a steel frame and mounted it on a mini quad bike.
Unlike the Peel 50 above, this car does not have the word 'Production' in its claim for 'Smallest
Car'.
Here is a front on view of the same little car.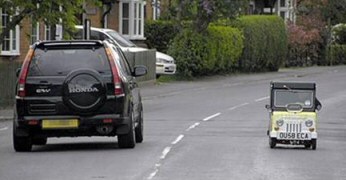 Will and Guy think that the
world's smallest car can be seen here
Magnificent Example
of British Engineering

Mr. Allen Swift received this 1928 Rolls-Royce Piccadilly P1 Roadster
from his father, brand new; as a graduation gift in 1928.
He drove it up until his death last year [2010].....at the age of 102.
Will and Guy surmise that it must have turned a few heads in the USA over
the years.
He was the oldest living owner of a car from new and we thought we would
like to share this fact with our readers.
He donated it to a Springfield museum after his death. It has 170,000
miles on the "clock" and Will and Guy have been informed that it still runs
like a Swiss watch, silent at any speed and is in perfect cosmetic
condition.
The World's Fastest Milk Float
A 'souped-up' milk float is to be used in an attempt to smash a land speed record to become the fastest milk float in the west. The 'Electric Blue' has been specially adapted with an extra motor fitted, it
has a fin on its roof, to combat turbulence, and has its suspension lowered for the attempt. And owner Kevin Bourne hopes to beat the current record of 71.4mph next year, reports the Metro newspaper.
'Everyone has a stock impression of milk floats travelling at 10mph, so you don't expect to see one accelerate to 80mph,'commented Mr Bourne.
This
interesting vehicle has been on display at the Museum of Science and
Industry in Manchester, UK.
Taiki Concept Car
- Also the Shanghai 'Yez' or Leaf Car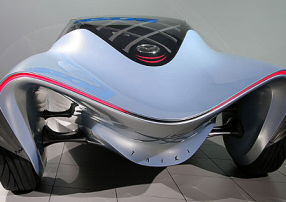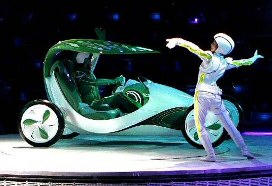 Mazda Motors introduces a new concept vehicle, Taiki, during at the 40th Tokyo Motor Show, 2007.
See left.
The concept car "Yez"" (leaf) made by Shanghai Automotive Industry
Corporation (SAIC), is unveiled at the SAIC and GM pavilion of the 2010
Shanghai World Expo in Shanghai - See right
Will
and Guy Plan to Beat the Traffic in this Funny Car

We present to you the Moller M400 Skycar which is a funny looking
four-seat motor which can unfold its wings in seconds and then soar through
the air at up to 600kph (375mph) for a distance of 1,200km (750 miles).
It is designed to be far simpler to fly than a helicopter and it boasts
that its fuel consumption is lower than that of a Land Rover or Porsche. The
Skycar has cost its Californian developers a reported £135million and is set
to retail for £675,000 [$1,033,513.81 USD] when it goes on sale in 2012.
Road Streamliner
A Swiss company has created the world's fastest ever road vehicle, a 340mph
bullet-shaped cross between a motorbike and a car.
Called the 'Road Streamliner' it has an impressive specification. The Acabion
GTBO looks like a jet fighter cockpit on wheels; it has stabilisers, and has the
power-to-weight ratio of a Formula One car. Its makers claim it could reach
300mph in 30 seconds, much quicker than the Bugatti Veyron which takes 55
seconds to reach its top speed of 250mph. An electric version with a top speed
of around 300mph is also planned and its designer, former Porsche engineer Dr
Peter Maskus, sees it as the future of high-speed, low-emission transport.
Now we have you well and truly hooked here is the bad news: the asking price
is likely to be £1.5million [almost $3million USD] for the 25 limited edition
GTBOs.
Also the Terrafugia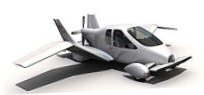 The dream of combining a car and plane has been floating around for 100 years. Perhaps fantasy will be turned into reality in the wide-open spaces of mid-America, or even Australia. If the price is
beyond farmers, then perhaps executive who live out of town, and frequently travel long distances will be tempted by the Terrafugia.
See more
about the Terrafugia
Stunning, Amazing and
Amusing Revelation To Bring A Smile To Your Face
Racing Car Will Be Powered By Your Favourite Food...................Yes,
Chocolate..............Chocolate?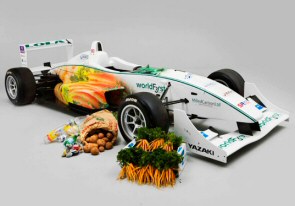 Will and Guy can reveal an amazing invention which has arrived on the
British motor racing scene. The world's first environmentally-friendly
racing car, made from vegetables and powered by chocolate, is to be launched
in May 2009.
The 145mph ecoF3 has a steering wheel made of carrots, a body made of
potatoes and a seat made of soybeans. It is the first Formula 3 racing car
designed and made from sustainable and renewable materials and we are very
excited about it.
Designers hope the technology used in their car will be adopted by
Formula 1 teams such as McLaren and Ferrari. It uses plant-oil based
lubricants and a biodiesel engine capable of running on chocolate and
vegetable oil. Vegetable fibres are mixed with resins to produce the car
parts and the oils in the chocolate are refined to produce fuel. The "WorldFirst"
team, from Warwick University, Warwick, England, hope racing chiefs will
change the rules so they can compete in races next season. The engine fails
to meet current regulations because of its unusual fuel.
A team spokesman has informed us that, 'We hope the Formula 1 teams will
see that an environmentally friendly car is not necessarily a slow car. We
expect our new materials to be used by the Formula 1 cars of the future.'
Will and Guy will watch this space with particular interest.

Here is a more food for thought - a car made of chocolate.
Wooden Car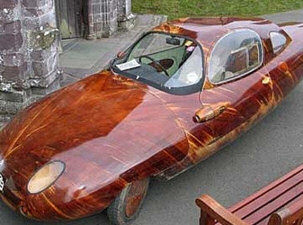 See our PowerPoint Presentation of
interesting cars made of
wood.
The Worlds Oldest Car - La Marquise
The world's oldest working car is set to go under the hammer - and it is
expected to fetch up to £1 million.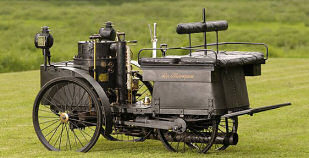 La Marquise can reach a top speed of 38 mph The four-wheeled car, called La
Marquise, was built in 1884 for the Count De Dion, one of the founders of the
automobile manufacturers De Dion-Bouton et Trepardoux. It has only had two other
owners since, according to Gooding & Company, the auction house selling it in
August 2007.
The four-seater, fuelled by coal, wood and paper, takes about half an hour to
work up enough steam to go. In an 1887 race, La Marquise hit an average speed of
26 miles per hour on a 19-mile course. The following year it won the world's
first motor race, beating out its three-wheeled competition, another De
Dion-Bouton. This interesting vehicle was built in France in 1884 by De
Dion-Bouton et Trepardoux, one year before Gottlieb Daimler and Karl Benz each
independently built their first gasoline-powered cars in German. Twelve years
later, Henry Ford built his first automobile in the US.
La Marquise is being sold by Gooding & Company, the California-based auction
house, in August in Pebble Beach.
Footnote:
The world is full of interesting vehicles,
please send us pictures of your favorite.
See more funny pictures of strange and unusual vehicles:
•
Home •
Interesting vehicles •
Wooden cars & funny vehicles •
Funny tractors
•
Spiderman car •
Snow mobile •
Limo
• Lawn mower •
Truck art •
Waterskiing
•
Defence cuts •
Funny bicycles •
Fantastic Machine •
Running machine •
Lawn chair