Will and Guy have tracked down a flock of ducks in India. See how they waddle down the road and play 'follow my leader'. They look like the Mallard duck that is common in England, Europe and North America, however they are almost certainly Indian Runner ducks.
1) The Flock of Indian Runner Ducks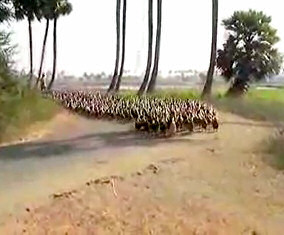 These Indian Runner ducks have a distinctive upright stance, which allows them to run extremely fast. They are one of the best foragers of all the domestic ducks. Often used to train sheepdogs because of their speed and herding instinct, they appeared in the film 'Babe'.
2) The flock seems to develop a group personality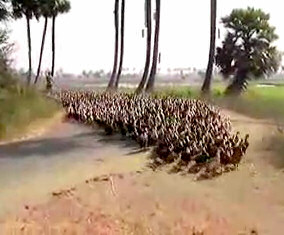 They come in many colours, and are often nicknamed the 'Penguin' duck. The Indian Runner duck is a favourite among poultry lovers. They are native to the Indian sub-continent and Malaysia. The breed was probably first brought to Europe, to Cumbria, UK, by a sea captain in the middle of the 19th century.
3) The flock of ducks crosses the road into the field
3) Incredibly, there are two flock of ducks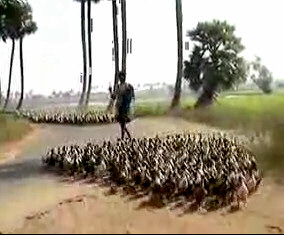 All those ducks controlled by one girl. The picture shows her herding them as you would herd cattle in England. The Indian Runner ducks are reputed to be quiet birds, although the sound on the video appears to dispute this claim. The video shows these Indian Runners at their best and is quite humorous. N.B. With some browsers you need to click
twice
on the Play arrow

to start the video. N.B. Help for Mozilla browsers
Indian Runner Ducks Video