Happiness is not achieved by the conscious pursuit of happiness; it is
generally the by-product of other activities. Aldous Huxley
---
1) Funny road signs
Have you seen any of these on the road side?
---
2) Penguins - Beautiful photographs
Delightful, funny, what are these penguins up to?
---
3) This is how Guy and Will would organize the Olympics


Surely there is an Olympic event here for you?
---
4) Thought Provoking
Classic Animal Poses
---
5) Picture of the make-up mouse. Every girl's
must have fashion accessory.
---
6) Grand Canyon - Spectacular view, stunning images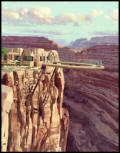 Grand Canyon Skywalk
---
7) Foot Test - Classic funny images
Chiropodist
---
8) Whose operating in this hospital? Surely not? Check the picture
Dog Operating
---
9) Thought provoking pictures
Pictures to make you think and laugh
---
10) Japanese Craze of disguising Skirts as Knickers.
Removed due to
GoogleAds policy.
Guy's Strange Advice
This may sound like shooting myself in the foot, but Guy says don't
look at too many pictures all at once.
Save some for tomorrow. We find that a little humour goes a long way, you soon get an overdose. The remedy is to come back and peruse a different section of funny pictures tomorrow.

Will and Guy also have a Joke Section
Will's
Top 10 Jokes
1) Funny One Liners from Real Résumés
2) School Excuse Notes
3) Real Notes Sent to Milkmen
4)
Tommy Cooper Jokes - Cooperisms
5) Will's
Drinking Philosophy
6) Video of Running Machine
7)
True Story of the Smithsonian Exhibit
8) Oscar Wilde
9)
True Newspaper Stories
10) Humour from the Small Ads
Guy's
Top 10 Jokes
1) Witticisms
2)
Courtroom Stories
3)
Uncle Jack's
Suit
4) School Boy Howlers
5) Doctor's
Notes
6) Brighter Side of Life
7) Lawyer's
Jokes
8)
Gassed Budgies
9) Fifteen Things to Know
10)
Welsh Films
See more of Will and Guys clean jokes, one-liners and funny pictures:
• Will's Top 10 Pics •
Will's Top 10 Jokes • Guy's Top 10 Jokes •
Guy's Top 10 Pics • Home