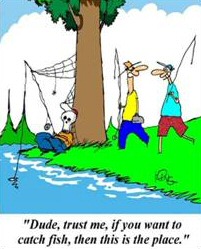 Give a man a fish, and he'll eat for a day.
Give a fish a man, and he'll eat for
weeks!
Toshihiro Kawabata
Fishy Stories and Pictures
Fish For Ticket
Fishy Story
Catfish
Jackson Jokes
Hunting and Shooting Jokes
Funny Hunting Jokes
Shooting Self Video
Farmer Stories
Countryside Humour
Hiking Jokes
Skimming Stones
Turkey Shooting at Thanksgiving
Fishing
Jokes
These might bring a smile to your face whether or not you are a fisherman:
Ten common fishing expressions explained
1) Catch and Release:
This is a conservation term that happens right before the local Fish and Game Protection Officer stops your boat when you have caught over the limit.
2) Hook: (i) A small curved piece of
metal used to catch fish. (ii) A clever advertisement to entice a fisherman to spend his live savings on a new rod and reel. (iii) The punch administered by said fisherman's wife after he spends their life
savings [see also, right hook, left hook].
3) Line: Something you give your colleagues when they ask on Monday how your fishing went over the weekend.
4) Lure: An object that is semi-enticing to fish,
but will drive an angler into such a frenzy that he will charge his credit card to the limit before exiting the tackle shop.
5) Reel: A weighty object that causes a rod to sink quickly when dropped
overboard.
6) Rod: An attractively painted length of fibreglass that keeps an angler from ever getting too close to a fish.
7) School: A grouping in which fish are taught to avoid your £15.99 [$USD30]
lures and hold out for bread instead.
8) Tackle: What your last catch did to you as you reeled him in, but just before he wrestled free and jumped back overboard.
9) Tackle Box: A box shaped amazingly
like your comprehensive first aid kit. Only a tackle box contains many sharp objects, so that when you reach in the wrong box blindly to get an elastoplasts [band aid], you soon find that you need more than
one.
10) Test: (i) The amount of strength a fishing line affords an angler when fighting fish in a specific weight range. (ii) A measure of your creativity in blaming 'that flippin' line' for once again
losing the fish.
Fabulous Funny Fishy One-liners

I got a new fly rod and reel for my wife...best trade I ever made.
The least experienced fisherman always catches the biggest fish.
The
worse your line is tangled, the better is the fishing around you.
Fishing will do a lot for a man but it won't make him truthful.
Catfish have taste buds located on their whiskers.
Funny
Hunting
Pictures and Stories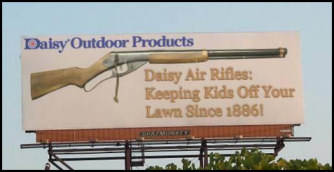 Good Fishing in Usk (Wales, UK)
The river USK is legendary for the quality of it's coarse fishing.
I use a £20 note as bait at the Three Salmons, or the Glen Yr Afon hotel,
and never fail to catch a good fish dinner, served on a plate, at my
table, with asparagus, sauted potatoes. Well, that's my story and I
am not deviating from it.
Turkey Shoot!
Apparently there are more turkeys in Missouri than in Texas. As a Welshman, when I read that the state of Missouri allows hunters to bag two birds in the month of October,
I had no idea what was
going on in these Missouri woods, so I did a little research. The first thing that struck me was that if a permit costs $13 then you better make sure that you hit a turkey. Then I read about hunting
gear, and realized that this was not about cost, or even about eating turkey, it was about good old fashioned hunting.
What impressed me most was a group who hunted turkey with bows and arrows
- now that seemed like a fair contest!
Funny Fishy Tale
A fisherman is selling his pet dog because it kept catching more fish than
him, Will and Guy have learned. Slobodan Paparella from the Adriatic island of
Lastovo, Croatia, said he was fed up with being embarrassed in front of his
fishing mates. He complained that most days when he went fishing he would catch
only the odd fish, but that his Irish setter Lipi would jump into the water and
use her jaws to catch dozens of fish. Paparalla added that the last straw was
when he tried to reel in a 15lb fish but lost it at the last second only to see
Lipi jump in and catch the fish with one bite and bring it back to shore.
He complained, 'The other fishermen were all laughing at me. I have no choice
but to sell the dog because it keeps humiliating me.'
Catch Any Fish? - Don't Ask!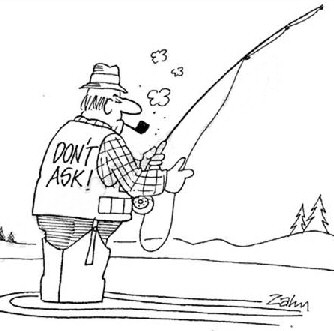 A Fish Tale
Name three fish beginning and ending in the letter 'k'
Killer shark
Kwik-save frozen Haddock
Kilmarnock
[Kilmarnock is a plaice in Scotland!]
Guy
says: The above is one of those jokes that makes you cringe, but you cannot get it out of your mind. Kindly sent in by Martin Williams and his grandson.
The God of Fishing?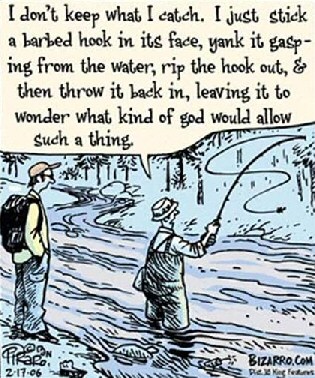 Footnote:
Please send us your funny hunting jokes