One common factor in humour is the unexpected. Names are labels;
thus when we read a name and the meaning doesn't match the goods we see,
it's the
mismatch that triggers our smile.
Humorous Names on Other Pages
Humorous Place Names
Funny Shop Names
Toponymy
Funny English Words
Humorous Names for
Children
Humorous Job Titles
Humorous
Nicknames of Sportsmen
Unusual Words
Funny Website Names
Funny Valentine
Locations
Humorous Place Names
Once alerted by these examples, you are sure to find more amusing names of town, streets or
villages near you.
Toad Suck, can be found in Arkansas.
Two Guns, famously in Arizona.
Great Snoring in Norfolk, England.
Lickey End near Bromsgrove, Worcestershire, England.
World's End can be found in Berkshire and again near Birmingham,
England.
Ugley in Essex [There is also an Ugley Women's Institute, and even
an Ugley Landfill site!]
There again, there is Purgatory in Maine.
See more examples of Toponymy
(funny place names)
Shop Names That Make Will and Guy Smile
Humour usually follows a pattern. Based on initial impression we
think that something is true, however, when we see additional evidence,
which shows that we were wrong, we laugh at the absurdity. Sometimes we smile as a
defence mechanism to hide being caught out.
Barbers shop named:
'Herr Kutz'.
Driving school in Merseyside, England: called 'L Passo'.
'Codfather' chippies, most notably:
'The Codfather', Camps Bay, Cape
Town, South Africa.
Restaurant in Belfast called: 'Thai Tanic'.
Teddy bear shop in Penge, England called: 'Bearly Trading'.
See more funny shop names
Humorous Names of Pubs
Mad Dog, Odell, Bedfordshire
Drunken Duck, Hawkshead, Cumbria
The Bleeding Wolf, Hale, Altrincham, Cheshire
The Cow and Snuffers, Llandaff, Cardiff, Wales
The Quiet Woman - York [The sign being a woman carrying her own
severed head]
Nobody Inn - Doddiscombsleigh, Devon
The Cemetery in Rochdale, Lancashire.
The Three-Legged Mare [Known locally as The Wonky Donkey]
Witty Business Names
Cut & Face (Beauty salon)
Hair Force One (Hair salon)
Let's Face It (Dermal / facial shop)
Blow Jab (Boxing gym)
Fish Be With You (Aquatic pet store)
Income Taxi (Taxicab line)
Wash Your Problem (Laundry shop)
Bread of Heaven Cafe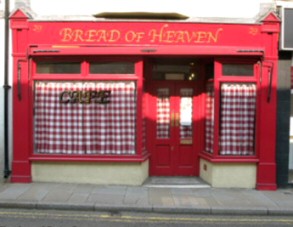 This is the most marvellous cafe in Pontypool, Wales. Great
name, great food, see my
review of the Bread of Heaven
Amusing Names for Children
We are never sure whether the parents of these children had a
mischievous streak, or else it was just a hilarious accident.
Hazel Nutt
Sean Head
Dwayne Pipe (Drain Pipe)
Bernd Onions
Artie Choke
Teresa Brown (Trees are brown)
NoSmo King*
* Nosmo King was the stage name of the 1920's actor H Vernon Watson.
See more funny children's
names
Websites with Funny, But Clean Names
childrenswear.co.uk - Naughty children!
choosespain.com - We prefer Portugal.
newsnow.co.uk - No danger of an avalanche in England.
teacherstalk.com - Catch a coach?
Will and Guy challenge you to send the URL of website which has a name
that is funny, but without a hint of smut.
Funny Job and Name Combinations
Guy and Will have researched these job and name combinations which may
make you smile.
Chorister, Westminster Choir College, Princeton, New Jersey: Justin Tune

Dentist, Roslyn Heights, New York: Dr. E. Z. Filler
The national Director of Surgery at the U.S. Department of Veterans
Affairs in Washington, D.C. Dr Blades
Lloyds/TSB
Bank Manager, Waterlooville, UK: Mr F. Knox
Bankers, Wallowa County, Oregon: Cheatham & Steele
See more funny name and job
pairings.
Quirky Logic
The English language is made for humour. It has absorbed words
from many other cultures, thus as scope for ambiguity, which is the mother
of wit. English grammar has a looseness that German, Greek and
Italian just don't tolerate, thus supplying more opportunities for
misunderstanding and mirth.
If the plural of tooth is teeth, why isn't
the plural of booth beeth?
If a vegetarian eats vegetables, what does a humanitarian eat?
A guinea pig is neither from Guinea nor is it a pig.
Incidentally, there are no hogs in Hogmanay.
When you are incommunicado: you are without the means to communicate.
The Turkey is native, to America and is named for its resemblance to a bird native to Africa.
Madison Square Garden, USA is not square (nor is it a garden).
See more funny English
words
Footnote:
Please send us your humorous names.
See more of funny stories, pictures, amusing videos
and jokes about people
•
All sections •
Men jokes •
Women jokes •
Marriage •
Children •
School jokes •
Home
• Medical •
Politicians •
Losers •
Funny people jokes •
Retirement stories •
Humorous names
• Silly jokes •
Christian jokes •
Short Stories •
International jokes •
Animals •
Funny wisdom