Funny Chinese New Year Jokes
Chinese New Year Jokes
Here is Will and Guy's collection of funny Chinese New Year jokes to reflect the humour of the celebrations.
Sponsored Links
∇
Never Judge a Man By His Appearance
At a New Year celebration meal an American to the Chinese man sitting next to him, pointed to the soup and asked somewhat condescendingly, 'Likee soupee?' The Chinese gentlemen nodded eagerly. A little later, it was 'Likee fishee?' and 'Likee meatee?' and 'Likee fruitee?' and always the response was an affable nod. At the end of the dinner the chairman of the Yuan-Xiao festival introduced the guest speaker of the evening: none other than the Chinese gentleman who delivered a penetrating, witty discourse in impeccable English, much to the astonishment of his American neighbour. When the speech was over, the speaker turned to his neighbour and with a mischievous twinkle in his eye and asked, 'Likee speechee?'
The Story of Chen and The Cakes

Chen was extremely hungry, so he left work and went to a local snack bar where he bought a cake. When Chen had eaten the cake, he found that he was still famished, and so he ate a second one. Even then he was not full up and promptly ate six cakes in succession, but he hadn't satisfied his hunger. Not until Chen had eaten the seventh cake did he feel satisfied. Then, suddenly, he had a feeling of regret. 'Ah, if I had known this before, I would have eaten the seventh cake first and that would have been enough and there would not have been any need to eat those six others.'
Huang Fu and the Bottle of Wine Parable
Huang Fu was a very rich man who was deliberately tough on his farmhand, Hop. Huang Fu gave Hop a bottle and said, 'Buy me a bottle of wine.' Hop, the poor farmhand enquired, 'How can I buy you wine with no money at all?' Huang Fu replied disdainfully, 'Anyone can buy wine with money. It takes real skill to buy wine without money.' Time elapsed and Hop eventually returned farmhand returned with the empty bottle. He handed the bottle to Huang Fu and murmured, 'Enjoy the wine, please.' Staring at the empty bottle with some dismay, Huang asked, 'There is no wine, how can I enjoy this?' Hop replied to Huang Fu, with a straight face, 'Anyone can enjoy wine if there is some. It takes real skill to enjoy wine when there is none.' Huang Fu made a choking sound but was unable to utter a word.
Shanyuan and the Lie. Or Always Tell the Truth
Park was a rogue, a charlatan and a rascal, but he a hard life and barely managed to keep body and soul together. He often was close to starving. So one day Park happened to pass a household that was holding the funeral of one of its family members. Quickly, Park slipped into the house and cried bitterly in front of the memorial tablet of the dead. Nobody knew him, so, surprised, people asked him why he cried. 'I was best friends with the dead. We hadn't seen each other for months. Now he has passed away, how could I not feel sad? Since I just happened to be passing, I wasn't prepared for this. All I can do now is to cry for my best friend, which is an expression of our friendship.' The family was deeply moved by Park's comments and promptly asked him to stay to dinner. On his way home Park met an old friend, Shanyuan, whose life was equally precarious. 'Where did you manage to eat and drink today?' Shanyuan asked the roguish Park, who told him the story from beginning to end. The next day Shanyuan also found a family that was holding a funeral and cried likewise. When they asked him the reason, he replied that he was a best friend of the dead. Before he had finished, however, Shanyuan received a storm of punches and kicks. It transpired that the deceased of the family was a young housewife.
Chinese Humour, Parables and Tall Stories
10 of the Best Chinese Proverbs
Wife who put husband in doghouse soon find him in cathouse.
A life with love is happy; a life for love is foolish.
War doesn't determine who is right, war determines who is left.
A bird does not sing because it has an answer. It sings because it has a song.
Three humble shoemakers brainstorming make a great statesman.
Visiting monks give better sermons.
He who asks is a fool for five minutes, but he who does not ask remains a fool forever.
An ambitious horse will never return to its old stable.
A conversation with a wise person is worth of ten years' study of books.
Chinese Restaurants Are Always Good for a Laugh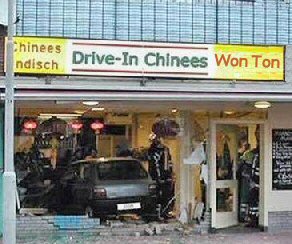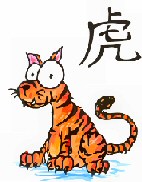 How much does a Chinese restaurant weigh? ............ Won Ton
The Driver Above, Missed This Low-Cost Roundabout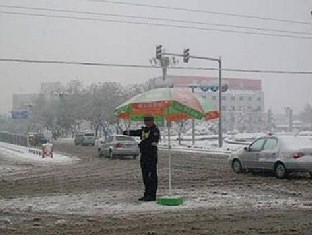 One-liners
How did an embarrassed panda get mistaken for a newspaper?They are both black and white, and red all over!
What's purple, 10,000 km long and 12m high? The grape wall of China.
Where can you always find a tiger's head? four foot from his tail!
More Funny Chinese New Year Jokes and Amusing Pictures
It's a Dog's Life
It was the Chinese New Year, to celebrate Bill and Jackson's wives decided to dine out a new Chinese Restaurant. Jackson's wife Julie was inseparable from her Pekingese dog called 'Pepe'. So they took Pepe along with them to the restaurant. Whenever they went to their usual restaurant the manager's wife looked after Pepe while they ate, and they thought it would be no different this new restaurant. Julie and her friend Rachel, gave Pepe to the owner and went to their seats. They ordered their meal, had a few drinks and eventually their meal arrived. They were mortified when it turned out to be their beloved Pepe surrounded by Chop Suey. As the owner explained the next day to Bill and Jackson, they thought that Julie and Rachel wanted the chef to cook the dog, not look after it while the women dined. Follow-up In 2010 China are proposing a new law to ban eating dog meat. Despite being an ancient custom eating 'fragrant meat', as dog meat is euphemistically know, to be punished by a fine of up to 5,000 yuan (£450) and 15 days in jail. From serving it with turtle to stewing it with snake, China has savoured the delights of dog and cat meat for thousands of years. But now, the country known for its experimental culinary traditions could be about to end a centuries-old custom and remove both animals from the menu. As part of a drive against animal abuse parliament, will consider the bill at the National People's Congress, in April 2010. Those defending eating dog meat point to its value in Chinese medicine for kidney complaints. Fragrant meat is not universally liked in China, and its stronghold is in Jaingsu province in the south east of the country, where thousands are dogs are bread specially for eating.

Pete, aged 9 years: Is it true? Dad, I heard that in China, a man doesn't know his wife until he marries. Roger, his father: That happens everywhere, son, everywhere!
Traditional Sense of Humour - More Chinese Yarns
Prime Minister Chang was happy enough to write, but he didn't put in a lot of care into his brush strokes. Everybody sneered at his bad handwriting, and the Prime Minister himself really didn't care. One day Chang thought of a beautiful sentence and at once wielded his writing brush to write it down, indeed, there were dragons flying and snakes dancing all over the paper. Then he ordered his secretary to write it out neatly.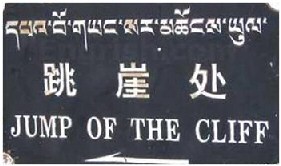 When beginning to copy, his secretary stared tongue-tied and did not know where to start. The young man had to take the manuscript back to the Prime Minister. 'Prime Minister Chang, I can't read your handwriting, please tell me what words they are.' The Prime Minister read his cursive hand a long time, and did not know what Chinese characters they were, either. He then turned to blame his secretary. 'Why didn't you come earlier to ask me? I myself have forgotten the words which I've written.' See our New Year jokes.
20 Number 6 - Classic Chinese English Joke
It was Chinese New Year. Bill and Jackson had just staggered back home from a Chinese New Year party when they noticed that a menu from the new restaurant next door had come through the letter box. On a whim they decided to celebrate the Chinese New Year with a take-away. Jackson, was just off out of the door to fetch their meal when Bill turned to him and said, 'Please get me 20 number 6 while you're at the take-away. Jackson returned with their chicken Chou Mein, sweet and sour pork and 20 portions of egg fried rice. Bill said, 'Where's me fags'. Jackson said, 'What cigarettes, you asked for 20 number 6 and that's what you've got, enough egg fried rice to feed a Chinese Junk from Shanghai to Hong Kong'. Bill said, 'When I was last in England Embassy No 6 was a packet of fags.'
How To Speak Chinese Funny
I thought you were on a diet.................. Wai Yu Mun Ching?
This is a tow-away zone........................ No Pah King
Our meeting is scheduled for next week.... Wai Yu Kum Nao?
Staying out of sight.............................. Lei Ying Lo
A Chinese Tongue Twister
'Four is four, ten is ten, 14 is 14, 40 is 40...,' Which pronounced in Chinese is like "si shi si, shi shi shi, shisi shi shisi, sishi shi sishi," is apparently a well known tongue twister in China
How Many Faces Are There in this Chinese Tree?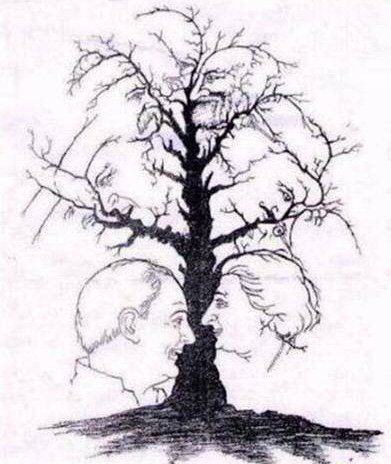 How many faces can you find?
If you can find 0 - 5 faces - Lazy If you can find 6 - 7 faces - Normal If you can find 8 - 9 faces - Very Normal If you can find 10 - 11 faces - Smart If you can find 12 - 13 faces - Genius The secret of success is to relax your eyes, cultivate that far-away look.
When It Rains - Joke Chinese Umbrella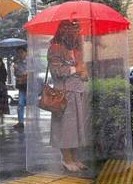 Have Fun Using Chinese Script
The development of Chinese characters can be dated back to about 4,500 years as discovered at Yanghe, Shandong Province in recent years. There are about a dozen pottery wine vessels unearthed, which have a character each. Those characters are quite close to the oracle inscriptions carved by the ancients of the Shang Dynasty [16th to 11th century B. C.]. You may like to have hours of fun working out messages; or the names of your favourite Sport's team be it soccer in the English premiership of basketball in the NBA or American football with the NFL. Seek out the name of your favourite. Here is the Chinese name for Guy Thomas

Here below is the Chinese name for William Baker

Funny Joke Humour

The soccer team Will supports in the Premiership is: Portsmouth

American Dream is:

Footnote Please send us your funny Chinese jokes for the New Year.