Holi got its name as the "Festival of Colours" from Lord Krishna, a
re-incarnation of Lord Vishnu, who liked to play pranks on the village girls
by drenching them in water and colours.
Holi is the day after the first full moon in March.
Nirvana Day
Indian Easter
Republic India Day
Holi Festival of Colours in
India
Holi is a Hindu festival enjoyed in India and commemorates the victory of
good over evil, brought about by the burning and destruction of the female
demon named Holika. This was enabled through unwavering devotion to the
Hindu god of preservation, Lord Vishnu.
Holi got its name as the "Festival of Colours" from Lord Krishna, a
re-incarnation of Lord Vishnu, who liked to play pranks on the village girls
by drenching them in water and colours.
This is
similar to the Hungarian custom.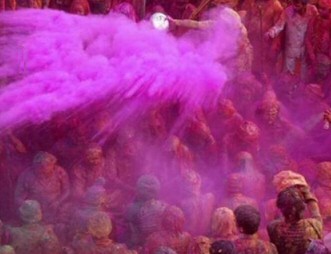 Holi is a very carefree festival which is considered great fun to
participate in if you don't mind getting wet and dirty. You'll end up
saturated in water, with colour all over your skin and clothes. Some of it
doesn't wash out easily, Will and Guy have been told, so be sure to wear old
clothes. It's also a good idea to rub hair oil or coconut oil into your skin
beforehand, to prevent the colour from absorbing.
Single women should avoid going out alone in public places during Holi,
as inebriated young Indian males often pose a safety threat. These males,
who have consumed excessive amounts of *bhang and other intoxicants, may
inappropriately touch women and make a nuisance of themselves.
* Bhang [a paste made from cannabis plants] is also traditionally
consumed during the celebrations.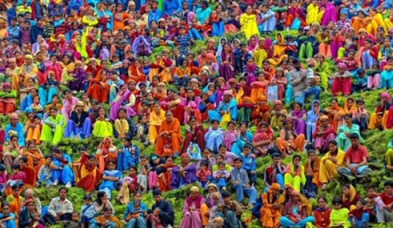 Photo above right: Poras Chaudhary
The festival marks the end of winter
and the abundance of the upcoming spring harvest season.
The Story of
Holika and Prahlad: A Hindu Legend
Here is the reason behind the Holi Festival of Colours:
There was once a demon king by the name of Hiranyakashyap who won over
the kingdom of earth. He was so egoistic that he commanded everybody in his
kingdom to worship only him.
Only, to his great disappointment, his son, Prahlad became an ardent
devotee of Lord Naarayana and refused to worship his father.
Hiranyakashyap tried several ways to kill his son Prahlad but Lord Vishnu
saved him every time.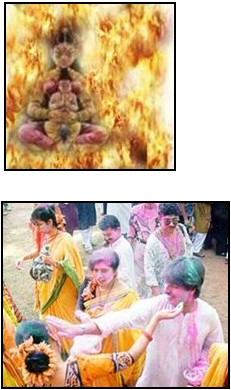 Finally, he asked his sister, Holika to enter a blazing fire with Prahlad
in her lap. For, Hiranyakashyap knew that Holika had a special boon
[blessing], whereby, she could enter the fire unscathed.
Treacherously, Holika coaxed young Prahlad to sit in her lap and she
herself took her seat in a blazing fire.
The legend has it that Holika had to pay the price of her sinister desire
by her life. Holika was not aware that the boon worked only when she entered
the fire alone.
Prahlad, kept chanting the name of Lord Naarayana all the time and he
came out of the furnace unharmed, as the lord blessed him for his extreme
devotion.
Thus, Holi derives its name from Holika and, is celebrated as a festival
of victory of good over evil.
Holi is also celebrated as the triumph of a devotee. As the legend
depicts that anybody, howsoever strong, cannot harm a true devotee. Those
who dare torture a true devotee of god shall be reduced to ashes.
Holi brings Indians close to the Hindu religion and the mythological
significance of Holi is connected with various legends. The most important
of them is the legend associated with Prahlad and Hiranyakshyap. It is from
there that burning the Holika tradition generated.
There is another legend of Holi connecting Radha and Krishna, which is
when Krishna took delight in applying colour on Radha and various other
*gopis. Later on, this prank by Krishna became a tradition all over the
country.
*Radha is a gopi held in high religious reverence by Hindus.
See here how Holi is celebrated throughout the world
Holi
festival
When is
the Holi Festival of Colours?
The day after the full moon in March each year.
In 2011, Holi will be celebrated on Sunday, 20th March.
In 2012, Holi is early, on the 8th of March.
Where is Holi Held?
Throughout the whole of India Will and Guy have discovered. However, in
the south the festival is quite solemn and subdued, with the focus being
mainly on religious aspects and temple rites.
One of the best and most exuberant places to celebrate Holi is in Delhi
or travel to the temple town of Vrindavan, about four hours from Delhi.
If you're in Rajasthan, Banswara is the place to be for traditional
tribal Holi celebrations. The Jaipur Elephant Festival also takes place on Holi eve, to begin the
Holi celebrations.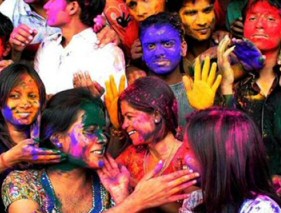 People spend the day smearing coloured powder all over each other's
faces, throwing coloured water at each other, having parties, and dancing
under water sprinklers.
Holi Rituals?
The emphasis of Holi rituals is on the burning of the demoness Holika. On
the eve of Holi, large bonfires are lit to mark occasion and to burn evil
spirits.
Other Indian Festivals at this Time of Year
Nirvana Day - 15th February
Nirvana Day is the celebration of Buddha's death when he reached total
Nirvana, at the age of 80. Thus Nirvana Day, February 15th is a time
for contemplation of the Buddha's teachings. Some monasteries and temples
hold meditation retreats. Others open their doors to laypeople, who bring
gifts of money and household goods to support monks and nuns.
Wesak or Buddha Day - 17th May
This is the most important Buddhist festival. It celebrates the
Buddha's birthday.
Footnote
Please send us your interesting facts
and stories about the Holi Festival of Colours.
See examples of international jokes, humour and funny pictures ....
•
Ramadan Humour •
Diwali jokes •
Jewish jokes •
Rosh Hashanah •
Yom Kippur •
Hanukkah
•
World-wide jokes •
French jokes •
Franglais examples •
Speak Chinese •
Funny Chinese jokes
•
Speak New Zealand •
Australian jokes •
Funny Australian stories •
Canadian jokes •
Clean joke