Here are our forecasts for pranks and jokes that you will see on April
Fool's Day 2012.
April Fools' Day Lessons from Last Year

Will and Guy have searched the internet and read the national and local newspapers thoroughly so as to be able to bring to you the best and the funniest pranks, hoaxes and gags carried out last 1st April 2011.
We hope that you enjoy our selection and if you feel we have omitted your favourite please contact us and we will include it on the site with your name.
An early frisson of excitement was created when the following news was first announced : 'The USA nuclear launch codes are on the White House website'.
April Fools' Day Down Under
We had no idea that Australia celebrated April Fool's day - we should have known better!
The world's first "square" ferris is wheel launched in Melbourne, Australia. Melbourne's Docklands observation wheel is re-opening with a
"revolutionary new design" - a square shaped wheel, it was announced.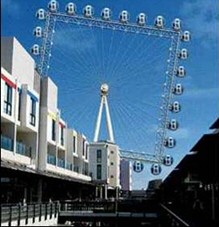 A Blackberry with no screen was advertised in Australia
Air New Zealand launched a pay what you weigh for an airline seat.
YouTube - April 1st Announcement

YouTube Travels Back In Time Announcing the celebration of their centenary on April 1st You Tube will be reverting its videos back to what
they would have looked like around 1911, complete with grainy, sepia video footage, no audio tracks (save for piano accompaniment), and title cards in place of the site's normal comments.
Recap of Short April Fool Jokes
While these are last year's pranks, when it comes to April Fool's day we have noticed how history repeats itself. Another slant on these
amusing events is that we may be able to adapt or impove on the idea and create even more mischief.
Kodak claimed to have added the ability to remove our exes from our photos. The feature is aptly titled, "Relationshifffft".
BMW claims that in a bid to capitalise on "royal wedding fever", it has created a special version of the BMW M3 Coupé. The special M3 Royal Edition is available in a choice of three exclusive colours - Regal Red, Bridal White and Imperial Blue. It is resplendently upholstered in Windsor White Dakota leather and adorned with a commemorative "Will" emblem.
Sir Richard Branson, the famous entrepreneur, claimed that he has officially bought Pluto, for and undisclosed sum and reinstated it as a planet.
Fancy Pants or Smart Alec?
The motor manufacturer - SEAT, claimed its new SEAT Media Audio Recognition Technology (SMART) was set to shake up the sat nav market. It boasts of Automatic Regional Speech Equivalence [ARSE] software that adjusts dialogue to the local dialect.
For example, a driver navigating his way through East London might be treated to the following sound bite by the SMART system, 'Awright geezer, it's straight on at these lights, innit?'
A pen that sends a tweet as you write was also launched on 1st April in 2011.
Ryanair made an announcement that the Irish airline will be offering child-free flights beginning in October. 'When it comes to children we all love our own but would clearly prefer to avoid other people's little monsters when travelling,' Head of Communications, Stephen McNamara told us.
Toshiba, always at the forefront of gadgetry innovation, has announced the world's first 3D monocle.
Google China advertised teleportation. Google China, through its innovative new search capabilities, gives the user the ability to travel
through time and space.
Marmite

Will was disappointed to find that this Marmite Lip Therapy was a spoof; while Guy was relieved. You really do love it or hate it!
As Usual We Find that Guinness is Right on the Ball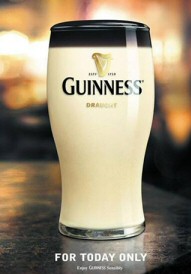 Marketers Use April First to Launch Real Products
Will and Guy predict a series of double bluffs. Companies will make announcements that look like April Fool's Day hoaxes, but turn out to be true. For example, Google launched Gmail on the 1st April 2004. People assumed it was an April Fool's Day hoax, however, when it turned out to be true, Gmail and Google got a second round of free publicity - clever marketing stuff.
DYK (Did You Know)

Pay special attention to any 'Did You Know' articles on April 1st. Such items may be truths, or at least half-truths dressed up as April the
1st spoofs. These are a new breed of sophisticated double bluffs which marketing gurus cunningly launch on or just before April Fools Day.
Their mission is a maximum amount of free publicity for a real product.
Possible hoaxes include Coca Cola announcing green cans instead of red. Or, new whisky flavoured chewing gum, and they can now breed square apples. One off the stop press. Pencil sharpeners become extinct in America.
Edible Newspaper Hoax

The free British newspaper the Metro claimed that 'newsprint and food experts have combined to cook up a sweet-tasting paper that will soon be sugar-rolling off the Metro presses.' The edible newspapers' printing process sees ingredients such as corn starch, vegetable oil, gum Arabic, water and citric acid cooked into a stodgy paste and thin sheets. Charles Bouquet, of the Edible Paper Company commented to Will and Guy, 'We hope it adds flavour to the stories and presents readers with a colourful menu of current affairs.'
Apparently even celebrity chef and culinary scientist Heston Blumenthal has been involved in the process who described the project as 'a little obsession of mine.'
Money Hoaxes
Watch out for rumours that money is being given out: "Free $100 bill will be distributed at 12:00 on East 53rd and 3rd Avenue ....."
Will and Guy Reveal that 'Money Does Grow on Trees'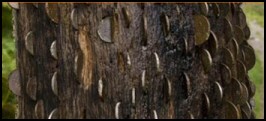 In post war Europe money was tight and while growing up the expression, 'money doesn't grow on trees', meaning that one should be careful how much money one spends because there is only a limited amount was often heard in the streets and homes of Britain.
Thus, Will and Guy are delighted to at last confirm to readers that money, in fact, DOES grow on trees and here is a recent photo to prove the point.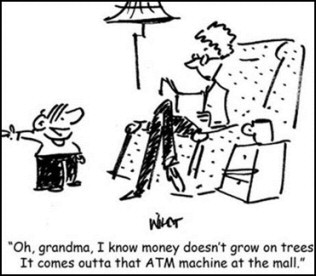 Muslims Claims For April Fools Day Defeat
Now as regards the incorrect story circulating amongst the Muslims on the Internet saying that April Fool's Day is the celebration of the kufar over the conquest of Muslim Spain in 1492.
American State Changes the Value of Pi
This particular April Fool hoax has a 7 year cycle. The April 1998 issue of the New Mexicans for Science and Reason contained an article
explaining that the Alabama state legislature had voted to change the value of the mathematical constant pi from 3.14159 to the 'Biblical value' of 3.0.
By 2005 everyone had forgotten the 1998 hoax, and it was alleged that Maine were going to round-up the value or Pi from 3.14xxxxx to 3.14.
Which state will change the value for Pi in 2012? Will and Guy's hot tip is that it will be Idaho.
Beware of being asked to phone an organization and ask for a person with a strange name, for example Myra Manes at a funeral parlour.
Also beware any spokeswoman called 'Avril Foujour'.
Spoof Meetings Will Be a Popular 2012 April Fool's Day Hoax
Here is an example of hoax from CardsChat's 2011 article. As an aside, beware of any April 1st article with 'lunar' as its theme.
The First Ever Poker Tournament in Space
CardsChat.com, in association with Virgin Galactic, is proud to announce the poker game of the century. Ivey will face off against Negreanu in a match that will make poker history by being played on board the International Space Station (ISS).

Branson, who's Virgin Racing has had sponsorship deals with Full Tilt Poker in the past, is famous for making a splash when it comes to
promotions. "I wanted to do something huge for Virgin Galactic and poker doesn't get any bigger than Ivey and Negreanu. When I heard NASA had some room on the space shuttle the idea for the poker game of the century was born," he told CardsChat.
Virgin Galactic has arranged for Ivey and Negreanu to be carried up to the ISS by the Space Shuttle Atlantis, which will fly its last mission at
the end of June. There they will face off for a whopping $10 million prize pot. In addition, these poker gladiators will also be fighting for
their respective sites to partner up with Virgin Galactic for the Lunar Poker Tour 2012 which will be held on board the Virgin's SpaceShipTwo.
"There's everything to play for," Ivey told CardsChat. "It's not just about the money, but about what we can do for the game as well."
Negreanu was far more pragmatic. "Imagine running satellites to a tournament that could see you play poker in space. It will be huge!"
TV networks are already clamoring over what could easily be the biggest sporting event of the year. And With the ISS travelling at 17,500
miles-an-hour, this is one poker tournament that could be considered a turbo. Read more at CardsChat
Re-cycling of Old Urban Myths
Military Hoaxes for April Fool's Day 2012
Because of their rigid discipline the army are always a good source of April Fools hoaxes, therefore expect 2012 to be no different.
Computer Hoaxes for April Fool's Day 2012
Watch out for these are sneaky computer jokes that techies with too much time on their hands play on their co-workers.
Spoof the mouse. Unplug the original mouse. Plug in a fake mouse. When they check their connection it seems to be working.
One from Dr Devious.
An old favourite: tape over the optical sensor of your friend's mouse.
Alter Word's Autocorrect on your victim's machine. Launch Word for Windows. Find the 'Proofing settings'. Make changes
to AutoCorrect, e.g. a to ye. I to you.
On someone else's machine press set High Contrast mode Press:Shift + ALT + Print Screen.
Note 1: You need Shift and not Ctrl. Also use the Left Alt and not the right.
Note 2: To Undo press the same combination: Shift + ALT + Print Screen.
Note 3: Learn from this madness by checking out the Ease of access settings in Control Panel.
Variation, turn on Narrator and drive the computer user mad. Control Panel --> Ease of access.
Cuckoo clock - Install this computer joke application.
Other Ideas for 2012 April Fool's Hoaxes
Another rich seam of April Fool's Day hoaxes is discoveries of extinct animals. Although the Piltdown Man forgery was not unearthed in April, this is the type of fakery to watch out for on April the first.
Finally, when it comes to scientific hoaxes UFOs are never far away. There are more sightings of Martians, little green men, fairies and
other curious creatures on April the first than any other day of the year.
Inventing New Medical Conditions for April Fool's Day
Chinese doctors have identified the human gene which causes Pedaspheraphobia. Symptoms Dr Chang of the Beijing University of Chinese
Medicine and Pharmacology, reports that symptoms of Pedaspheraphobia include vertigo and nausea when ever watching sport.
See more about Pedaspheraphobia here.
Spurious Invitations
Look out for invitations to non-existent events. These pranks have scope for duping lots of people to turn up in the expectation of an event. Such hoaxes have reoccurred at regular intervals, ever since the invitation in Victorian England for people to watch the Washing of the Lions at the Tower of London. Crowds really did turn up to this wonderful April the 1st practical joke.
Often the hoaxer enjoys a private joke by using an anagram of April Fool in the person's name or address, for example, Prila Loof or Sallipa
Roof.
Tried and Tested April 1st Hoaxes

There is a certain type of con that always works on youngsters, part of the reason is that its delivered with a straight face by an authority figure, and secondly because it's something outside their normal experience.
'Hey Junior, go to the stores and get a packet of sky hooks'
At the stores Charlie knows this game well: 'You want sky hooks, go over there and ask Tom if he has any of the "Low cloud" variety left'.
The game within a game is to see how long you can keep Junior running around before he realizes he has been the subject of an April the 1st hoax. It says a lot about the victim's character how well he reacts to be duped. Other variations are a bucket of compressed air, tartan paint, or for the particularly gullible - a long weight (wait).
Also: When I was in air cadets if some newbie was being a pain we'd send him to fetch a yard of shoreline.
Student Pranks for April Fool's Day 2012
Alarm Clock Confusion
Set ten alarm clocks so that they to go off at 2 minute intervals. The skill is in the concealed placement, for example, behind ceiling tiles
or heating vents.
You could camouflage the prank by putting up signs around that say April 1st is Alarm Clock Day so people don't mistake the sound for a bomb.
Red Letter Day - B E R K
Each member of your gang needs to get a t-shirt with a different letter printed on the front. Each person only needs one big letter. The
trick is to stand near members of staff while your group makes a word, then you take a photo. Friends with letters B, E, R, and K can stand next to your class teacher while you snap a photo.
At Midday on April 1st
April Fool's gone past
You're the biggest fool at last
When April Fool comes again
You'll be the biggest fool then
The origin of this ditty is Hampshire, England. The meaning is that you cannot play any more April Fool's jokes after midday, or else you become the fool.
Footnote:
Please send us your ideas for 2012 April Fool's Day hoaxes.
See more April Fool's Day jokes, hoaxes and funny stories: