Pub Bans Granny for Wearing a Hat
BBC Radio 5 Live news reported yesterday that Betty Willbraham, 82, was told to take off her hat if she wanted to be served at the Hereward pub in Ely, Cambridgeshire, UK. A member of staff
insisted that everyone in the pub is asked to remove their hats so their faces are visible to CCTV cameras in the event of trouble.
Betty had popped in at lunchtime for fish and chips and half a pint of
Guinness. Betty, a retired schoolteacher, commented, 'I've never heard of a hatless pub. How ridiculous. It's
the first time I've ever been asked to remove it - and I've been in that pub several times before.
I'm of a generation who would always wear a hat for lunch.'
'A woman is not properly dressed without a hat, 'said Betty's
husband. She appeared relieved that her husband had not been with her on this
occasion because '
he would have become rather cross, 'stated Betty.
Pub
Bans Grandad's
Trilby
A grandad was banned from wearing his trilby hat in a pub.
Colin Osborne was ordered to remove it so CCTV cameras could film his face, reports the Mirror. And staff threatened to bar
him if he refused.

Colin, 64 - who has worn a hat for 20 years - said yesterday: 'It's
madness. they're branding everyone who wears a hat a troublemaker.'
Journalist Colin was tackled as he sipped a glass
of coke with son Mark, 40, at The Monument in Hereford.
Brewers Greene King said the ban was policy in all 800 of their UK outlets.
A spokesman added: 'Hats obscure customers'
faces from the cameras.'
Reported in The Daily Mirror: January 11th 2006
How to Wear Your Hat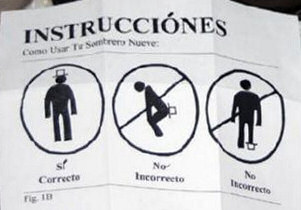 Instructions on how to wear your hat - Si Correcto!
Advice For Grandad
It is impossible to defeat an
ignorant man in argument.
William G. McAdoo
Arguments are to be avoided; they are always vulgar and
often convincing.
Oscar Wilde
A committee is a cul-de-sac down
which ideas are lured and then quietly strangled
Barnett.
Vocabulary
Grandad is an unusual word because both the American and the English dictionaries allow one's
father's
father to be spelt in two ways. Each nationality's
dictionary has both Granddad and the more common Grandad.
If you enjoy words, here are a few ideas to slip into your conversation, especially when discussing the above article.
Diktat: an authoritative decree or order. (As in banning Grandad's
Trilby)
Dubiety: the condition or quality of being doubtful; also, a matter of doubt. (Wisdom of the above Diktat)
Querulous : habitually complaining; also, expressing complaint. (Brewery's
reaction
to wearing a hat.)
Benefaction: the act of conferring a benefit; also, a benefit conferred.
Another Pub Ban - Peggy Banned
From Her Local Pub
A regular drinker at the Alexandra Hotel in Jarrow, South Tyneside,
England has been banned from the pub because her hoof prints could make
marks on the new carpet, Will and Guy have discovered.
Yes, the regular is a horse - a 12-year-old carthorse named Peggy.
She loved to sup a pint of bitter and scoff a packet of crisps in the
company of her owner, Pete Dolan. Now, poor old Peggy has to forlornly
watch through the window of the pub.