Will and Guy have deliberately collected photos, cartoons and pictures
to illustrate a wide variety of Halloween themes.
Funny Halloween Pumpkin
Pictures
Don't
Drink
and Fly at Halloween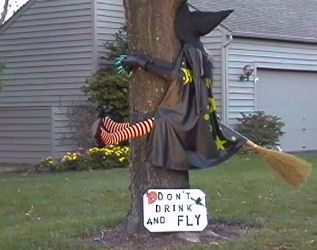 Why don't angry witches ride their brooms?
They're afraid of flying off the handle!
Este dìa de las
brujas no tomes y manejes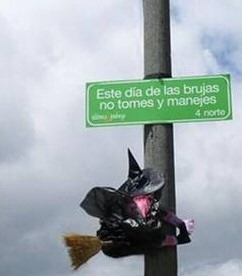 Our resident Spanish expert, Bertie, says it should say: Este dìa de las
brujas no beba y vuele. However, Will and Guy would appreciated
clarification from a true Spanish expert. Does 'Este dìa de las brujas
no tomes y manejes' really mean, 'The day of the witches, do not take the
handle', or has Bertie himself had too much Vinho collapso?
Halloween Safe Zone - Witches Cannot Pass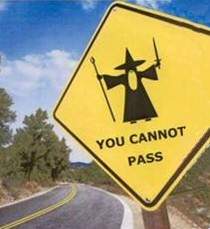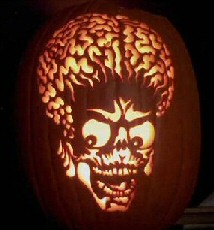 A Coven of Witches - Not just at Halloween
A coven is a group of 13 witches. Unfortunately for some of us, a
coven of witches can gather not just at Halloween, but at any time of the
year. Wife, sister, mother-in-law, aunties, you can soon rack up a
great deal of witch power in your life!
Funny Halloween Pictures Featuring Animals
Why Dogs HATE Halloween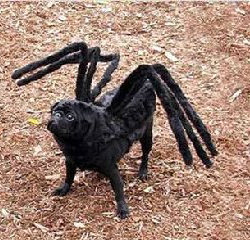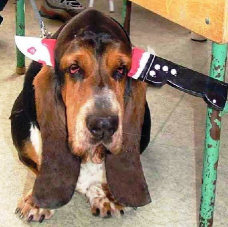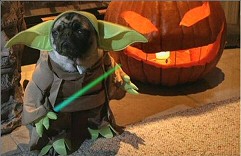 What is Dracula's favourite dog?
A bloodhound!

Why Cats LIKE Halloween
Cats, particularly black cats are symbols of evil, thus they come into
their own on All Hallows Eve, along with goblins and of course, witches.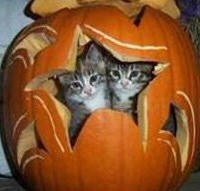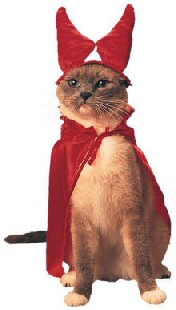 See more pictures of Halloween cats
here.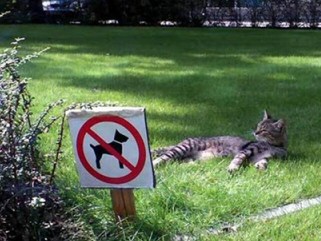 Cat Jokes
What does a kitty like to eat for breakfast?
Mice Krispies.
Why don't cats play poker in the jungle?
Too many cheetahs.
What do you use to comb a cat?
A catacomb.
What is a cat's way of keeping law and order?
Claw Enforcement.
Mermaid Costume for Halloween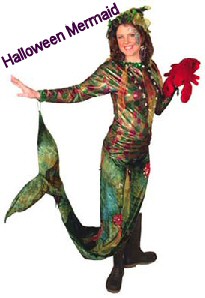 This year the top choices for Halloween costumes are: Mermaids and Indian
Jones. This surprised Will and Guy as we prefer the more traditional
ghost-sheet.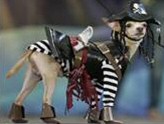 Most Creative Costume:
Mondex, a Chihuahua, wears a
pirate costume during a Halloween dog show for the benefit of an animal
welfare organization in Manila, capital of the Philippines. Mondex won the
prize for the most creative costume.
Halloween Reunion - Black

Sheep

Sheet
Uncle Joe - the black sheet of the family.
More of Will and Guy's Collection of Funny Halloween Pictures
We are always on the lookout for amusing pictures of witches, ghosts and
pumpkins. In truth, the funniest part of Halloween is the doing, and
the telling of derring-do tales afterwards. Meanwhile, here are funny
Halloween pictures to put you in the mood for a little trick or treating.
Recession Hits Haunted Houses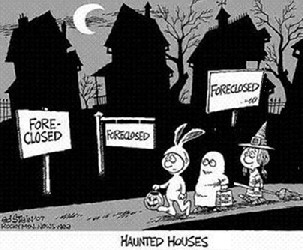 A Motley Collection of Halloween Characters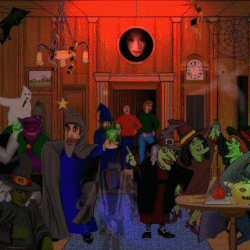 After each grown-up Halloween party, watch out for a new round of stories
involving a husband swapping his fancy-dress costume with another guest,
followed by the wife then kissing the 'wrong' man.
Funny Halloween Costume for Warlock (Wicca)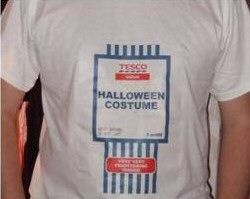 Sick Pumpkin - Classic Funny Halloween Picture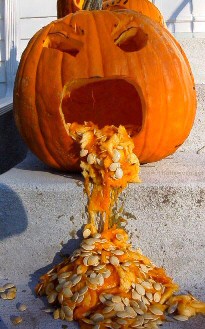 See more pictures of pumpkin carvings.
May Have Eaten a Ghoulish Egg?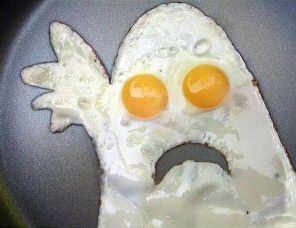 If you haven't found the the image that you are looking for, check here for
more Halloween pictures.
Halloween - The Name Behind the Funny Pictures
Pretty much everyone agrees with the position of Halloween in the
calendar, namely All Hallows Eve, October 31st. Halloween pictures and
images fall into three major categories.
Symbols of death: ghosts, skeletons, haunted houses and graveyards.
Symbols of evil: witches, goblins and black cats.
Symbols of harvest: pumpkins, Jack-o-Lanterns, scarecrows and corn
dollies.
Other variations on the name Halloween include:
Hallow E'en - Ireland.
Hallowtide or Hallowe'en - Scotland.
Nos Galen-gaeof - Wales. (The Night of the Winter Calends)
Feralia - Roman.
Samhain - Celts.
The Feast of All Soula, also Feast of the Sun.
Halloween Myths
Halloween is the third biggest holiday for retail sales
While Americans spend an average of $75 on Halloween, they spend
more on merchandise for Christmas, Mother's Day, Valentine's Day and Easter.
I find it hard to believe, but even Father's Day sales outstrip those of
Halloween.
Psychic Predicts Campus Murders at Halloween
This an
interesting phenomenon because it repeats every 3 years. The gist of
the myth is that a psychic on a radio or obscure T.V. show predicts that a
madman is going to murder students and Halloween. There is no truth in
this myth which started in 1968, it's neat because after 3 years each campus
will have a new batch of students who have never heard of the hoax.
A suicide was mistaken as a Halloween decoration
The incident occurred just before Halloween in 2005 in Frederica
Delaware. Unfortunately this is a true story. Indeed it illustrates
the problem with dismissing all hoaxes and myths, because about 25% turn out
to be true.
Halloween Movie Pictures
Halloween by John Carpenter 1978.
A Nightmare on Elm Street 1984 by Wes Craven. Was also remade
by Michael Bay
in 2010.
Poltergeist by Steven Spielberg 1982.
Dracula by Bram Stoker 1993.
More Ghost Movies:
The House On Haunted Hill, 1959 original by William Castle. Don't
miss Vincent Price.
Ghost Ship 2002 by Steve Beck.
The Frighteners by Peter Jackson.
Footnote:
Please send us your
funny
Halloween pictures
See more funny Halloween jokes, also clean pumpkin jokes
• Home •
Clean Halloween jokes
•
Funny Halloween pictures • Pumpkin
jokes •
Jack-o-Lantern
•
Short Halloween stories
for kids •
Halloween games for kids •
Animations •
Graveyard humour
•
Funny Halloween stories
• Halloween cats • Ghost
story • Coven of witches •
Trick or Treat