Story about 88 Stone Pumpkin
Giant Mushroom
Guy the Botanist
Car Mashed By Potatoes
Mushy peas shut A1 road
Strange
But True Story about 88 Stone Pumpkin
Fact is always stranger than fiction. Here is martin with his record breaking pumpkin.
Bavarian Martin Reiss planted the pumpkin at the end of April and harvested it in September when it was 88 days old. This pumpkin set a new European record for
pumpkins.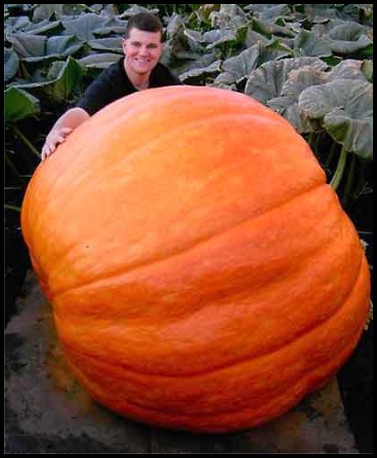 I love everything about this giant pumpkin story. For example,
the coincidence of the 88 days and the 88 stone. Also the fact that measurement is in good old fashioned stone, even though mark lives in Germany.
Footnote:
Please send us your picture of a giant
pumpkin
Giant Mushroom
Just the job to stuff your giant pumpkin.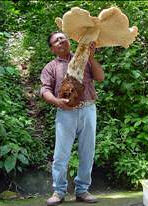 A
more than 20-kilo (41-lb) mushroom has been picked in a forest in Mexico's southernmost state of Chiapas. The white mushroom, macrocybe titans, measured a towering 70 cm (27 in) tall, was found near Tapachula,
near the border with Guatemala.
Guy the Botanist
Guy had a life as a Botanist, so I know how
difficult it is to grow plants. Our department had special growth chambers with zillions of tubes of artificial light to simulate sunlight. We students nicknamed them '
death chambers'
because many
plants would not grow in these supposedly ideal conditions. To be fair the truth was often absent minded professors used to sow plants, but then forget to water them.
Car Mashed By Potatoes
A True,
Short, Funny Story

A tractor pulling a trailer containing several tonnes of potatoes through
Lincoln City centre [England] lost its load when the trailer toppled over. A
nearby parked, but unoccupied, car was severely mashed.
Although the car was squashed, we can tell you that nobody was hurt in
the accident; although onlookers told us that they thought the tractor
driver may have had his chips.*
The spuds were shovelled back into the trailer manually, and it continued
merrily on its way . Just another true, funny story from Britain's
countryside.
*An informal British phrase which means he may get into trouble.....ie....lose
his job.
Mushy Peas Shut A1 Road
The lorry spilled its load of peas on the A1 A major trunk route was closed after a lorry and a bus collided, spilling tons of peas onto the road. Motorists had to steer clear of the
A1 near the Great Gonerby roundabout in Lincolnshire, after the southbound carriageway was closed.
Some 18 tons of the vegetable were shed in the incident, leading to long delays spilling over into
Nottinghamshire.
Emergency services which attended the scene say nobody was seriously hurt in the collision.
A police spokesman said the road has since re-opened to traffic.
See more funny food jokes and amusing stories
•
Funny food stories •
Food for thought •
Whopper burger •
Egg tattoo •
Funny Chinese food
•
Funny food jokes •
Ingliz Menyu •
Cooking jokes •
Food cans •
Chili Taster •
Barbecue jokes
•
Wine pharmacy •
Couch potato •
Pumpkin Picture •
Cormorant recipe •
Home - Clean jokes