The word soccer is derived from an abbreviation of association as in - Association Football. In 1890 it was spelt variously as socca and socker. It is said that upper class sportsman had a fad of
adding '
er'
to everything. Rugby became rugger and socca became soccer. Incidentally, my favourite example of this patois is Pragger Wagger, a slang word for the Prince of Wales (Later Edward VII).
World Cup
Thief's
Own Goal
A thief who stole a World Cup ticket from a woman's
handbag was caught after sitting down to watch the game next to his victim's
husband.
The 34-year-old mugged Eva Standmann, 42, as she made her way to
the Munich stadium for the Brazil-Australia game at the weekend and discovered the ticket in her bag. He took the woman's
place in the stadium where he was met by her husband Berndt, 43, who immediately called
security. A Munich police spokesman said, 'The thief found the ticket in the bag and decided to watch the game, not expecting to sit next to his victim's
husband, who immediately informed officers on duty at
the stadium.'
A Game of Two Halves?
I wonder if this picture was taken in America? My thinking is that in England we call the game football, whereas football in America would mean the grid iron game.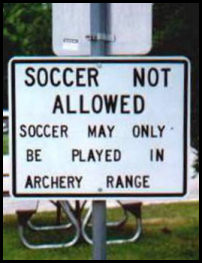 A variety of good, clean and free football (soccer) jokes. Funny sportsman's
nicknames. Amusing short stories. Anecdotes and tales about football. Will and Guy hope
that you share our joy of sporting funnies.
See more Football stories and jokes:
•
2014 World Cup jokes •
Footballer nicknames •
Football bloopers •
Funny footballer quotes
• Funny jokes
about football •
Football jokes
•
Funny football pictures •
Funny football stories
• Funny World Cup
stories
• Football
4
women •
Funny Super Bowl jokes
• Funny football photos