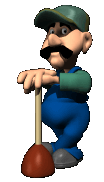 Funny Warning
Signs
On a plumber's
truck:
'We repair what your husband fixed.'
On another plumber's
truck:
'Don't
sleep with a drip.
Call your plumber.'
On Devendra Singh's plumber's truck
You have tried the cowboys - now try the Indians.
In a restaurant window:
'Don't
stand there and be hungry, Come on in and get fed up.'
Irish B&Q Riddle
Q. Is there a B&Q in Dublin?
A. No, but there's
two D's
in Dundalk.
Email from B&Q Customer
Subject: Ellen Macarthur - Round the World Voyage
Customer Service Department
B&Q Sponsor Dept
Dear Sir/Madam
My congratulations to you on getting a yacht to leave the UK on 28th November 2004, sail 27,354 miles around the world and arrive back in the same place 72 days later.
Could you please let me know
when the kitchen I ordered 96 days ago will be arriving from your warehouse 13 miles away?
Funny Warning Signs on Clothes
52% Cotton
48% Poleyester
Machine wash inside out
Do not bleach
Tumble dry low
Do not iron decoration
Always wash your butt
Keep
away from fire especially when wearing.
Manufacturer's
Funny Warning Signs
On Nytol Sleep Aid:
'Warning: May cause drowsiness'
.
On Nobby's
peanuts:
'Warning: contains nuts'
.
On Boot's
Children Cough Medicine:
'Do not drive a car or operate machinery after taking this medication'
.
On Marks & Spencer Bread Pudding:
'Product will be hot after heating'
.
On a Myer hairdryer:
'Do not use while sleeping'.
Silly Christmas Warnings
A Government website has warned parents that a visit to see Father Christmas could be 'terrifying'
for small children.
Pantomimes may also be too scary and traditional party games could have youngsters in tears.
The advice for teachers detailed on the website said, 'Younger children in particular have a wide range of fears. For very young children, Father Christmas can be terrifying. Make sure that fearful children are
near an exit. Trips to the pantomime can cause alarm, so the same planning applies.'
Margaret Morrisey, from the National Conference of PTAs, is reported to have said, 'It is so sad that we have become so politically correct that we are trying to remove the magic of Christmas.'
The advice has been taken off the website and the Department for Education said, 'This is not Government policy. It does not reflect our views.'
Funny Warning Sign Story
On a warm and mild New Year's Eve, Martha's Vineyard revelers were
generally well-behaved. Police across the Island reported the night was
quiet and three arrests made Friday night were for operating under the
influence (OUI).
Steamship Authority (SSA) employees did fish a man out of the water on
New Year's Eve; it happened this way:
Wayne Lamson, SSA general manager, said the Martha's Vineyard arrived at
the Vineyard Haven terminal at 8:15 pm and docked in the north slip. As a
result, passengers debarked on the south side of the vessel.
Michael Grekwizc of Warwick, R.I. decided to exit the ferry wearing
rollerblades. "He came down the ramp and then did a 360 [degree] turn and
lost his balance and went over the netting that was across the opening on
the elevated platform," Mr. Lamson said. "So he ended up in slip one."
Mr. Lamson said the crew reacted quickly and threw two life rings and a
life vest to Mr. Grekwizc. Another employee lowered the transfer bridge as
low as possible, allowing the man to climb up on it and out of the frigid
water. The resulting commotion led to a delay in loading the boat for her
departure. Mr. Lamson said there was about a 20-minute delay in departure.
Mr. Lamson said he was thankful no employees and the man were not
injured. He said any accident involving the water is a serious matter
particularly in the winter.
Asked if he contemplated any changes in policy, Mr. Lamson said there are
not enough signs and rules to enforce common sense.
Footnote:
Fred Roven kindly sent the above story, please send us your funny warning signs.
See more funny warnings and lucky escapes:
•
Funny warnings •
Funny safety pictures •
Safety at work •
Funny health & safety •
Shoot self
•
Funny warning labels •
Silly Labels •
Funny product labels •
Silly Christmas warnings •
Home
• Lucky escapes •
Lucky escape •
Safety PowerPoint •
Funny warning signs •
Accident video clips