The Volkswagen
Beetle or Bug has become a cult car. Built between 1938 and 2003 it has
been chosen by many as 'The' car to customise. Will and Guy offer this
presentation as an enjoyable example of creativity and imagination.
Classic 1961 Volkswagen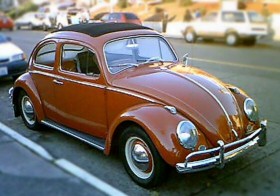 Translated from German, Volkswagen means car of the people. In 1938
Hitler showed great interest in producing a car for 1,000 marks and was
responsible for changing the name to KdF Wagen. (Kraft durch Freude) which
means "Strength through Joy." However, the Second World War meant that
the factory switched production to military vehicles.
Fewer than 800 KdF Wagen were produced before 1945. It was only in
1946 that the name Volkswagen was adopted and production reached 1,000 cars
per month.
Yellow Peril - Custom Volkswagen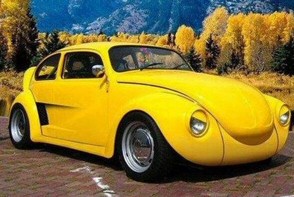 Gold Leaf - Special Edition of the Volkswagen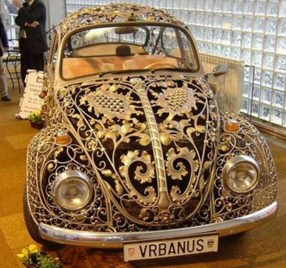 Ideal for the 'Pearly King and Queen'.
PowerPoint Presentation of the Volkswagen, the Peoples' Car
Here are the
funny Volkswagen pictures in the PowerPoint Presentation
VW - The People's Car
Volkswagen Type 1. 1961
The Yellow Peril
Wouldn't you like one of these?
Red Bull
The Ladybird
Bunny
Beetle
Psychedelic Beetle
This is a hard one to follow *
The
Black Bug
Classic Black Beetle
Rolls Royce Beetle
Flying Saucer
Bug
The Green Bug
The Fine Weather Bug
Volkswagen Limousine
Special Edition - Gold Leaf
9. This is a hard one (VW) to follow
The Wizard of New Zealand kindly wrote in saying that he was the proud
owner of this Beetle. Incidentally, Sir Ian McKellen who played
Gandalf in the Lord of the Rings called upon the Wizard of New Zealand to
pick up pointers for the film.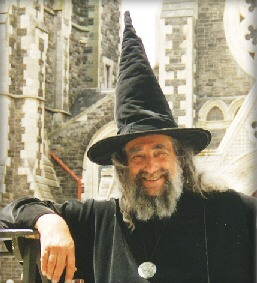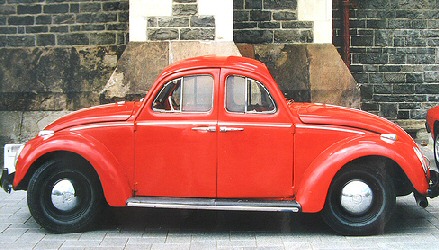 See the Wizard's site with Sir Ian McKellen
Funny Volkswagen -
Flower Car of the 1960s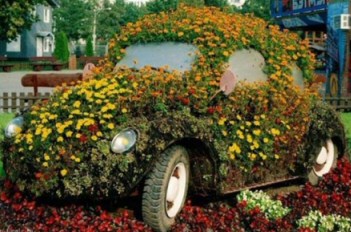 How to Create a PowerPoint Presentation
Making presentations in PowerPoint is satisfying, moreover, it's easy to get
started.
The PowerPoint program is intuitive to learn and easy to create your own PPT
slides and build them into a slide show. If you have
Microsoft Office you may find that you already have PowerPoint along with Word
and Excel.
One way to begin is simply to open any example presentation. Just
download one of our free PPT files and open it with PowerPoint. As you examine the slides, so it will become obvious how
to add pictures and titles, if you do get stuck, ask the wonderful built-in 'Help'. To
make an amazing slide show requires these skills;
Imagination - Think an idea, then build a themed slide set
Artistic - An eye for a good picture
Wordsmith - Choose a catchy title for each slide
Humour - Your viewers will appreciate a funny PowerPoint Presentation
PowerPoint mechanics - Actually, this is the easiest skill of them all, the
program is so intuitive.
Good luck with creating your PowerPoint Presentation
Will and Guy
Volkswagen Urban Myth
Two 18 wheeler trucks were both driving on the same carriageway of
interstate 8 near Yuma. Unfortunately, one was heading east, while the
other was heading west. Predictably, the two trucks smashed into one
other and both drivers died instantly.
The recovery services took the trucks to a junkyard in Yuma. After
about a week the wreckage began to smell. It got worse every day.
Eventually, they got out the blow-torches and when they prized the two
trucks apart, there was a classic VW 'Bunny Beetle' with a dead fox in the
driver's seat.
Footnote:
Please send us pictures of your funny
Volkswagen.
See more funny car crashes videos
•
Car videos •
Parking tight spot •
Wheelclamp revenge •
Car dominoes •
Gimme car
•
Car recovery •
Who drives car? •
Miracle tyre •
Cow driver •
Dog driver •
Clean Car
•
Car crashes •
Car video Russia •
Russian roads •
Bolivian road •
Funny Volkswagen
•
Bollards •
Car flip •
Car wheelie •
Car crash •
Push start •
Nissan Qashqai •
Home