Here is a selection of funny video clips. Granny is walking her dog, or is
the dog walking her granny? We also have clips of stunt bike riders and skiers trying impossible
tricks. Guy's favorite is
the video which shows the penguin's trip.
1) How to Inject a Horse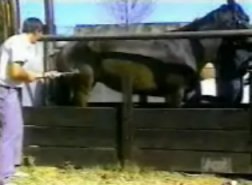 2) It's worth watching the funny video clip just to see 'The Trip'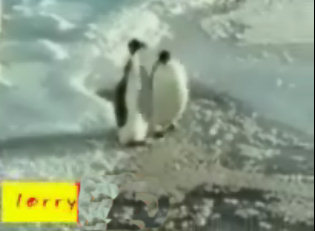 See more funny penguin pictures and stories
3) Who is taking who for a walk?
Think of this video clip when you next take your dog for a walk.
Check out the full story in our funny video clip
N.B. With some browsers you need to click twice on the Play arrow

to start the video.
N.B. Help for Mozilla browsers
See more funny pictures of animals, also jokes and
stories
•
Animal index •
Rabbit & snake •
Hippo & Tortoise •
Rory and Millie •
Pamplona
•
More animals •
Funny donkey jokes
• Ass jokes
• Horse jokes •
Snails •
Clean jokes
•
Interesting animal facts •
Animal videos •
Odyssey •
Bee stories •
Pig jokes