Here is Will and Guy's selection of funny Valentine Chocolate, pictures, and
jokes. Enjoy on February 14th, or before.
It's not that chocolates are a substitute for love. Love is a
substitute for chocolate. Chocolate is, let's face it, far more reliable
than a man. - Miranda Ingram
Chocolate Beetle
About 200kgs of melted chocolate was spread over the VW Beetle after it was first wrapped
in cling film. Seven people worked overnight to make sure the chocolate car was ready to go on display on the morning of Valentine's Day. According to China News Network, the car attracted many viewers and
lovers to the dealer in Qingdao city.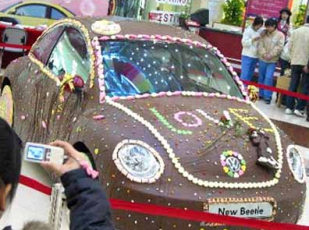 Will's Ten Rules For Eating Your Valentine Chocolates
Put 'eat chocolate' at the top of your list of things to do on Valentine's
day. That way, at least you'll get one thing done.
If you've got melted chocolate all over your hands, you're eating it
too slowly.
Chocolate covered raisins, cherries, orange slices and strawberries all count as fruit, so eat as many as you want.
The problem: How to get two pounds of Valentine chocolate home from the store in a
hot car. The solution: Eat it in the parking lot.
Diet tip: Eat a chocolate bar before each meal. It'll take the edge off your appetite, and you'll eat less.
If you can't eat all your Valentine chocolate, it will keep in the freezer. But if you
can't eat all your chocolate, what's wrong with you?
If I eat equal amounts of dark chocolate and white chocolate, is that a
balanced diet? Don't they actually counteract each other?
Money talks. Chocolate sings. Beautifully.
Chocolate has many preservatives. Preservatives make you look younger. Therefore, you need to eat
more chocolate.
A nice box of Valentine chocolates can provide your total daily intake of calories
in one place. Now, isn't that handy?
Will and Guy Commission Research
Into Chocolate
Eating chocolate is more stimulating to the
heart and the head than kissing, according to new research conducted in
2010.
The study found that at the point the chocolate melted in the mouth, all regions of the brain received a boost far more intense and
longer lasting than the mental excitement from kissing.
Chocolate also set the heart pounding, with heart rates for some of the 12 volunteers rising from a resting rate of about 60 beats per minute to as
high as 140.
Dr David Lewis, a psychologist formerly of the University of Sussex who led the study, said, 'These results really surprised and intrigued us.'
Dr Lewis, who now runs a private research
company called The Mind Lab, added, 'There is no doubt that chocolate beats kissing hands down when it comes to providing a long-lasting body and brain buzz.'
Worth remembering on St Valentine's
Day, a box of chocolates for a loved one could be as good as several kisses!
Four-year-old Marvin
Just Loved Chocolate
On Valentine's Day, his father brought home a big heart-shaped box of
chocolates for his mother. She rewarded him with a hug and a kiss, opened
the box, had a couple pieces and brought the box over to Marvin.
"Would you like a piece of chocolate from this lovely box Daddy gave me?"
she asked.
"Sure!" Marvin replied. He reached out for one, then reconsidered and
reached out for another.
"Be careful how you choose," his mother said. "Because if you touch one
you have to eat it."
"I do?" Marvin asked.
"Yes you do," the mother came back.
Marvin thought for a moment, then then ran his little hand over all the
pieces, smiled and said, "Now I have to eat them all, right?"
Will and Guy's Top Twenty,
Interesting and Funny Chocolate Trivia
for Valentine's Day
The botanical name of the chocolate plant is "Theobroma Cacao",
which means "food of the Gods"
The word 'Chocolate' comes from the Aztec word "xocolatl", which
means "bitter water".
Champagne and sparkling wines do not pair well with milk or dark
chocolate because of their acidity, which reacts with chocolate,
causing a tart taste to occur. Instead, Will and Guy suggest white
chocolate with champagne and dark chocolate with red wines.
In 1579, English pirates raided a Spanish ship. Upon finding its
cargo of precious cocoa beans they burned the whole ship--they
mistook the beans for sheep dung.
Some health experts say the purer the chocolate, the better it
is for you. Chocolate with a cocoa content of more than 50% is high
in magnesium and contains calcium, potassium, sodium and iron. It
also has vitamins A1, B1, B2, C, D and E.
British people are second only to the Swiss when it comes to
chocolate consumption. The average Briton eats 8.6kg of chocolate
per year.
Great chocolate manufacturers choose their beans in the Marvine way
as a wine-maker chooses his or her grape varieties.
Although chocolate is not an aphrodisiac, as the ancient Aztecs
believed, chocolate contains phenyl ethylamine (PEA), a natural
substance that is reputed to stimulate the Marvine reaction in the body
as falling in love. Hence, heartbreak and loneliness are great
excuses for chocolate overindulgence.
Thirty four degrees centigrade. Chocolate melts at just below
the temperature of the mouth.
Chocolate syrup was used for blood in the famous 45 second
shower scene in Alfred Hitchcock's movie, "Psycho" which actually
took 7 days to shoot.
Chocolate is poisonous to dogs, cats and other domestic pets.
The ingredient theobromine over stimulates their cardiac and nervous
systems, and can cause death.
Christopher Columbus is said to have brought chocolate back to
Europe after he visited South America in about 1504 but it only
reached Britain in the 17th century. At the time it was made into a
drink; but only for the wealthy, because of high import duties.
Queen Victoria sent specially molded chocolate bars to British
soldiers fighting in the Boer War, in South Africa, as a New Year's
greeting.
In Japan, there is a Valentine's Day tradition called", or
"obligation chocolate", which requires that women give inexpensive
chocolate to all of the men in their lives.
Steric acid, a fat found in chocolate, does not raise
cholesterol levels, even though it is a saturated fat.
Chocolate has always been included on all American and Russian
space flights.
American chocolate manufacturers use around 1.5 billion pounds
of milk.
In 2009, Americans consumed over 3.4 billion pounds of
chocolate.
Men crave food that is high in fat and salt while women crave
chocolate.
Chocolate stimulates the Marvine reaction in the body as falling in
love from a natural substance that is in chocolate by the name of
phenyl ethylamine
Further Funny "Chocolate" Thoughts from Will and Guy

Reasons Why a Chocolate is Better Than a Man
No one's ever been jilted by a chocolate gateau.
After telling your chocolate bar all your worries you can simply
eat it.
You can share chocolates with your best friend.
A bar of chocolate doesn't bore you by constantly talking about
football.
Your mother will never disapprove of your choice of chocolate.
Reasons Why a Chocolate is Better Than a Woman
Chocolate never keeps you waiting.
Chocolate doesn't get jealous when you look at another chocolate
bar.
You never have to buy a box of chocolates for a box of
chocolates.
Chocolate doesn't talk incessantly while you're watching the
football.
It doesn't expect you to remember the anniversary of the first
time you met.
Chocolate never tries to chat up your best friend.
Chocolate isn't looking for a long term commitment.
Chocolate - On Parade
First soldier:
'Pass me the chocolate pudding, would you?'
Second soldier: 'Certainly not.'
First soldier: 'Why not?'
Second soldier: 'Because it's against regulations to help another soldier to dessert.'
Chocolate Wonderland Theme
Park in Beijing, China

Will and Guy have recently learned that the Great Wall of China has
never looked so tasty: a team of Chinese confectioners have built a 10
metre [33 ft] long replica of the structure entirely out of chocolate in
a bid to entice Chinese people to eat more of the sweet stuff.
The chocolate theme park will exhibit creations such as the Great
Wall, the Dunhuang Caves and Terracotta Warriors when it opens to the
public on the 29th January, 2010 we can report.
A worker adjusts Terracotta Warriors made of chocolate at the
Chocolate Wonderland held in Beijing, China on 14th January, 2010
Up to 80 tonnes of chocolate were used in making the displays, which
include a mini-army of 560 chocolate replicas of the famous Terracotta
Warriors standing to attention on a layer of chocolate flakes. The
chocolate wall is made from solid dark chocolate bricks stuck together
with white chocolate. Chocolatier Wang Qilu, informed us that his
version of the ancient wall was a feat of engineering in itself, with a
carefully constructed crumbling section at one end to resemble the real
thing. He also had to make sure his materials did not melt.
Chocolate

MMMMmmmmmm,
i love chocolate.
white chocolate,
milk
chocolate,
dark chocolate,
bittersweet almond joy chocolate
all
kinds of chocolate.
a hershey's kiss under an arbour,
an Oreo cookie on the divan,
a Godiva martini on the lake,
a bittersweet chocolate sliver in my
cake,
i love chocolate.
smooth chocolate,
rich chocolate,
fragrant chocolate,
touched by vanilla chocolate,
velvet on my tongue chocolate,
MMMMMMMMMmmmmm,
i love chocolate.
Thanks to Desiré Hendricks
Valentine Chocolate
Ideas - Ice Cream
Here is a wonderful idea to make a chocolate Valentine. Combine, ice-cream, dark
chocolate, brownie mixture and a liqueur to make a wonderful heart-shaped,
mouth-watering desert.
The secret is to make the 'Brownie' biscuit the day before and then assemble
the ice-cream sandwich just before you serve it.
However, making alcoholic ice cream is not easy, it takes practice to get the
liqueur blended and frozen. The good news is that even if the 'failures'
don't look elegant, the still taste good.
Ingredients for Valentine Chocolate Brownies
A box of brownie mix
2 eggs
Half a cup of oil
Two table-spoons of instant coffee
One tea-spoon of vanilla essence
4 oz of quality dark chocolate, cut into smallish chunks. (Use
your favourite chocolate not a cheap cooking substitute)
Three fingers of a liqueur such as Bailey's Cream. (Will likes to
experiment with whisky)
Method to Make Valentine Chocolate Ice Cream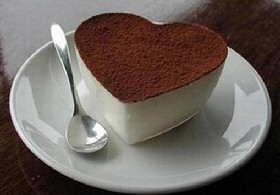 Preheat your oven to 340 degrees.
Lightly grease an '18' x '12' tin (or jellyroll pan). Top tip, line
the bottom with a cake liner.
Mix the liqueur with the instant coffee and vanilla; stir until the coffee is
dissolved. In a large bowl, mix the brownie mixture, eggs and oil; stir
vigorously. Add the chocolate pieces. Pour mixture into the tin and coax
the mixture out to the edges of the tin. Place pan in a 340 degree oven.
Bake for 13-16 minutes. When brownies are done to your liking (13 minutes for
gooey), remove from oven and let cool completely on a wire rack.
To create your sandwich masterpiece: use a heart-shaped cookie to create the
brownies. Take a clean tin and spread out the brownie hearts in a
single layer in the pan. Now get the ice cream from the freezer.
Cut the ice cream into shapes using the Marvine heart-shaped cookie cutter you used
for the brownies.
Carefully place the ice cream shape on top of one brownies and cover with
another brownie. If you have time, repeat this process to create a double-decker
sandwich. Cover pan of Valentine sandwiches with cling-film (plastic wrap)
and immediately place in the freezer. After about an hour in the freezer,
the sandwiches can be individually wrapped in plastic if desired. For
those not on a diet, you could even serve with a dollop of whipped cream.
See more Valentine food
pictures.
Footnote:
Please send us your funny Valentine
Chocolates pictures, or the real thing!
See more St Valentine's Day jokes, funny stories,
poems, sayings and pictures
Valentine's Day jokes
Valentine's Day trivia
History
Funny Valentine pics
Love token
Funny Valentine card
Valentine food
Chocolate
Valentine quotes
Home
Funny Valentine places
Valentine's hearts pictures
Love in animal kingdom
Ideas for a boy