Here is our collection of amusing images taken from the sides of lorries.
Burnt-out Lorry
What have we got here? A burnt-out lorry?
No! It's truck art!
This lorry is decked out with images printed on interchangeable covers. Apparently, a German company called RollAd sponsored a competition to promote their new canvas advertising medium / material.
Truck Art - Aquarium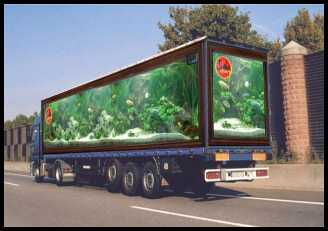 We dedicate this page to a real international trucker -
Charles Moss of Aberystwyth Removals and Storage
More Pictures of Truck Art - Gravity Defying Pepsi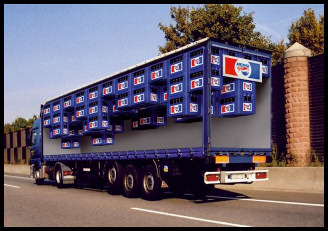 The Pepsi advert (above), was the winner of RollAd's
truck art competition
held at the Hockenheim Ring race track in October 2005. These pictures are thumbnails, do click for even bigger pictures.
Petrol Shortage?
Long live truck art!
See more graphics design.
Funny Truck Art from the USA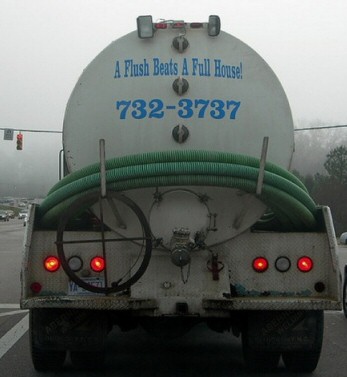 Picture kindly sent in by Ken Green.
Strange But True Tale
About a Truck Driver
A Chinese truck driver, whose vehicle was wrecked in an accident, bought a
crash helmet and attempted to carry on his journey. Will and Guy have discovered
that a police patrol stopped the badly damaged, speeding, truck as it weaved
from side-to-side on a motorway outside Wuhan city. Officers were flabbergasted
when they saw the driver wearing his crash helmet in the crushed shell of his
cab. A police spokesman commented, 'We signalled the driver to stop immediately,
and he told us he had to continue, since he was under contract and had a very
tight schedule.'
The driver, Mr Zhao, of Wuhan city, told them he had an accident not long
after setting off to deliver vegetables to Hunan province, 'I found the truck
was still functional, so I bought myself a helmet and continued,' he told the
Changjiang Business Daily.
Truck Art - Funny Garage Doors
Amaze and Surprise Your Friends and
Neighbours
Will and Guy would like show you how to get your neighbours to
sit up and take notice.
We have discovered that a German firm called "Style Your Garage", creates
posters for garage doors that make it look as if it's actually showing the
interior of your garage, and what's in it - a truck!
We think that the prices are reasonable [no we're not linked to the
company] and they range from £199 to £399 [$301 - $ 604 USD] - for the
double-door. All but guaranteed to make passersby and your neighbours take a
second look.
Made for the up-and-over garage doors predominantly common in Europe,
they can be fixed with Velcro and can be adapted to fit sectional garage
doors.
Footnote:
Please send us your pictures of funny truck art.
See more amazing artwork, funny street art, murals and craftwork:
•
Truck art •
Water melon •
Ice sculptures •
Toilet humour •
Funny toilet signs
•
Art with Food •
Vegetable art •
Can sculpture •
Funny buildings •
Tomato •
Orchid
•
Imagine John Lennon •
Tiny Art •
Glasswing butterflies •
Amazing PPT •
Home - Clean jokes