3 Wheels on My Wagon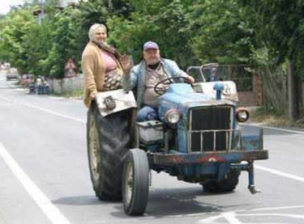 A good stabilizing job by the wife.
Here Is His Brother - 3 Wheels on His
Tractor Too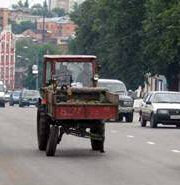 Flying Tractor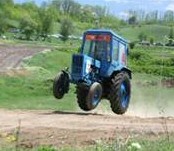 Sometimes 3 Wheels Seems Generous!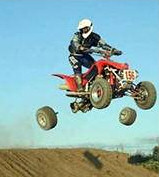 Funny Tractor Story
Alan is totally obsessed with tractors: he has tractor pictures on the
walls of his home, a tractor duvet cover and a tractor mug. If you
look in his garden you will see funny tractor pictures mounted on posts.
Naturally, Alan reads 'Tractor Weekly' magazine, which is delivered to his
door.
One day, Alan sees a flyer for the local agricultural fair and decides to
go; he wanders along and after looking around he sees, pride of place in the
main ring, a brand new top of the range, gleaming Massey Ferguson 91hp 3645
Tractor. Supposing that no one is looking, Alan climbs over the rope and
sits in the seat pretending he is driving the machine. Immediately there is
loud shout. 'Hey, what do you think you're playing at on that tractor, get
off!'
Alan, dismayed, looks around and sees the security guard and dozens of
people laughing at him pretending to drive the tractor. He jumps down and
runs off humiliated and vows his tractor days are over and that he will have
nothing more to do with them ever.
Later that afternoon, Alan decides to have a beer at the local pub so he
walks in and orders a pint; while he's sat there he hears this 'whoosh' and
sees a huge pile of soot fall out of the chimney. Everything in the public
bar is covered in soot. The landlord is beside himself, moaning, 'The best
day of the year for takings, and my pub is ruined, what am I going to do?'
'Leave it to me,' says Alan and taking a deep breath, sucks in all the
soot leaving the pub absolutely spotless.
The landlord is so grateful he says to Alan, 'Have free beer all day as a
sign of my gratitude but I'm puzzled, how did you do that?'
'Easy,' smiled Alan, 'I'm an ex-tractor fan.'
Funny Tractor Picture - The
Bride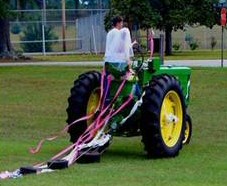 We are not sure if Alan is marrying the tractor, Jane the bride; or both.
Another Funny Tractor Saga
An Austrian teenager was run over by a tractor twice: once when he fell off, and again when his friend drove back to see where he was. Hubert Hochstetter, 17, from the village of Kainisch, fell off the tractor
as he and his 22-year-old friend Josef Mittringer were driving along the road. He fell under the back wheels of the three-ton vehicle and had his ribs and arms broken. His mate, Mittringer, who could not see
his friend lying behind his back wheels reversed to look where he was, and in doing so ran him over again, this time breaking his legs.
Mittringer panicked when he saw what had happened and drove off. But witnesses called an ambulance and the teenager was treated in hospital. Doctors said that he will be in hospital for weeks but he's expected
to make a full recovery. See more
funny farmer stories.
Funny Tractor Made of Straw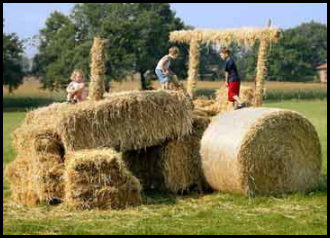 Beware Men in Funny Hats
Footnote:
Please send us your funny tractor pictures.
See more funny pictures of strange and unusual vehicles:
•
Home •
Interesting vehicles •
Wooden cars & funny vehicles •
Funny tractors
•
Spiderman car •
Snow mobile •
Limo
• Lawn mower •
Truck art •
Waterskiing
•
Defence cuts •
Funny bicycles •
Fantastic Machine •
Running machine •
Lawn chair