Will and Guy have selected some amusing pictures to
reflect this season's themes.
New Recipe for Turkey Stuffing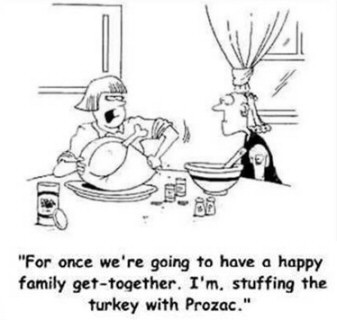 Thanksgiving Turkey's - Revenge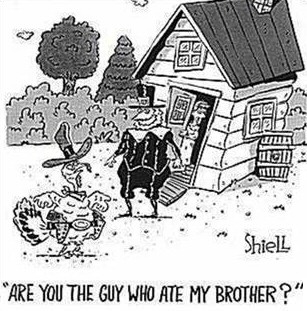 Thanksgiving Truce? Or the Great Escape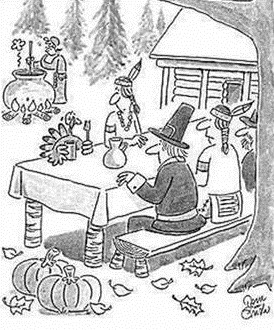 What would be your caption for this Thanksgiving cartoon?
Thought Provoking
Thanksgiving Cartoon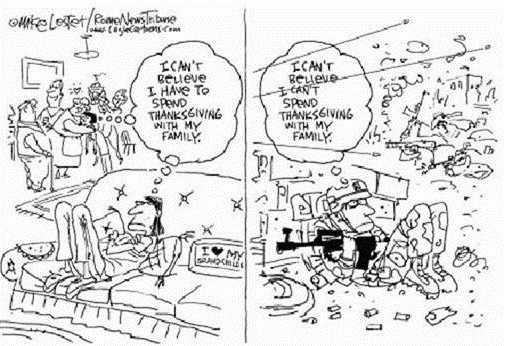 Thankful Pilgrims
Looking back approaching 400 years one can see why those first Pilgrims
had a lot to be thankful for. Their boat, the Mayflower, made it
across the Atlantic Ocean. We can only ponder how many perished in
similar boats before their success. And indeed we can think of all
those boats which have been lost with all hands since. The Pilgrims
who landed at Plymouth Rock in 1620 can be grateful that Iroquois Native
Americans were not more numerous and more belligerent.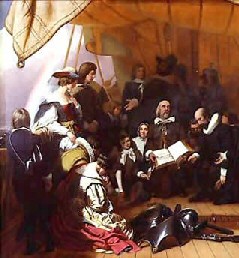 The
Pilgrims who sailed on the Mayflower were members of the English Separatist
Church (a Puritan sect). They fled from persecution in England and took
the opportunity of a better life in America. Puritans negotiated with a
London stock company to finance the pilgrimage to America. However, 2/3 of
those aboard the Mayflower were not Separatists, they just went along for the
adventure and the opportunity.
That first winter on 1620 was severe and by the fall of 1621 almost half of the
original 102 settlers had died of hardship. However, the vegetables were new to the Pilgrims and they needed help from the Iroquois Indians to grow crops such as maize and pumpkins. Thanks to
the skill of native Indians like Squanto, and good fortune, the harvest of 1621 was bountiful.
Governor William Bradford famously sent 'four men fowling'. They returned with deer, wild ducks
and geese. While they probably did not have turkey as we know it, the Pilgrims coined the word 'turkey'
as a generic term for any wild fowl. The resulting feast was more like an English harvest festival than a
true Thanksgiving observance.
Footnote:
Please send us your
funny Thanksgiving cartoons.
See more Thanksgiving funny pictures and jokes:
•
Thanksgiving home •
Funny thanksgiving pictures •
Thanksgiving turkey pictures •
Pork or ham?
•
Thanksgiving jokes •
Funny Thanksgiving stories • Thanksgiving trivia •
Columbus jokes •
Home
• Funny
Thanksgiving turkey cartoons •
Funny Thanksgiving cartoons • Presidential turkey
pardon